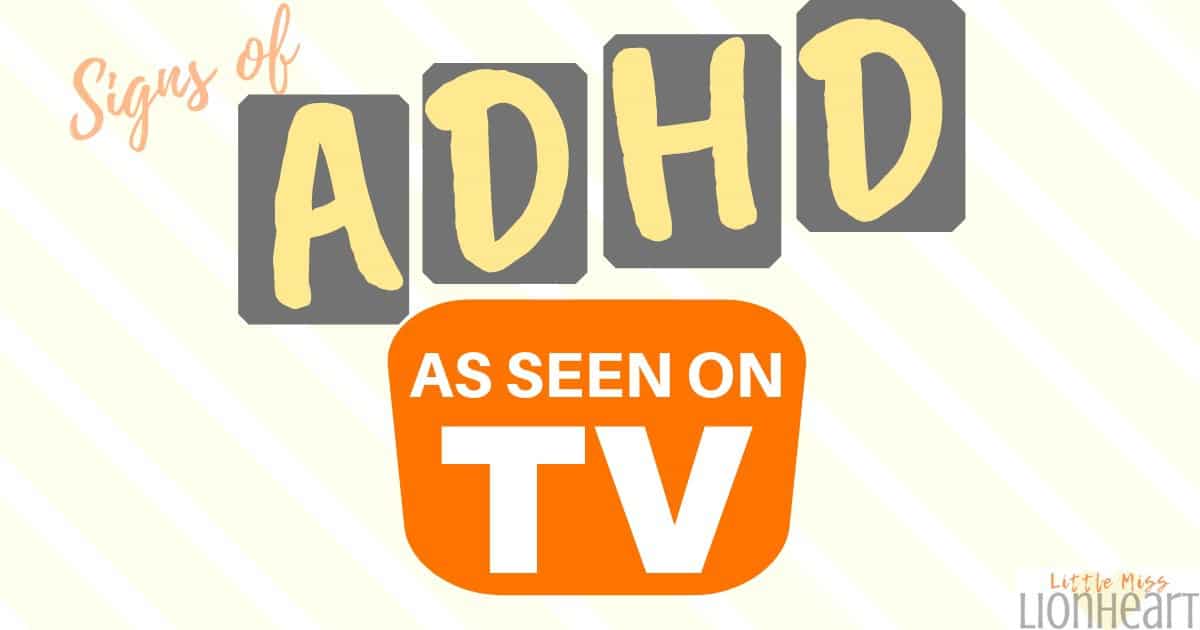 Ever watched your favorite show and thought, "Wow! That was such an ADHD moment!" ? TV is a great place to see the signs of ADHD in action: attention problems, impulse control, hyperactivity, and on it goes.
You just have to know where to look!
If you've ever wondered if you could have ADHD, here is a quality look at some of the symptoms, because a picture paints a thousand words.
And a moving picture paints a million!
Ok, fine, I made that last one up… Sounds good, though, right?
Related: Take the ADHD Test for Women!
Signs of ADHD: Your Attention is All Over the Place
Your Can't Control What You Pay Attention To
Yes, we zone out. We also pay too much attention to random things. The random movement or sound that other people seemed to miss. The little tiny details.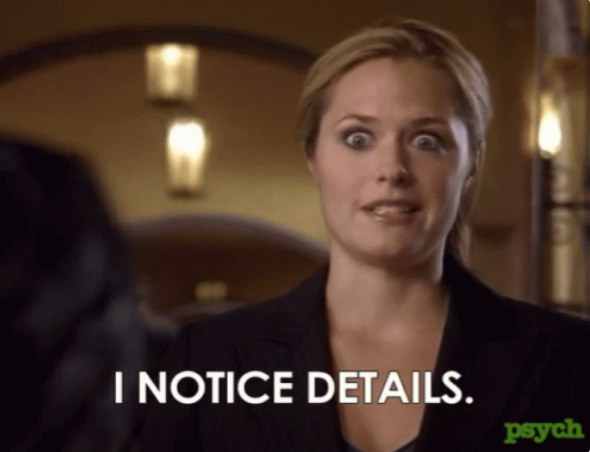 But we are NOT detail oriented. As much as we notice all the things other people over look, we also manage to miss the obvious. You know, the stuff that no one else seemed to miss. And sometimes, it hurts!
Did you see it? It took me a second to register that Reese burns his hands because he can't find pot holders but tells Piama to move the potholders so he can set the pan down and stop burning his hands!
Unfortunately, the attention span troubles and challenges with memory can make getting lost almost guaranteed.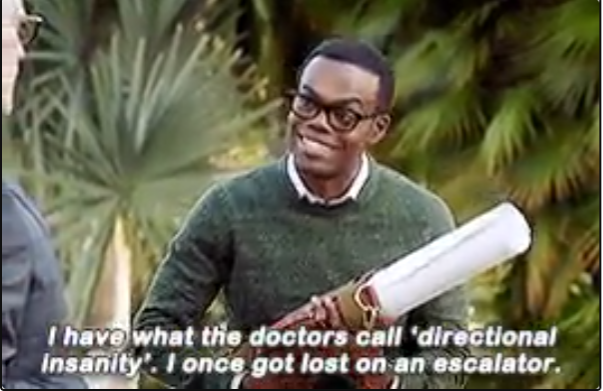 Distracted ADHDers May Distract Others
It can be hard to stay quiet when you have ADHD, even when you're supposed to be quiet. Sometimes, our getting distracted leads us to distract others.
You know, the chatty Cathy distracts her school mates.
The fidgetting gets louder than we realized and our coworkers are getting annoyed with the pen clicking…
You get it.
Your Inattention leads to Careless Errors
When your attention is all over the place, anything you're working on is at risk for mistakes you wouldn't have made if you'd been paying attention.
Take Shawn's coffee fail, for instance…
Hyperfocus: The other side of the ADHD attention spectrum
Sometimes we're so focused on other things that the "missing the obvious" hits epic levels. This happens a lot when we get hyperfocused on something.
Hyperfocus is also about fixations
The reason we miss big things in hyperfocus is because we are utterly obsessed with something else.
Like Jake's obession with Die Hard…

It's Hard for You to Pay Attention During a Conversation
When we're having a conversation, listening to a lecture, music, or anything really…the attention wanders.
It can be hard to recover from.
Related: When You Think it's Anxiety, but it's Really ADHD.

Aside from the "huh?" and the "wahhh?" we utter when we zone out while other people are talking, inattention is a problem while we're talking, too.
Ever started talking and realized you didn't know where you were going with it? And forgot what you were even talking about to begin with?
Does that happen like, literally, ALL THE TIME?
Our own stories never seem to get to the point because chasing those rabbit trails is just how our brain works.
But when we're listening to OTHER people who never get to the point…
and when that story or long paragraph is also really boring, internally, we really struggle.
Signs of ADHD: Your Short Term Memory is… what was I saying?
You're Pretty Forgetful

With ADHD, it's not just that you zone out. You also forget the things that you actually were paying attention to.
Seems to defeat the point of even trying to pay attention sometimes.
You write a note to yourself, then forget to look at the note. Or forget where you put the note. Or that you even wrote a note.
That can be really problematic when it comes to remembering important dates, doing your taxes, work projects.
Heck, it can make paying your bills a problem.
You Lose Things…a Lot.
We're kinda famous for losing keys, wallet, purse…you name it.
I'm notorious for losing my phone. I now carry a crappy cheap phone because I can't stand the idea of paying for another expensive one that I'll probably lose in a few weeks.
That's bad enough, but when you combine the inattention with the losing things, it can get interesting…
Yep, losing glasses that are on your head and keys that are in your hand. Classic ADHD.
Sometimes, it's a little less annoying and funny, and a little scarier…
Thankfully, most of us will never have to worry about whether or not the lost phone is a bomb. Thank goodness.
You Start Projects but Struggle to Finish Them.
Do you start projects, only to abandon them in favor of something else?
Sometimes it's because the interest wore off and you move on to the next, more interesting, thing.
Sometimes, it's because of inattention. That's the case with Hal…
Or the Zombie Novel Nick never seems to finish…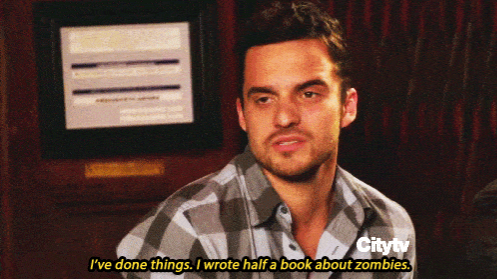 Related: How to Get Your To Do List DONE!
Signs of ADHD: You're impulsive
Sometimes we struggle with impulse control, especially when we're heavier on the "H" side of ADHD. Shawn explains impulse control…
Ok, he partially explains impulse control anyway.
With ADHD, we get a thought or a sudden overwhelming push to do or say something and it comes out before we think it through.
Impulse control is learning to let the push go, without acting on it. That's hard.
Being impulsive can lead to some difficulties for us…and a few face palms after the fact.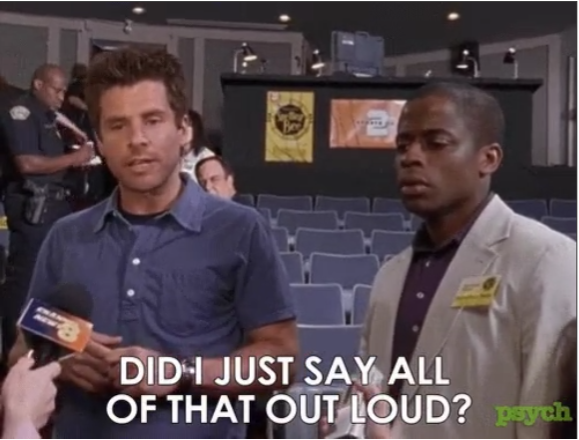 It can lead to problems with our finances when we get that sudden overwhelming desire to buy something that we don't need.
Or many somethings…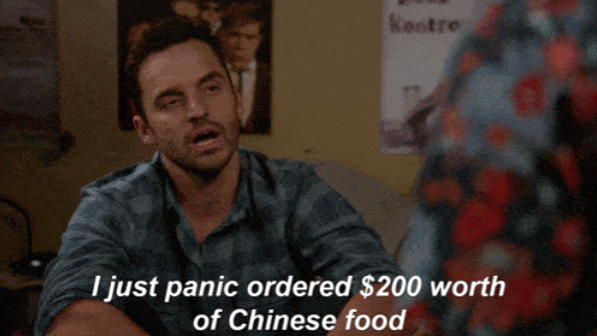 In it's extreme, difficulty with impulse control can lead to major problems…
Signs of ADHD: You're Hyperactive
You May Talk…A Lot…
Or Be Extra Fidgetty
Like, Kramer is your spirit animal.
Or Straight up Hyper
It's impossible for you to work quietly
Humming, singing, drumming, tapping, narrating the things you're doing…you don't do much of anything silently.
The impulse to move, speak, or make noise is just too strong…
Signs of ADHD: You Procrastinate…on just about everything
Lack of motivation, especially when it comes to really boring tasks, is a constant source of annoyance. It's one of the most frustrating signs of ADHD what we struggle with.
Yes, we get upset about it, too (not just the people around us).
We often have to rely on the adrenaline of a rapidly approaching deadline to actually get things done…
The lengths we sometimes go to put off doing something boring or dull is nothing short of astounding…
I do mean GREAT LENGTHS… combining procrastination with inattention and lack of impulse control, it's amazing what we can find to do instead of what we're supposed to do.
It's not that we want to put things off. It's not that we don't care…
You've Got an "Interest Based Nervous System"
It's hard to build the motivation to do boring things even when we really want to get them done.
We don't experience the reward of completing it the same way other people do. And, our brain is constantly looking for something to be stimulating. So it prioritizes things we're interested in.
That's the simple idea of the the "interest based nervous system" that we ADHDers have.
But Kevin shows it better…
When we're interested, we're amazing and on fire! But when we aren't…it just doesn't work the same way.
As you can tell, that can cause us trouble in a personal life and at work, too.
Signs of ADHD: Avoiding the Tedious
You've Had More than a Few Jobs.
Either because you struggled with keeping up with the boring stuff, losing things, and other ADHD problems which led to you being asked to move on or because you couldn't stand it anymore and quit.
Like Hal…
Once the new wears off and a job becomes boring, we can't seem to manage.
Being bored and underestimated is a nightmare for us…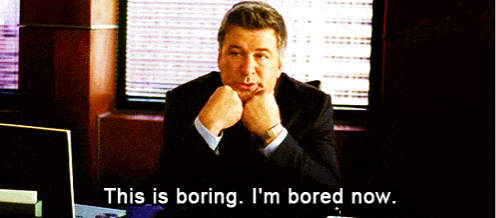 Boredom feels like death to the ADHDer. No, seriously.
But when we're in our element, we excel. Paperwork may not go so well for us, but when you put us in the action, we surprise you.
That's why many of us are entrepreneurs, EMTs, police, salesmen, or in other high energy or adrenaline laced careers.
In fact, in our element, we kick butt!
Related: Is ADHD a Gift?
But the boring parts create the biggest problems with executive function.
You know, planning, organization, task initiation: all the things we need for good time management, so…
You're Always Late
It seems like no matter how hard you try, you've got a reputation for being the one who's late to everything…
Related: When You Aren't Living Up to Your Potential
Signs of ADHD: You're Messy and Disorganized
Seriously, though. Despite the desire not to be in constant disaster, the environment of an ADHDer is complete and utter chaos. Your desk, your locker, your house, car…whether all environments or some, the ADHDer is messy.
Take Jake, for instance…
Hopefully mice in your work desk is a bit extreme, but Penny's apartment might not be…
A silverware holder on the couch is a very ADHD thing to do. We like to make it easy to grab a fork whenever and whereever. Our "organization" methods don't always make sense, though. Take Turk for instance…
Not to worry though, there are easy organization methods that can help you keep your house clean that are ADHD friendly (like, really ADHD friendly).
Related: How to Conquer the Clutter .
Signs of ADHD: Emotions Tend to Overwhelm You Suddenly
Even though the diagnostic criteria for ADHD doesn't even hint at it, research shows that emotional regulation is difficult for us.
It's one of the reasons that Women with ADHD are often misdiagnosed with Bipolar Disorder.
We experience the full range of emotions and we experience them intensely…
There's Anger…
and it often leads to Road Rage. Which is particularly bad when the anger mixes with the lack of impulse control and natural impatience. Bad things happen…
Excitement
Nothing is more exciting than one of our 50,000 great ideas we had today…
Sadness
or Depression, which can turn a bit existential…
Happiness
Anxiety
Wanna know more about anxiety and ADHD? Here's an article about that.
Rejection Sensitivity
Rejection Sensitive Dysphoria describes the experience many ADHDers have when they go through something that inspires the feeling of rejection–whether they've been rejected or feel like they've been rejected. Some react with overwhelming sadness…
Others react by lashing out in anger…
Silly
Creative, playful and silly…that's us!
One Thing is For Certain…
For other people out there…
But for the ADHDer, that's every day life.
Those are the Signs of ADHD As Seen on TV!
By now, you can probably guess the shows/movies I'm hyperfocused on! ? These are the ones that I could think of…
Now it's time for you to show me what you've got! Leave your best ADHD Sign As Seen on TV in the comments.
I can't wait to see what you come up with! Oh, and make sure to share this one with your friends. ?