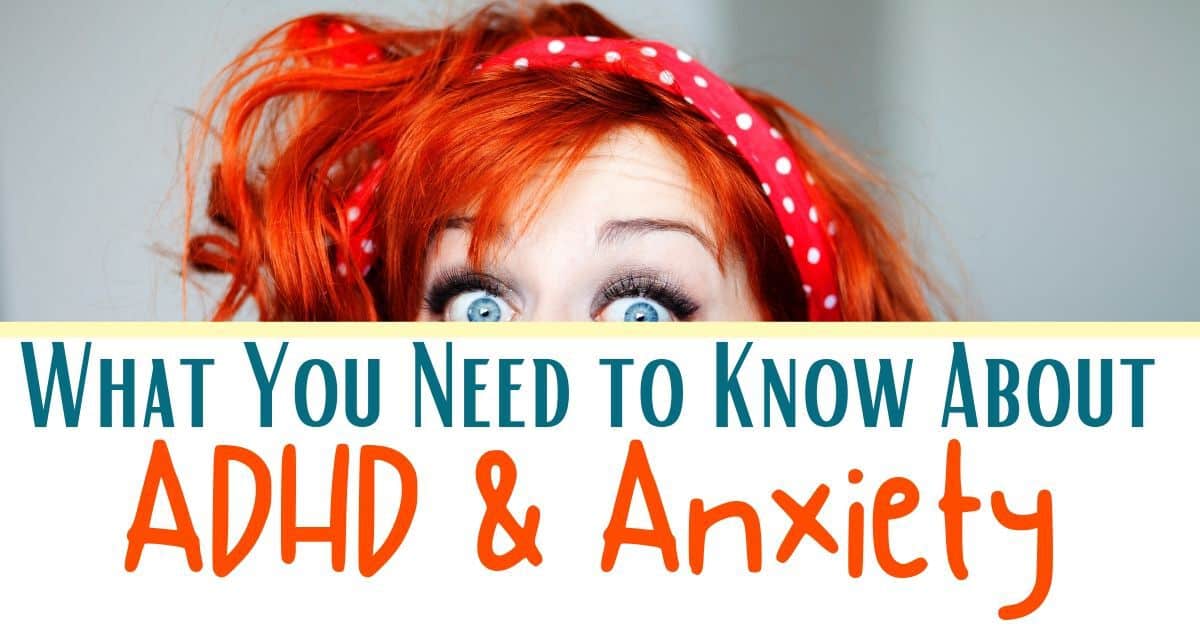 Disclosure: This post may contain affiliate links. If you order through a link, I recieve a small commission at no extra cost to you. Thank you for supporting Little Miss Lionheart!
ADHD and Anxiety, at first glance, don't seem as if they would have that much in common. What does inattention and forgetfulness have to do with "A feeling of apprehension and fear, characterized by physical symptoms such as palpitations, sweating, and feelings of stress?"
By the way, that's the medical definition of an anxiety disorder in case you were wondering.

Doctors often misdiagnosed ADHD women with anxiety. This occurs, in part, because ADHD and Anxiety are more similar than they first appear.
In fact researchers think that between 50-75% of women with ADHD are undiagnosed or misdiagnosed (often with anxiety!).
That was my experience and it's one reason why I think it's so important that we understand the differences and the similarities.
Related: When You Think it's Anxiety, but it's Really ADHD

What is Anxiety Really Like?

Anxiety is "a baseless, overwhelming and exaggerated worry or fear" that is very difficult for a person to control. It negatively interferes with their ability to engage in every day life.
Here's an example:
Someone who does NOT have anxiety about bugs may appear anxious upon seeing a roach but is able to move on relatively easily once the roach is dead. They do not continue to experience fear and dread.
Someone with a phobia (one of the anxiety disorders) of bugs may become anxious upon seeing a roach. The anxious woman will continue to experience fear of the roach even after it is dead.
She, in fact, may be so anxious that she is unable to be in that same room without anxiety. That fear can last hours or even days.

Anxiety is a persistent and disruptive condition. Getting a little nervous about something isn't anxiety. Getting really nervous about something that most people get nervous about isn't an anxiety disorder.
Both of these examples are normal and healthy.
Anxiety is irrational and difficult to control. Anxiety is overwhelming and makes it harder to (and sometimes impossible) to go about your daily life.

The Many Types of Anxiety Disorders
The DSM has many categories of anxiety disorders, each with subtypes and other qualifiers. A few of the anxiety disorders include:
Generalized Anxiety Disorder (overwhelming fear about many things)
Social Anxiety Disorder: an overwhelming fear of being judged and/or humiliated by others.
Specific Phobia: the intense fear of something in particular like bugs or needles
Obsessive Compulsive Disorder: intense, obsessive, intruding thoughts based around something particularly scary that is often followed by compulsions that are intended to alleviate the anxiety
Panic Disorder: frequent sudden feelings of panic with lingering, persistent fear that you will experience another panic attack
Separation Anxiety: an intense fear of being separated from a specific attachment figure
These are some of the most common, but there are others that I haven't included on this list.

Related: An Ingenious Hack for Overcoming Fear of Failure
Related: How to Overcome the Pretty Lies of Perfectionism
What is ADHD?

ADHD is a neurological disorder that causes the brain to prioritize interests over anything else.
ADHDers have an "interest based nervous system" that makes them really great at anything they are obsessed with but forgetful, disorganized, and unfocused with anything that isn't obsession level interest.

Filing your taxes? Important, yes. Obsession level interest? Not even a little bit. Cleaning your house? Important, yes. Might even be important TO THE ADHDer but is it obsession level interesting? Definitely not.
You see the problem.

ADHD Symptoms
A person with ADHD will often lose or forget important things, are disorganized, have difficulty planning, and become overwhelmed when trying to start a task or a project.
The ADHD brain struggles to prioritize the way it needs to in order to accomplish every day things.
Avoidance and distraction are hallmarks of the ADHD brain. ADHDers avoid most things that require sustained mental energy.
We become distracted by the world around us and even our own internal thoughts. We struggle to prioritize correctly.
For instance, I am writing this blog post when I should be finishing up my taxes. After all, they are due in a couple weeks. Hey, it's better than it was last year!
And we often have to rely on adrenaline to accomplish things like filing our taxes. That panic that comes from realizing something as important as your taxes are due in less than 24 hours and you haven't even started?

The sense of urgency helps us overcome executive functioning challenges.
Unfortunately, sometimes the timeliness of that panic renders it useless.
Like when it doesn't even cross your mind that you need to file your taxes on April 15th until April 20th…We have trouble with memory and it causes a lot of problems for us that sometimes panic can't help.
That's the "as lived" version of ADHD in a nutshell.
Related: A Holistic Approach to ADHD that Really Works
Related: Will a Gluten Free Diet Cure ADHD Symptoms?
The Similarities Between ADHD and Anxiety

Looking at the two things described above, it seems less and less like they should be mistaken for each other doesn't it? And yet they are. How, you ask?

With both ADHD and Generalized Anxiety (for instance), the symptoms that most directly correspond when you look at them from the DSM 5 is

Outside of the diagnostic criteria, the symptoms of each can manifest themselves in ways that appear similar.
For instance, a few of the criteria for ADHD are:

Leaving your seat in situations where remaining seated is expecte
While these symptoms aren't in the criteria for any anxiety disorder, they often show up anyway.
If a person is experiencing an unreasonable amount of fear while at work, they are more likely to inadvertently overlook important details and make careless errors.

Fear may lead to forgetfulness and excess energy within the body. We often attempt to manage this energy with fidgeting or pacing.

Sometimes women with ADHD have difficulty putting the right words to feelings. That can lead to getting slapped with an Anxiety disorder and sent home with medication that never seems to help.

A Special Note on Hyperfocus and Rumination
Neither disorder lists the word "rumination" as a symptom but it will often show up in both.
Rumination means to think very deeply about something, turning it over and over in your mind. Rumination is usually discussed in the context of anxiety disorders.
Those of us with ADHD often experience a fixation that results in something staying on our mind with thought to little else.
We call that hyperfocus and it usually happens when the ADHD brain has latched on something it finds to be the most interesting thing in the moment (remember that interest based nervous system?).
Interest, in this case, meaning the most curious thing in the moment–that which needs to be understood most. Not necessarily what we want most to be thinking about.
Hyperfocus can be great when it's fixated on something fun and exciting. But it can be terrible when it's focused on the criticism your boss threw at you yesterday and the worry it will happen again…
Hyperfocus can cause the ADHD brain to fixate on a topic that feels very distressing and refuse to let go.
Without hyperfocus, the same situation may cause you distress but you can use logical thoughts and distractions to reduce the intensity of emotion.
Hyperfocus, unfortunately, may prevent you from being able to effectively use those strategies.
It feels like the hyperfocused mind refuses to let you think of anything else even when you try with all your might.
Hyperfocus is part of the reason that I thought I had Generalized anxiety for most of my life. My mind would focus on something I didn't want to be thinking about and refuse to let go of it.
I didn't realize that this wasn't anxiety until I started ADHD medication and it changed.
Now medicated, I can use my logical thoughts to transition off of the distressing topic in a healthy and appropriate way.
I couldn't do that before.
Hyperfocus can make the picture between ADHD and Anxiety even more murky and it's often not until a person gets treatment for ADHD that they are able to distinguish whether or not hyperfocus was masquerading as anxiety.
The Differences between ADHD and Anxiety
You can see how the two can look similar because they share a few symptoms in common and some of the coping mechanisms used may look like symptoms from the other disorder, but if we look closer, we can see how they are different.

There's nothing like storytelling to help clarify a complicated topic…

Two women are stuck in a very important meeting at work. Both really need to be paying attention.
One has anxiety, the other ADHD.
As their boss is discussing the important details that both women will be responsible for following up on, both women get distracted by a bug on the other side of the room crawling through the carpet.

The Woman with anxiety:
She has a fear of bugs (a specific phobia) and immediately starts feeling anxious and upset, afraid the bug will start crawling toward her.
She keeps trying to remember to listen to what her boss is saying (she knows it's important!) but her anxiety keeps pulling her attention back to finding the current whereabouts of the bug.
Every second in the room with this bug is making her more and more tense. She wants to get out but the meeting isn't over. Now she's fidgeting from all of the nervous energy building up….

The boss hands the anxious woman a form to complete. Unfortunately, she wasn't paying attention to the directions and stares at it, confused.
In a mild panic, she fills it out as best she can without knowing what it's for but rushes through so that she can monitor the bug's whereabouts.
The form is full of mistakes and she forgets to even sign it (which is a big deal). "Oh god! It looks like it's turning my way. OMG OMG OMG" she screams inside, as she hands the form off.

How We Understand the Anxious Woman
It's clear here that every symptom she's showing stems directly from her fear of bugs and that fear is consuming her mind. The content of her mind here is what distinguishes this woman as the one with anxiety.

The Woman with ADHD:
She is sitting in the meeting trying to pay attention (because she also knows that it's important!) but she catches the tiniest movement out of the corner of her eye and her attention is gone.
It's a bug. "Wonder what kind of bug that is…"

"Uhhhgg, when will this be over…" She's sick of sitting. Tired of being still. Every second remaining still is like nails on a chalk board and she's fidgeting and restless because she can hardly stand it.
She just needs to be doing something. Something that is NOT Sitting. In. This. Stupid. Chair.

She notices the bug made it up the wall and wonders if the bug will escape this meeting before she does.
"Crap! I missed that. What did he just say?"
She's handed a form that she has no idea what to do with because she apparently missed that too. She fills it out as best she can, but it's full of mistakes and she forgets to even sign it.
Related: 9 things to do to Manage Your Anxiety

How We Understand the ADHD Woman
It's clear here that this woman, even though she's showing the same outward symptoms as the one with anxiety, isn't particularly anxious.
We know that by hearing the content of her inner experience. This woman's symptoms come down to frequent distractions and hyperactivity.

Related: 7 ways ADHD is Actually Worse When You're an Adult
Same Signs Different Story: ADHD or Anxiety?
Both women may be showing the same signs:
Neither are paying attention even though they are trying to.
Both women made a careless mistake in not signing the form.
Both are experiencing tension and restlessness that making them fidget and both are desperate to avoid the rest of the meeting.

Figuring out the difference between ADHD and anxiety, in this example and in your life, comes down to the content and experience of your symptoms.

Paying attention to the inner context helps lead us to the correct diagnosis and after that the correct treatment.
Diagnosing the wrong thing and giving the wrong treatment will lead to little to no relief from their troubles and, in some cases, might even make their symptoms worse.

Restlessness vs. Anxiety
Because we sometimes put the wrong words on our emotions, people with ADHD (without co-morbid anxiety) will often call their restlessness "anxiety."
But when asked about what they are so overwhelmingly afraid of, they are often dumbfounded. "Scared? I didn't say I was scared…" "I don't know?"

On the other hand, the person with clear anxiety can generally tell you at least something about what they are freaking out about even if they don't understand why it's so upsetting.
"It's that stupid bug that has me freaking out! I hate bugs!" They may not understand why bugs are so scary to them but they are aware they in the moment they are feeling terrified of the bug.

And then there is the really complicated scenario in which a person has both ADHD and Anxiety

Research indicates that between 40-50% of ADHDers have anxiety as part of the clinical picture. Understanding the differences and the similarities is necessary to finding the right treatment.
It can be a challenge, though.

It gets really complicated sometimes to figure out what is ADHD and what is Anxiety when it comes to getting an accurate diagnosis.
Not to mention trying to figure out how much of the anxiety is caused by ADHD and how much of it is unrelated to ADHD.
For clarity's sake, here are a couple definitions that you are going to need to know:

⏩A primary diagnosis is a diagnosis that stands on it's own.
It's unrelated to another diagnosis. If a person has both ADHD and Social Anxiety and both are primary diagnoses, fixing one will not resolve or significantly diminish the other.
When both are primary, Social Anxiety is not caused by ADHD and it will not resolve just because ADHD is treated. In this case, Social Anxiety will require it's own treatment.

⏩A secondary diagnosis is one that is caused by another diagnosis.
If a person with ADHD is very anxious about making more mistakes and it leads them to be excessively fearful of other people's judgement, they might end up with a diagnosis of Social Anxiety.
But the careless mistakes are due to ADHD which means that the anxiety wouldn't be there if it weren't for ADHD. That makes Social Anxiety a secondary diagnosis in this case.

The distinction here is important for how you go about getting the right help. Unfortunately, figuring out what is primary and what is– or isn't– secondary, is complicated and can get really hairy.
Sometimes, you don't find the answers out at all until you start treating them. Other times, the difference is a little more clear.

Determining Primary vs Secondary Anxiety
If you can see clear ways in which any anxiety you experience is related to your symptoms of ADHD, it's likely that at least some of your anxiety is a secondary diagnosis.
If they are completely unrelated, you may be looking at two primary diagnoses.
Anxieties that are based on claustrophobia or bugs or needles or hypochondriasis may not be related to your ADHD. They might be more likely to be a primary unless you can see how it relates back to your specific ADHD symptoms and experiences.
Remember, however, that with hyperfocus it can sometimes magnify these challenges. You just won't know if it's making them harder to handle until you start treatment, honestly.
That leads us to questions on how you go about getting treatment when you have both if you aren't even sure if you have both, right?
How to Treat ADHD and Anxiety When You Have Both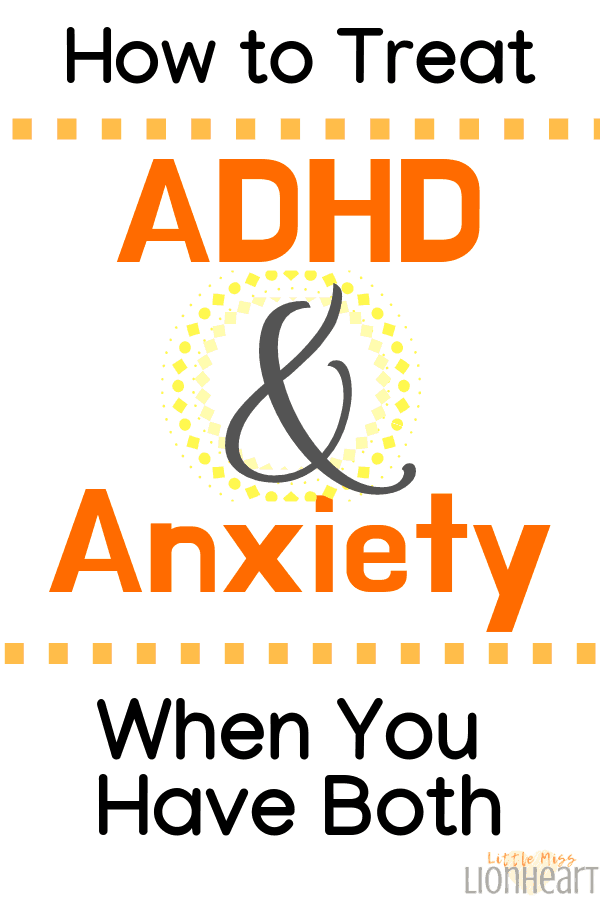 Most doctors who are knowledgeable about ADHD determine which disorder to treat first based on a couple of criteria.
First, if there's indication that they are both primary disorders, they work with you to figure out which disorder is causing you the most trouble and they start there.
If it is not clear to you or your doctor that one is clearly more challenging than the other, they often start with treating ADHD. Why?

Treating ADHD is likely to positively impact the anxiety even if anxiety is a primary diagnosis.
How Treatment Helps
Treating ADHD helps stop the hyperfocus that may be making it harder for your brain to move on from anxious thoughts. It also helps someone with ADHD more effectively use logical thoughts which can improve their response to behavioral therapy.
The ability to focus and more effectively use their thoughts can change their experience of anxiety. Treating ADHD first helps determine if your anxiety is a primary diagnosis or if it is caused by ADHD and for many people, starting with ADHD treatment improves symptoms of anxiety.

I hear a lot of objections when I tell this to people.
"But stimulants make anxiety worse!"
You know, because stimulants are the first line of treatment for ADHD at an 80% effectiveness rate even though there are medications that treat both ADHD and anxiety (they hover at about a 40% effectiveness rate for ADHD).
Thankfully, for most people, increased anxiety isn't an issue…

There's Good news in the treatment of the two conditions:
For most people, stimulants do not worsen coexisting anxiety (not even when anxiety is a true primary disorder).
You still often have to try different medications to find the one that works best for you, but most people are able to find a stimulant that successfully treats their ADHD without adding anxiety.
Sometimes a stimulant even calms some of the anxiety.
For a few unlucky people, stimulants may not work for them and thankfully non-stimulants may be an option.

Plus, many non-medical strategies for ADHD are also really great for anxiety like CBT, meditation, and regular exercise. In fact, all three of these are highly effective supports for better functioning with both challenges. I
Self Strategies for Treating Anxiety and ADHD
Many of the self coaching strategies for ADHD can have a great impact on anxiety as well. ADHD management is often geared toward helping you learn to plan, organize, prioritize, and structure your daily life in a meaningful and effective way.
I have found this one really helpful:
Anxiety benefits from that same structure and planning because it creates an element of safety.
CBT strategies for Anxiety are often helpful in working through some of the emotional and self esteem difficulties that come with ADHD.
A course like this one may be helpful:

Don't Miss These ADHD Resources
Don't Forget to Follow Me for More!
And that, my friends is one crazy long post about ADHD and Anxiety!
I hope that as we learn about the two, we can begin to understand them better, differentiate between them, and treat them more effectively.
I'd love to hear your experience or thoughts on all of this in the comments. Drop me a line when you get the time (Hey, that almost rhymed!).