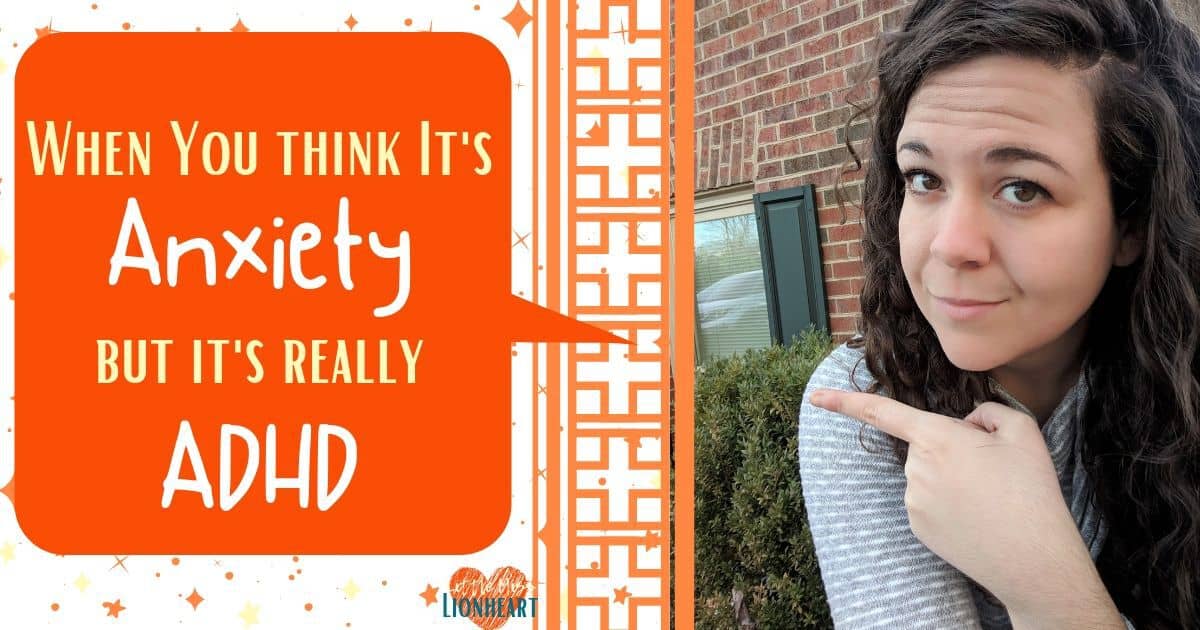 ADHD is missed in 50-75% of women. It's often called anxiety, depression, and even OCD. When she has a child that's diagnosed with ADHD is when she's most likely to discover her own struggle.
ADHD often leads to anxiety and depression as a secondary response to all of the challenges that go with untreated ADHD. Because of that, she's 3x more likely to be put on an antidepressant (and sometimes those make ADHD symptoms worse).
Until the age of 28, that was me. I hit a crisis: I had 4 major projects coming up that I couldn't seem to complete. The consequences were going to be severe if I didn't get them done and, even though panic ensued,
I was still stuck. My doctor was one of the few who seemed to understand ADHD. She wasn't side tracked by my use of the word "anxiety" and sent me to get evaluated for ADHD. Life changed in such a positive way after that.
Now, I've gotten pretty good at helping other women discover that they have ADHD. When I got the right treatment, my entire life was different. If you've been frustrated that your current treatment isn't working, keep reading. .
ADHD is missed in women because it looks different.
Some people even think that women can't have ADHD (insert eyeroll here). They think that if you are smart or you did well in school, you can't have ADHD. I was a straight A student who went to college when I was 16. I later graduated Summa Cum Laude with my Masters Degree.
But I have ADHD.
When we think of ADHD, we think of the chatty little boy who can't sit still. ADHD in women tends to look a little different.
ADHD symptoms in Women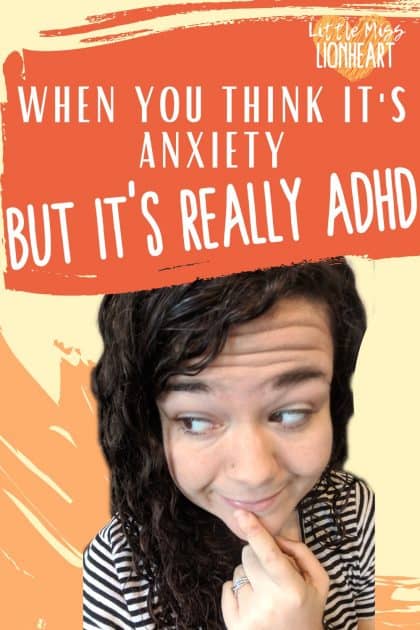 She has a constant state of overwhelm trying to manage the details of everyday life.
It's like feeling disorganized mentally, emotionally, and physically and she often thinks of herself as lazy, crazy, ditzy, or stupid.

She's likely to zone out, even in the middle of an important conversation.
It often hurts people's feelings when you have to ask them to repeat something they just told you. I really don't want that but often feel powerless to prevent my mind from bouncing off. So I developed strategies to cover my symptom. We'll talk more about that in a minute.
And trying to manage her thoughts is like playing wack-a-mole.
It can sometimes feel like she doesn't have control over where her thoughts go or when they go. The day dreaming sounds lovely, and sometimes it is. Other times, her mind is playing out how bad it would be if the police came to tell a person that their spouse died. And she's feeling all of the emotions as if it were happening right now.
And that wack-a-mole makes it difficult for the ADHD woman to function.
It's like trying to hold down a conversation with someone but other people are constantly interrupting. Except the other person doesn't know that the conversation has been interrupted so they keep talking.
Related: How to Master that To Do List when You have ADHD
She either forgets important things or worries that she's forgetting them.
The worry she feels is like a vague anxiety without an apparent cause. Just the uncomfortable feeling that something has fallen through the cracks.

Somehow, somewhere she is really messy.
She may look presentable with a matching outfit or a reasonably organized desk at work, but she won't invite you to her house. Why? Because it's a disaster. Most of my former coworkers thought I was a very organized individual… until they saw my car.
Related: ADHD Friendly Home Organization Strategies that will Change Your Life
The ADHD woman procrastinates. Like, a lot.
She waits until the last minute to start important work because she has to rely on the time pressure to get boring tasks done. Then, in a frenzy, she'll spend hours doing it the night before. While also trying to make it look like she spent weeks on it.
But she can hyperfocus on things she's really interested in.
While I've never been able to pay attention to lectures, I can spend hours researching how to do a handstand.
Women are often really good at masking their ADHD symptoms.
Women with undiagnosed ADHD often judge their difficulties as personal flaws. To avoid feeling this shame, women are often really good at hiding their ADHD challenges from others.
When she can't keep her attention in a conversation, she does mental gymnastics to make up for it.
I used to pretend that I didn't quite comprehend what people were saying and "My brain just isn't grasping this. Can you say it one more time?" All to try to keep them from feeling like I didn't care.
Sometimes the ADHD woman covers her symptoms in ways that look like OCD.
I've accidentally left my stove on overnight. I've accidentally left it on when leaving the house and then come home to find it still on. Now I make it a point to check my stove.
But the first time I check, I'm often not actually paying attention to the stove at all. Then I realize that I wasn't paying attention so I go back to check it again.
But this time I only looked at the burners and forgot about the oven. So I go back.
But then I can't remember if I checked it today or if what I'm remembering was me checking it yesterday, so I go back and check again.
Unfortunately, this time my mind was wandering and I looked at the microwave instead. You get the point…

ADHD Women are often people pleasers, perfectionists, and creative problem solvers who find ways to skirt by.
Because of this, they stress hard to make life work so that they can avoid feeling like a failure. (Did I mention people with ADHD tend to experience criticism more painfully?)
Related: How to Conquer the Pretty Lies of Perfectionism
Related: How to Become a Creative Problem Solver
She may find a way to hide, or even overcome some of her symptoms, but it comes at a great cost.
Exhaustion. Constant anxiety. Overwhelm. She feels it all, all the time.
It's like walking in stilettos with your arms overfilled with very fragile and valuable objects that are on the brink of falling. At any moment, you're about to lose something important.
Related: ADHD and Anxiety: One, the Other, or Both?

For her, it's like being mentally, emotionally, and physically disorganized…
but only treating the secondary depression and anxiety. Treatment never touches the inner chaos.
When she actually finds out she has ADHD and she experiences good treatment, there's an excitement! That's often eclipsed by a sad frustration at how long she lived her life in the internal storm and what she could have accomplished had she found out sooner.
Take the ADHD Test for Women
Is this sounding familiar? It may be time for you to learn more about the possibility of ADHD. I created this self test to give you a better idea of whether or not ADHD is worth further exploration with your doctor. It's based on the diagnostic criteria for ADHD but broken down with real world examples of what each symptom looks like in women.
Ready to take the test? Find it here.
Learn More about ADHD in Women
I've covered this topic pretty extensively on this blog and will continue to do so. Check out a few more:
Secrets and Signs of the ADHD Woman
When You Aren't Living up to Your Potential (could it be ADHD?) .
ADHD symptoms As Seen on TV (hilarious!)
I Should Have Known it was ADHD When…
The consequences of ADHD in women (and girls) who remain undiagnosed could be severe.
Teenage girls with undiagnosed ADHD are more like to get pregnant, do drugs, and smoke cigarettes. She's more 4-5Xs more likely to self harm or have a suicide attempt than other girls. As she gets older, she tends to have fewer friendships and often ends up in unhealthy relationships. She's more likely to be underemployed. She also more likely to experience other major mental health disorders.
Therapy is often more difficult for a person who can't focus because every thought feels like it's on a slip and slide. Trying to manage the chaos leaves her emotionally, mentally, and physically exhausted. And she judges these challenges as her own personal character flaws. I'm lazy, crazy, ditsy, stupid….
But the Right ADHD Treatment Makes a Huge Difference
Getting my ADHD under control was life changing for me. It didn't take away all of the struggles I have. In fact, you may have noticed from other posts that I do have social anxiety; but it radically changed most of my difficulties and improved the ones that it didn't fix.
Because of that, I'm a big advocate in helping women find out they have ADHD when it's been missed.
The right diagnosis can be really challenging to get because many doctors are still not familiar enough with ADHD. They don't recognize it often in women and many have great concern about prescribing stimulants.
That's why I've created the Guide to Diagnosing ADHD in Women. It's designed to help you find a knowledgeable doctor and communicate the symptoms that they need to know about. It's free and it's helped my readers get an accurate evaluation. Make sure you check that out.
Treating ADHD is a Comphrensive Approach
Getting the diagnosis is the first step. Treatment is the next. There are a lot of misconceptions about ADHD medication that make people hesitant about taking it. But much of the hype is based around myths.
Related: What You Need to Know About ADHD Medication
Related: Why I Take Medication for ADHD
Meds are a HUGE help, but they don't fix everything. With ADHD, we still have to learn to develop the skills that we don't have. Medication just puts us in a better place to develop that.
There are some holistic strategies that we with ADHD really need to develop that can put our creative brains in a better spot for meeting all the challenges thrown at it. But be careful here! Many strategies people recommend don't actually work.
Connect with me!
Tell me, could you relate here? Have you been diagnosed or suspect you might have ADHD? I'd love to hear from you! Drop me a comment.
And don't forget to join the Facebook community! You can find it here: That ADHD Life (for Women)