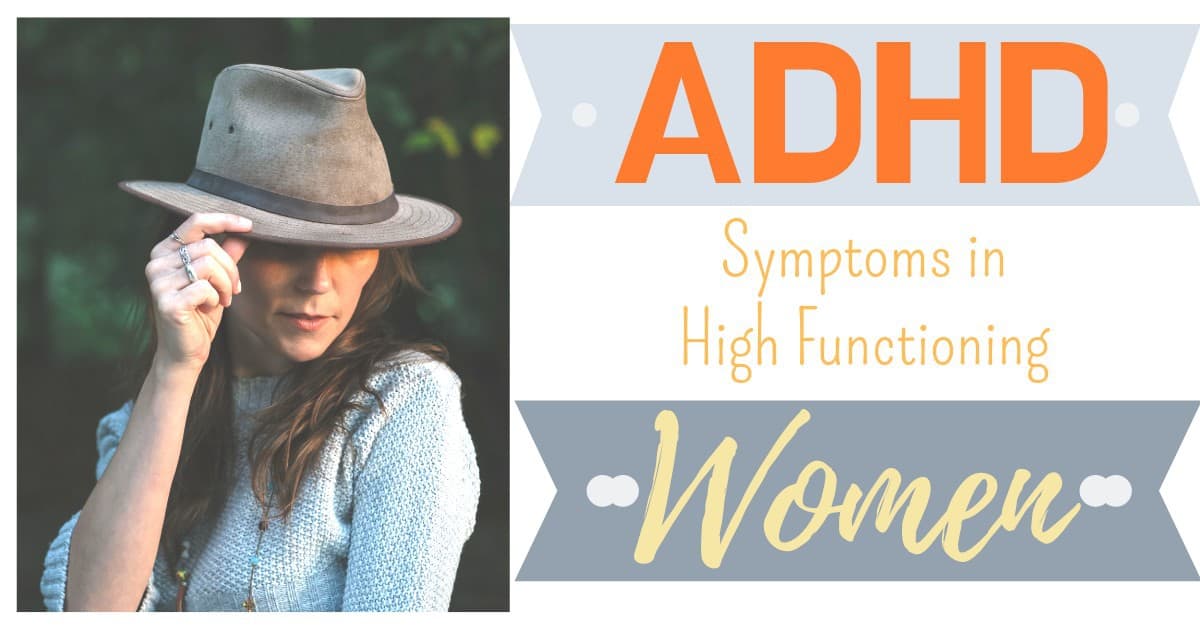 Finding out I had ADHD changed my life
Ever been told you weren't living up to your potential? Been called a space cadet, lazy, or ditzy? Told you should try harder? Struggling to finish things but feeling overwhelmed by everything?
And been told it was just anxiety?
For years, I was treated for anxiety. I tried different medications and different therapies, but nothing helped.
It was frustrating. I was constantly asked, "What are you so anxious about?" But I never had a solid response.
"Nothing? I just feel anxious."
In retrospect, perhaps that should have been a warning sign.
Sure, there are the occasional things I worry about but when the majority of the "anxiety" a person experiences is purely physical with very little rhyme or reason to what's provoking it?
Yeah, I see it now. But I didn't then. Then, I thought it was just anxiety because that's what it seemed like. I realize now that restlessness and anxiety feel very similar but aren't necessarily the same thing.
Related: Take the ADHD Test for Women!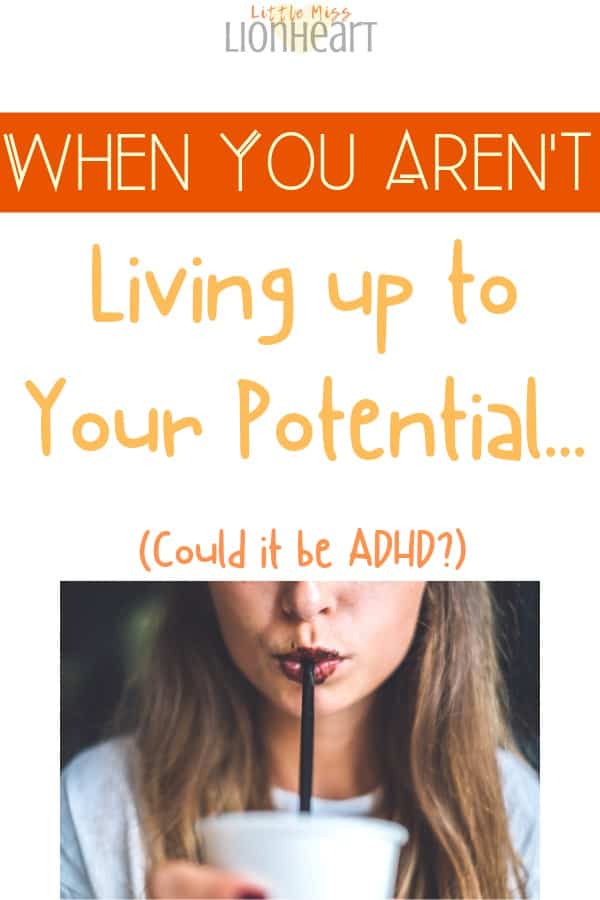 ADHD Women are Seen as Lazy, not trying, and not living up to their potential
Ever since I was a kid, I've been a dreamer.
I was the super sensitive kid who cried if you looked at her, seemed to stay in her own little world most of the time, and somehow couldn't notice very obvious things.
I mean, a tree fell in our driveway once. A REALLY big tree that was, quite literally, right in front of where we parked our car.
I even heard my parents talking about it–for DAYS. It still somehow didn't register what they were talking about. On day THREE, I finally noticed the tree. That's what I mean by missing obvious things…
I can't follow directions to save my life.
I get lost on a straight road. My parents should have just recorded their voices telling me that I'd "lose my head if it wasn't attached" for all the times they felt the need to say it.
As a kid, I lost my homework on a regular basis.
I completed all my projects and assignments the night before or the morning of, and never could study for a test. BUT, I was a good student. Somehow…
I struggled to find ways to minimize ADHD damages and live up to my potential.
I became really good at finding things and a very creative problem solver. So I flew under the radar in school; No one thought "hey this kid has ADHD."
Not even when they had to call my name 50 times while standing right in front of me before I noticed they were there.
I always knew something was off. Most of my life I called it anxiety.
I mean, a challenge by any other name, right? It took me 6 months to figure out how to get to work without using the GPS because I apparently drive in my own little world too.
Owning my own business meant a lot of really boring, time consuming paperwork needing ample amounts of concentration and I fell so far behind in that it almost ruined me.
Heck, at tax time, I lost 4 out of 5 necessary documents to file my taxes
And I had a meltdown trying to figure out how to replace them at the last second. The busier I got, the more responsibilities I took on, the worse it got.
Because of this, ADHD women are viewed as lazy, ditzy, dumb, overly sensitive, spacey, stupid, lost, and destined to never "live up to her potential."
At 28 years old, while panicking about my tax situation, a doctor finally thought to assess me for ADHD.
Getting that diagnosis, taking medication, and learning more about it has been life changing.
▶I stay mostly caught up on my to do list and paperwork now. Here's How!
▶I'm MUCH less overwhelmed, so I feel better and I get more done.
Related: How to be More Productive with ADHD

▶ I can have a conversation where I don't drift off and have to develop creative strategies to figure out what we're talking about without the other person realizing that I wasn't paying attention.

▶ I pay attention while I'm driving now. It's a miracle I was never in a car accident before I started taking medication.
It was common place for me to take a 30 minute drive and have little to no memory of the drive. I'm a safer driver now (and the whole town breathes a sigh of relief).

▶ My house is not nearly as messy.
Related: Here's how to Conquer the Clutter when you have ADHD.

▶ This year, I'm TWO MONTHS AHEAD of the tax filing deadline and almost ready to file. I haven't lost a single tax document. Crazy, right?
That's just the tip of the iceberg, really.
It bothers me when people talk about ADHD being a "made up" disorder or tell us we just need to "try harder."
It's easy to say that when you watch from the sidelines. It probably does seem fishy that I can't seem to get my paperwork done but I can sit and research medical diseases for hours.
When people see a kid who can't sit still in class but they can become absorbed for hours in a video game, they assume the worst. They assume it's intentional.
They think women with these struggles are lazy, crazy, ditzy, dumb, overly emotional, lost, stupid…
And destined to never live up to her potential.
"She must not care."
Wrong.
Related: Is ADHD Real?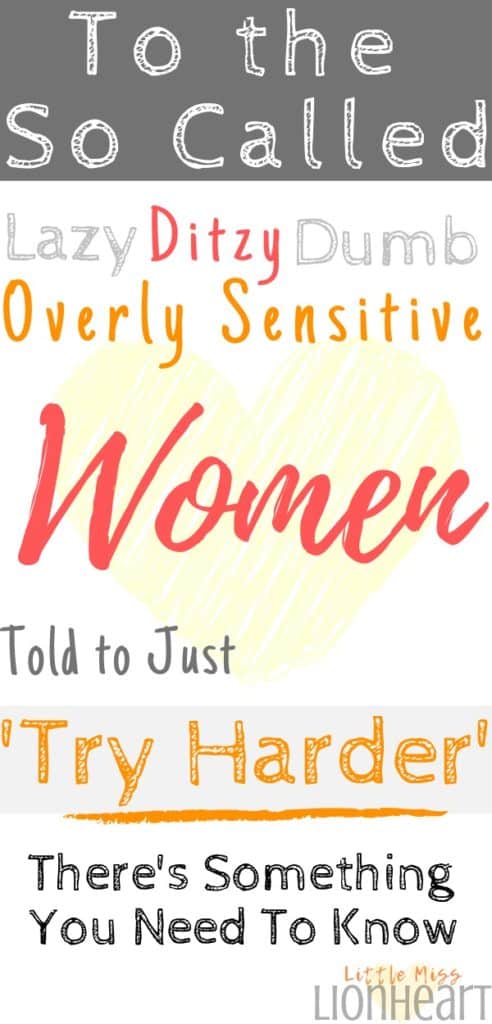 ADHD is a neurocognitive disorder like Autism is a neurocognitive disorder.
It drives me bonkers when the response to ADHD is "If you're ever going to be successful in the real world you're going to have to do better."
We're aware of that, thank you, but it's helpful to stop assuming that we're lazy and don't care that we can't seem to adult well.
I promise you it's not for lack of trying.
ADHDers give more effort than anyone they are compared to but still get much less accomplished.
We're trying–but we have executive functioning issues. We share those challenges with individuals who have Autism.
Imagine this: you had something terrible happen a few days ago and because of that you haven't slept at all in the last several nights. You haven't eaten in days and you keep getting calls and texts from people asking you what happened.

▶▶ How hard would it be to focus, concentrate, or get anything done on a day like this?
Your attention would be all over the place, you'd probably have to re-read everything 50 times to half way understand what you're doing, you'd probably forget a ton of really important things and misplace even more.
That kind of uphill battle is what it's like to try to function when you have ADHD.
Except it's unrelated to what circumstances we are facing and is just a daily battle.
Our brain doesn't regulate dopamine well enough in the prefrontal cortex so we have major challenges with executive functioning skills (concentration, memory, organization, planning, etc..).
We really are trying just as you would on a horrible day like the one I described. It's just an uphill battle.
That's why we may not be living up to our potential. And why we may look like we just aren't trying hard enough.
ADHD by any other name…
It's a misnomer to call it Attention Deficit. Instead, it should be called Attention Dysregulation.
Basically, we ADHDers have a hard time regulating what we pay attention to. It causes us great stress to get behind on something important or to lose things that will have big consequences.
Who would choose that kind of stress? But, the ADHD brain has an interest based nervous system that gives greater priority to things we are interested in to the exclusion of anything else.
It's not as fun as it sounds.
For me, that also means that when I experience criticism or I feel like I've acted awkward in a situation, I have a really hard time shifting my attention from that experience.
I can go days continuing to ruminate about that experience because my interest based nervous system has decided that's all I should focus on.
Related: When You Think it's Anxiety, but it's Really ADHD
We have a bad habit of assuming that everyone has the same experience we have.
So if you can get your paperwork done, the one who struggles with it is just lazy.
If you don't struggle with depression, the one who does needs to just snap out of it.
If you don't have anxiety, those who do just need to just stop worrying.
If it were that easy, mental illness wouldn't exist.
No one chooses to be miserable; instead, we become trapped by it. Who wouldn't choose to be living up to their potential?
If you can't relate to that, count your blessings. But don't shame those of us who struggle.
Ok, I'll step off of my soapbox now.
Ever Wondered if YOU might have ADHD?
Keep in mind, everyone struggles with these things to some degree but a person with ADHD is constantly struggling with them.
Everyone loses their keys every once in a while and struggles to concentrate if they didn't get enough sleep last night or they have something really stressful going on in life.
An ADHD person's attention is gone well before they even notice it's gone. Before they figure out what they missed, it's gone again. And it's been that way ever since they can remember
Hence the "not living up to their potential" thing.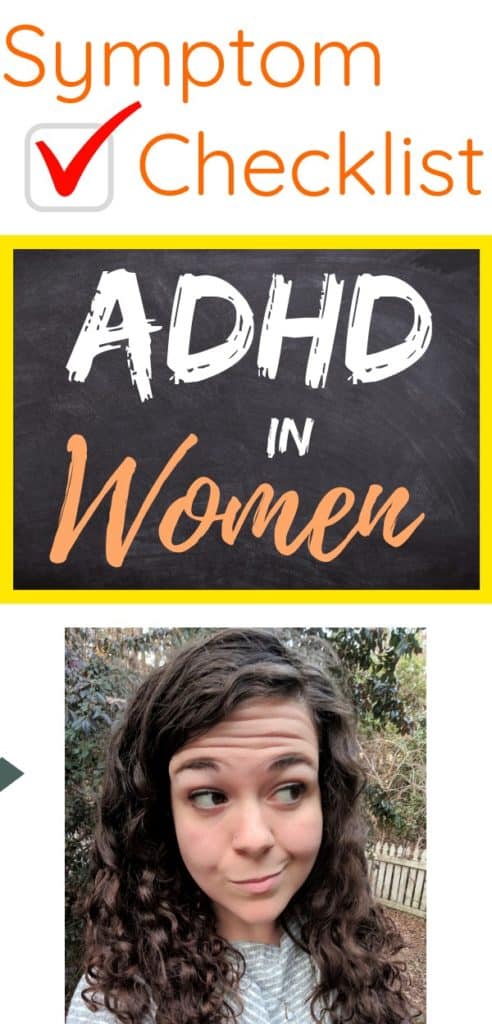 So, while everyone can relate to these challenges sometimes, for someone with ADHD it's an ALL THE TIME kind of thing.
Common ADHD Assessment Questions
When you have a task that requires a lot of thought, how often do you delay or avoid getting started?
How often does you fidget or squirm with your hands and feet when you have to sit for long periods of time?
How often do you make careless mistakes when you have to work on a boring or difficult project?
How often do you have difficulty paying attention, even when you're directly spoken to?
How often do you have difficulty maintaining attention when doing boring or repetitive work?
How often are you distracted by noise or activity around you?
How often do you interrupt others when they are busy?
When involved in a conversation, how often do you try to finish other people's sentences before they have a chance to finish it themselves?
How often do you leave your seat in situations when remaining seated is required?
How often do you misplace or have difficulty finding things?
This is a sample of the questions that are often asked in an ADHD assessment. In mine, I had to rate myself and my husband was asked to rate them as well to get a more objective view point.
Other ADHD things to know
ADHD has a lot in common with a few other mental health related disorders and even some physical problems, too.
That's why an assessment with a trained professional is so important.
Finding a clinician that's really familiar with ADHD, especially in women, can be a huge challenge.
That's why I created the Patient/Doctor's Guide to Diagnosing ADHD in Adults. I designed it to help you have the conversation with your doctor.
It takes you through a more thorough questionnaire and helps you find a knowledgeable doctor.
It also gives good information to which ever clinician you end up seeing just in case they aren't as familiar with ADHD as they seemed.
I hope you find it helpful!
Related: How to Practice Mindfulness When You Have ADHD

Let's Connect!
I'd love to hear your story. Been diagnosed? Tried and struggled? I want to hear from you. Drop me a comment.