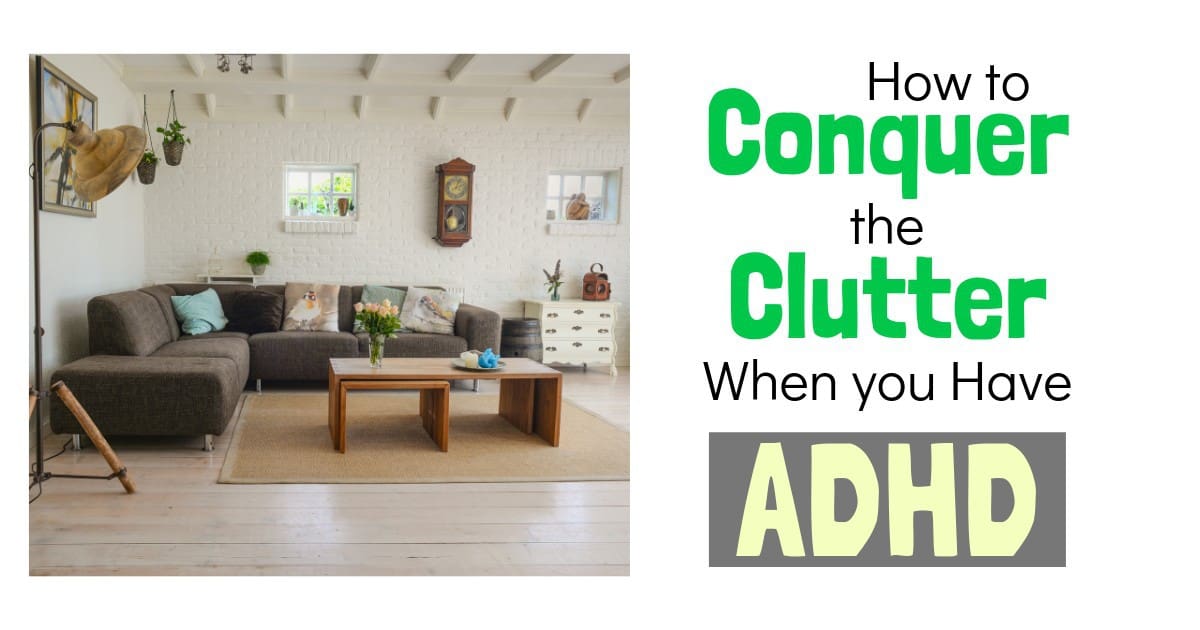 Disclosure: This post may contain affiliate links. If you order through a link, I recieve a small commission at no extra cost to you. Thank you for supporting Little Miss Lionheart!
If you have ADHD, a messy house is a seemingly never ending problem. It's one of the more frustrating parts of our lives. Yes, we are MESSY! But organizing and cleaning with ADHD CAN get easier when you learn how to make it work with your unique brain. Scouts honor.
Most tips for organizing and cleaning with ADHD aren't very helpful
A quick google search shows that most of the advice out there seems like it's geared toward neurotypicals even when it says otherwise. Any time I see an article saying, "do this organization thing and then keep it like that" I just want to slap someone. That just doesn't work for those of us with ADHD–the "keep it like that" is the problem, people.
So if you also aren't a "keep it that way" kind of person (as you can tell, I am not), keep reading. I've searched high and low for the best organizing and cleaning with ADHD tips out there (ACTUALLY for ADHD) and I'm sharing what I've found.

Organizing & Cleaning with ADHD: 2 Most Important Principles
Things must be as easy to put things back where they belong as it is to just leave them lying around. It makes it easier to keep it organized.
Maintaining ADHD Home Organization is just about impossible if you have a lot of stuff. You don't have to get rid of everything, but be prepared to purge.
Here's what those two principles mean:
ADHD friendly Organization is about efficiency
Most expert organizers place a higher emphasis on creating organization that is beautiful, and they sacrifice some of the efficiency in the process. That's one of the reasons their strategies don't work well for those of us with ADHD. Our ways absolutely must be based on what is most efficient.
I always say that the ADHD brain is always on the edge of being overwhelmed (and underwhelmed at the same time). If we have to add in a couple extra steps to keep something organized beautifully, we'll stop doing it. It might sound crazy, but those extra steps just push us off the edge and straight into overwhelm.
So that means we need to ignore the pretty spice jars and decorative flour/sugar containers and keep those in their original packaging. It means we should keep the trashcan in the place that it is the easiest for us to use rather than behind a closed door or cabinet. We need our organization to have the fewest number of steps possible to use. We need it to be as efficient as possible.
How to decide what to keep and what to toss
If you've been following the Konde Marie method, you know her framework for getting rid of stuff is whether or not it sparks joy. It may be the ADHD talking but I'm probably going to overthink that: hmmm define joy… Sheesh.
No, I ask myself a different question: If I made myself 100% take care of this item exactly as I'm "supposed to" (for clothes think wash, dry, fold, put away…along with all the other clothes) every single day, would it be worth all the effort?
Answering this question has significantly cut down on how much I keep around my house. Anything I can't say an enthusiastic YES! to or don't otherwise have to keep, gets trashed or donated. The less stuff I keep, the less time I have to spend trying to keep it clean and organized.
If you take nothing away from this post, the biggest things you could do is reduce the amount of stuff you have to keep your space clean and organized. It is so much easier to keep my space cleaner now that I don't have so much stuff cluttering it.
Strategies to Keep Your ADHD Home Organized and Clutter Free
In the spirit of those two guiding principles, here are some of the specific tips I swear by for organizing and cleaning with ADHD. If you don't find what you are looking for, or you need more strategies, you'll find those in the "More tips for Organizing and Cleaning with ADHD" section at bottom of the page.
Solving the trash problem
Look at the places in the house that tended to collect the most trash and put a trash can as close as you can get to that place. Don't use a trash can with a lid and don't hide it away in a cabinet or closet, leave it out in the open.
In our house, we had a lot of trash on the end table by the couch because we like to eat there. So we put a trashcan beside the end table. Now, when we're watching tv, it's just as easy to throw away that empty yogurt container as it is to leave it on the end table. Now, the end table is generally trash free.
Solving the clothes problem
For discarded clothes that aren't yet ready to be washed…
Use over the door clothing hooks for clothing you plan to wear again before you wash. I place these in the areas I'm most likely to change clothes. That makes it almost as easy to keep the clothes off the floor as it is to just leave them there. This has helped calm the ADHD clutter.
I particularly like these:
For dirty clothes piling up on the floor and furniture…
Keeping a laundry basket in the areas you are most likely to change clothes helps keep them off the floor. I keep a basket in my room, bathroom and laundry room. Those are the areas I'm most likely to need them.
I keep a few specifically for clean clothes before I fold them to prevent them from finding a home on the floor or with dirty clothes. That winds up being more than a few laundry baskets but clear floors, chairs, beds, etc…
Solving the kitchen counter top clutter problem
Check your countertops and identify the biggest clutter culprits. For me, Coffee accessories were one of the biggest counter top clutter problems in my kitchen. They were supposed to be stored in a cabinet, but once we pulled them out to make coffee, they rarely made their way back in the cabinet.
To solve this problem, I created a coffee basket that sits beside the coffee pot. It holds everything we need and use to make coffee. Now, instead of just leaving everything out on the counter, it's just as easy to put it back in the basket.
I had the same problem with spices. I have a basket in my pantry that holds all my spices but once I pull them out to cook, they rarely ended up back where they belonged. So I took the spices I use the most and put them in a small basket beside my oven. A Viola! Problem solved.
How to Identify your biggest problem areas & solve them
With these examples you can see how I've identified my biggest clutter problems and answered the question how can I make it easier on myself? It's time for you to do the same for your home.
Follow the steps:
Look around your house. What makes up the majority of the problem? Clothes? Trash? Shoes? Random stuff without a home? Paper? Junk mail? Rank in order of what is causing the biggest amount of clutter. (I suggest writing it down). Next, you'll tackle each problem one at a time.
Pick an area and start getting rid of stuff using whatever framework works best for you in getting rid of the most significant amount of stuff. Joy, ease, whatever principle you prefer.
Now, with the stuff you have left, ask yourself, What could I do that would make this problem easier on me to keep uncluttered?
Make sure whatever strategies are as efficient as possible. The fewer steps it takes to put something away, the better. So, for instance, use a laundry hamper without a top, and save yourself an extra step.
The ADHD Kitchen Organization Workbook is HERE!
The ADHD Kitchen Organization WORKBOOK! Need a little extra help getting your kitchen organized? This step by step guide helps walk you through the process. Created by an ADHD brain for other ADHD brains.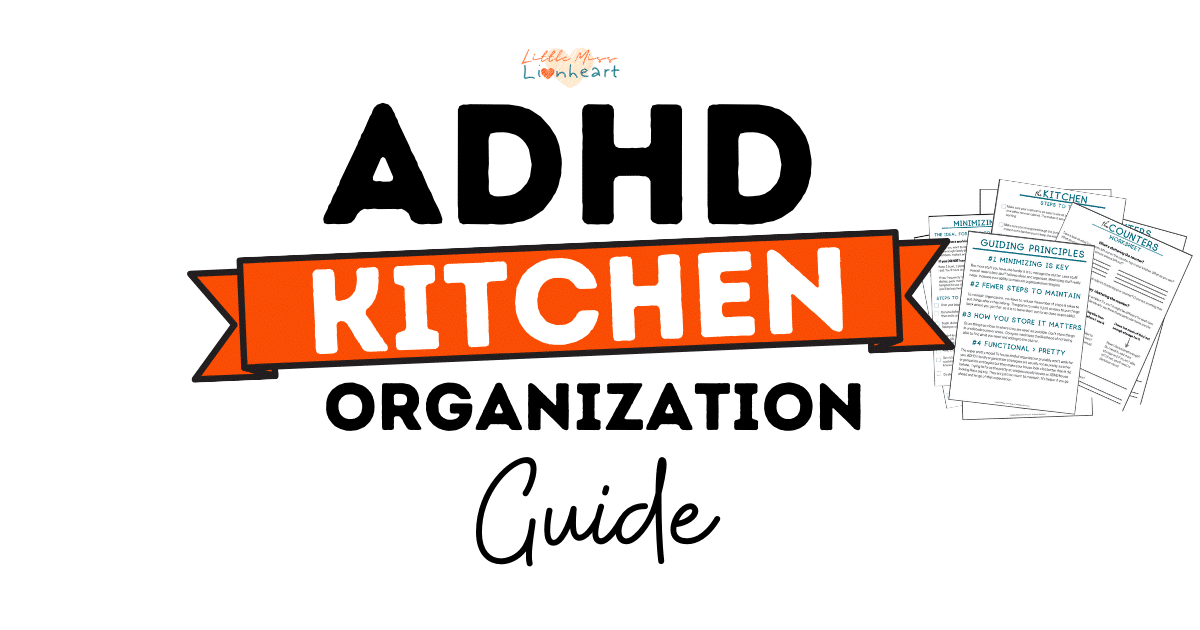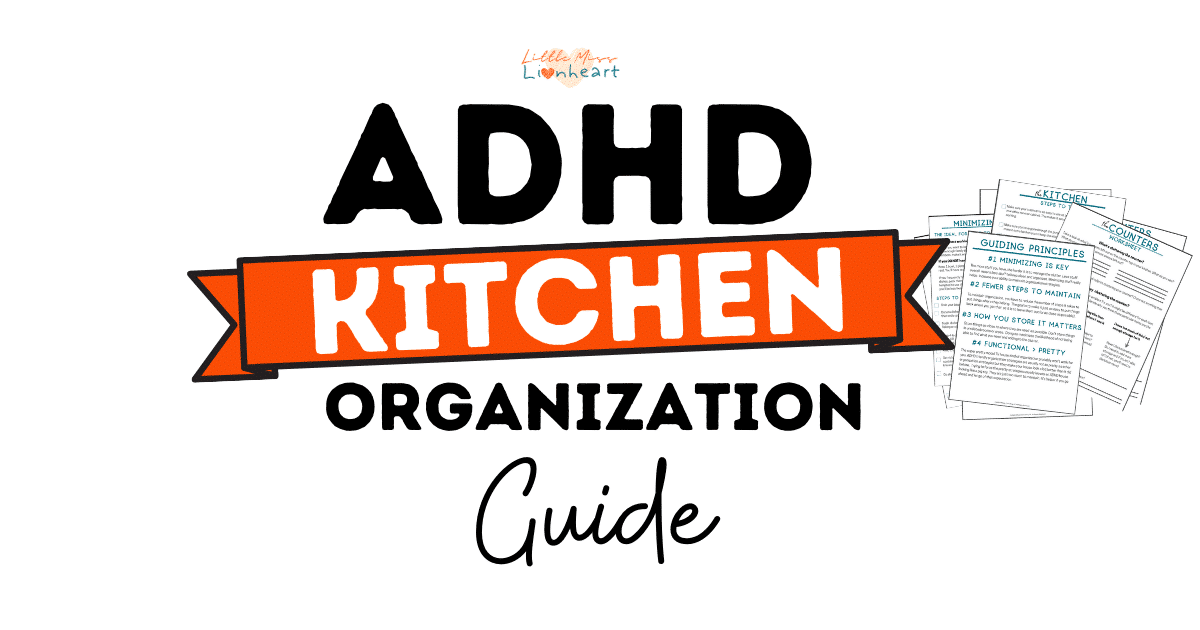 More Tips for Organizing & Cleaning with ADHD
Let's Connect!
What are some of your best strategies for keeping your ADHD house clean and organized? What areas do you struggle the most with? Comment below!