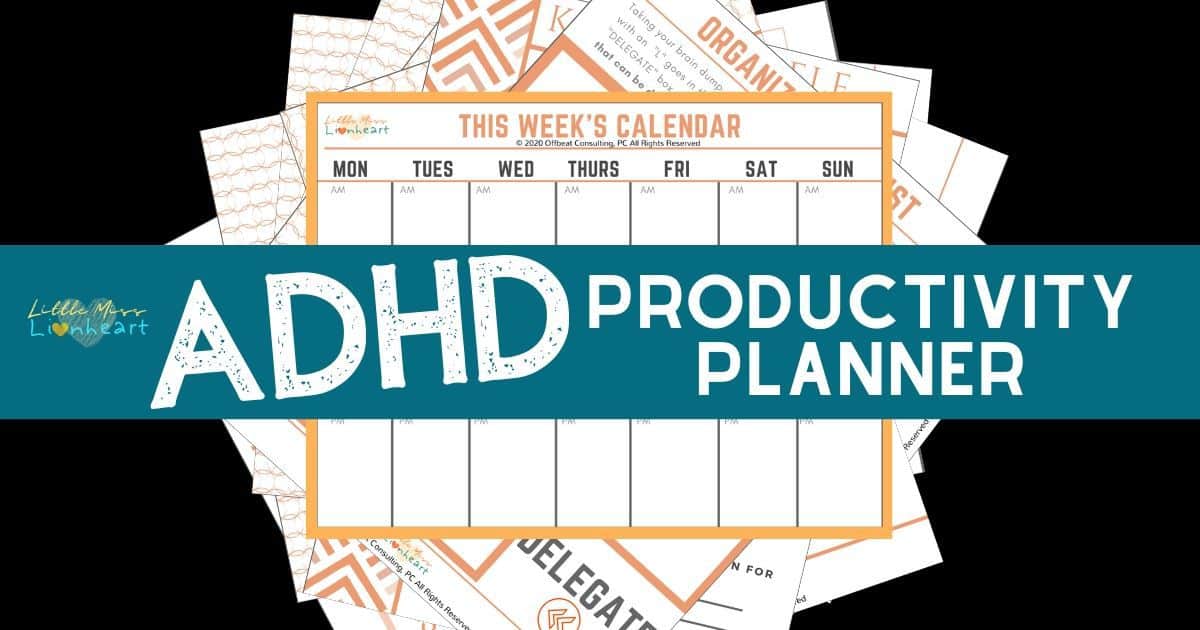 I was absolutely exhausted...
I was juggling too many projects, behind on my taxes, my house was a wreck (like usual) and no matter how many to do lists I made, I wasn't getting enough accomplished. And the list was growing like kudzu…
Between the various deadlines, the laundry list of tasks, and people counting on me I was overwhelmed. Completely. Like paralyzed, frantic, stuck in my tracks overwhelmed and the longer it went, the longer the list became, and the more overwhelmed I got.
I needed help so I started looking for something that could walk me through how to get my to do list in some kind of manageable state.
All that research made a few things clear.
Most of us with ADHD struggle more than your average bear with an unruly to do list that knocks us off or feet on a regular basis. It wasn't just a "me" problem.
The reason we struggle with getting things done comes down the ADHD problem with executive functions. Things like planning, prioritizing, and getting organized are all examples of executive functions and things that we ADHDers struggle with big time.
Most "wisdom" out there about getting stuff done is geared toward people with a solid grasp on executive functions. Even the stuff that is supposed to be "for people with ADHD" requires a better handle on executive functions than people with ADHD tend to have.
The "strategies" for getting things done with ADHD were frustrating.
The "wisdom" said that if you wanted to get things done, you needed to learn to use a planner.
I wanted to scream "DO YOU KNOW HOW MANY PLANNERS I HAVE?!" Using a planner is pretty straightforward. The problem is that a planner doesn't actually walk you through planning, organizing, or prioritizing your to do list. It's simply a note to remind you of things if you remember to use it (and assuming you don't lose it).
It also said that if you wanted to be productive you should just "pick something off of your list and just DO IT!" And use a timer. Or this complicated prioritizing block. Put notifications in your calendar. Use a body double. Try a schedule where you work for this long and break for that long. Write down a to do list…
When the "strategies" didn't work, it started to feel hopeless.
It seemed to boil down to "Yes, getting things done is a problem for you if you have ADHD so here are some solutions that work for people who don't struggle with their executive functions." But ADHD is basically a struggle of executive functions, so where does that leave us?
Frustrated. Exhausted. And sometimes feeling a little broken. It's supposed to work this way. So why doesn't it work for me?
It all felt a bit hopeless but I've never been one to go down easily.
I couldn't find what I needed, but I still desperately needed help. So I started trying to make something for myself that could work better with my executive functioning challenges.
I needed something that helped reduce the overwhelm. Something that walked me through how to identify which tasks were actually the highest priority and where I could put them in my schedule that maximized the likelihood of me actually doing them.
I needed a formula that could help me plan and organize my time so that I could actually get things done before they were due. So that's what I made.
Little did I know, I was creating something that actually worked.
I was paying attention to what my ADHD brain needed, figuring out a way to work WITH my unique brain instead of against it. And what I came up with was a productivity planner that was totally ADHD friendly.
And as I started using what I created it, I realized… it worked!
Because my system was built to work with the way my brain works, I didn't have to rely so heavily on trying to force myself to do things (which didn't work well anyway).
Because I actually had a plan for when I was doing each task (a plan that I could get myself to follow), I was less anxious and overwhelmed about getting it all done.
Even better, using this system I created, I was able to get all of my projects done. BEFORE THEY WERE DUE. I know, I was shocked, too. That never happens.
Then I discovered that what I created didn't just work for me. It worked for others with ADHD, too. Other people started using it and telling me how their ADHD brains ate this system up just like mine did. And they were able to get stuff done, too. I had to get it out there for as many ADHDers as possible. So the planner was born.
This crazy system became the ADHD Productivity Planner.
Created by an ADHD brain, for ADHD brains–it's about as ADHD friendly as it gets…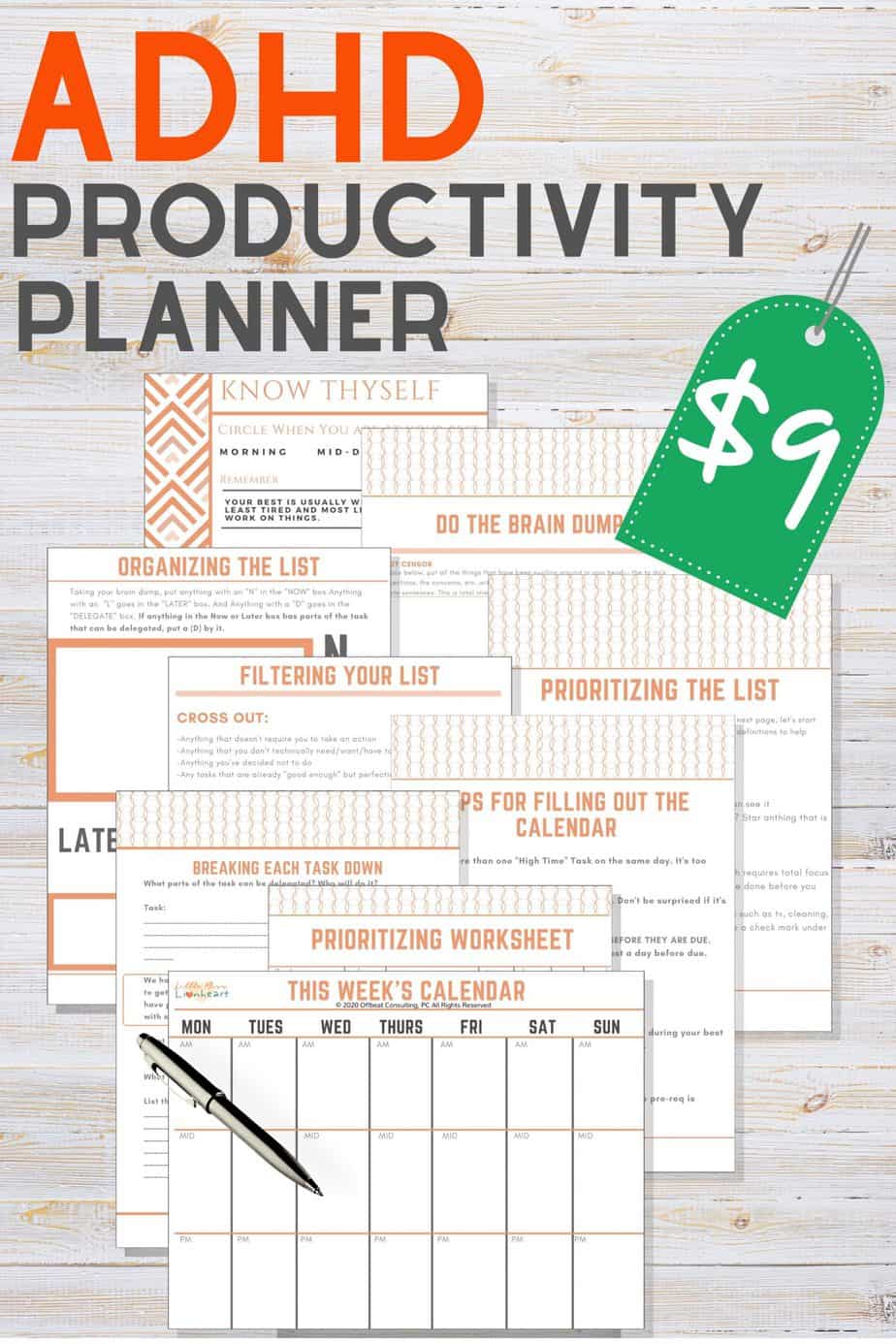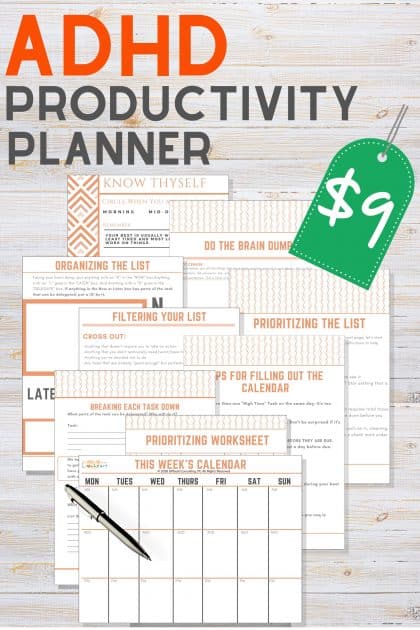 Buy Now
In the Planner, you'll find:
4 Worksheets to walk you through building, organizing, and prioritizing your list.
Plus a BONUS worksheet to help you get started!
3 Guides to help you with the best tips for getting the most out of the worksheets
1 Week Calendar broken down just the way you need it
Buy Now
It starts with the Know Thyself Worksheet. We'll identify the specific ways that your ADHD brain prefers to work. This is really important for setting yourself up to actually get things done.
Then we're on to the the Brain Dump worksheet. Here, we help you get all the things swirling through your head and overwhelming you, out on paper. I've found this part to be totally necessary in helping reduce the overwhelm of everything.
Next comes the organizing and prioritizing worksheets. These help you take that brain dump and make some sense of the chaos. They walk you step by step through identifying where your priorities lie and figuring out if there are ways to reduce your to do list.
Then we're on to the calendar and instructions. Here, we take your priorities and place them in the days and times that you are most likely to do them (and be finished before they are due!)
And Finally, we've got the task breakdown worksheet. One of the biggest reasons those of us with ADHD have a hard time getting started is in the way our brains tend to see and approach the task. This worksheet helps you overcome that challenge and get started conquering that to do list!
Here's What People Are Saying….



If you are:
➡Tired of an overwhelming to do list
➡ Over the "ADHD wisdom" on how to get it done
➡ And ready for something that actually WORKS for ADHD minds…
Then the Productivity Planner is for you. It's created BY an ADHD Brain FOR ADHD Brains. To help you get back on track.
Are you ready to get started getting more done without having to fight yourself so hard to do it? Let's do this!