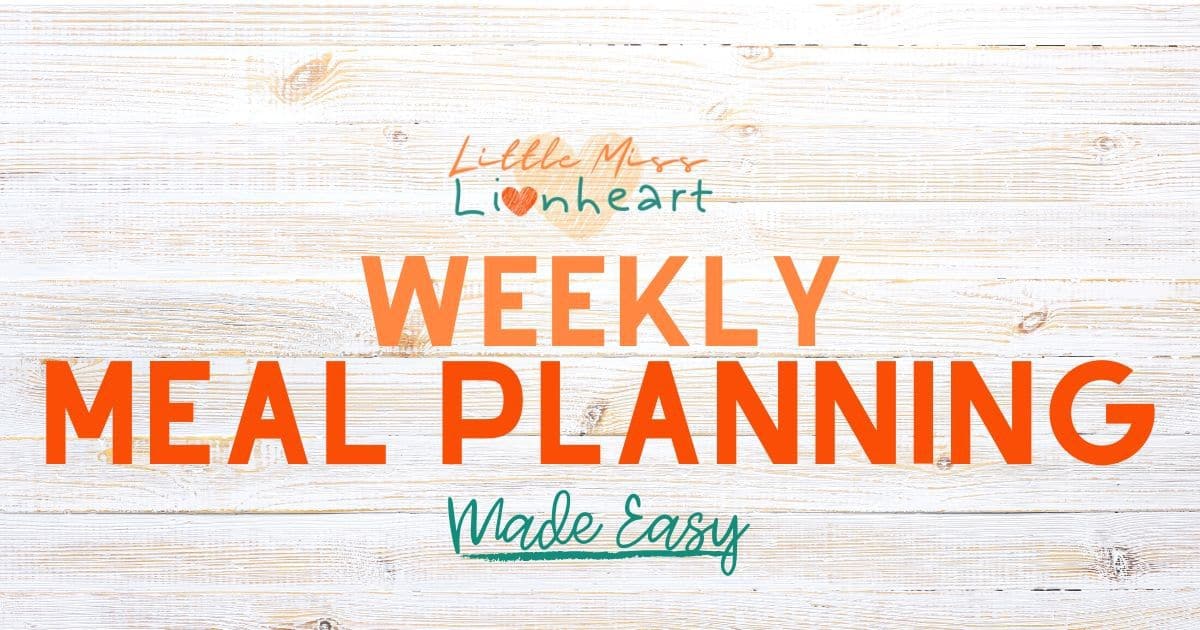 It's so difficult to plan meals out, organize yourself to get the right ingredient without forgetting a few, scrambling to find the right instructions, and get it on the table at least close to dinner time. At least, I'm hoping it's not just me.
One of the hardest parts of meal planning is remembering foods that I actually like to eat, then planning enough of them to make it through the week without multiple take out nights.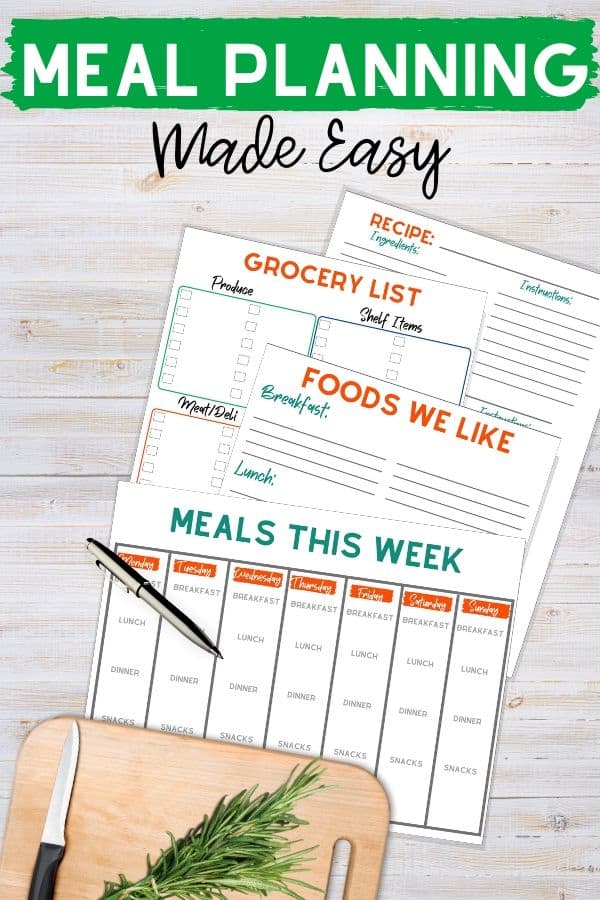 Get The Planner!
I couldn't find what I needed, so I created my own meal planning guide. This is what I use to keep myself on track. It starts with the master list of foods we like to eat (so that I can refer to it when I can't remember what I actually like). I designed it so that you can keep adding as you discover new recipes that you and your family can't get enough of.
You'll also find an organized grocery list worksheet to help you shop more efficiently without forgetting anything. Plus, a weekly calendar to decide when you're eating what, and a recipe card so you always have the ingredients and basic instructions for all your meals.
The recipe card keeps you from having to spend time figuring out where you saved that recipe in order to get your grocery shopping done and finding it again once you're ready to make it! Even though it takes work to fill them out, I still recommend putting the time and effort in because it really does save both in the long run. You're gonna wanna print extra of these.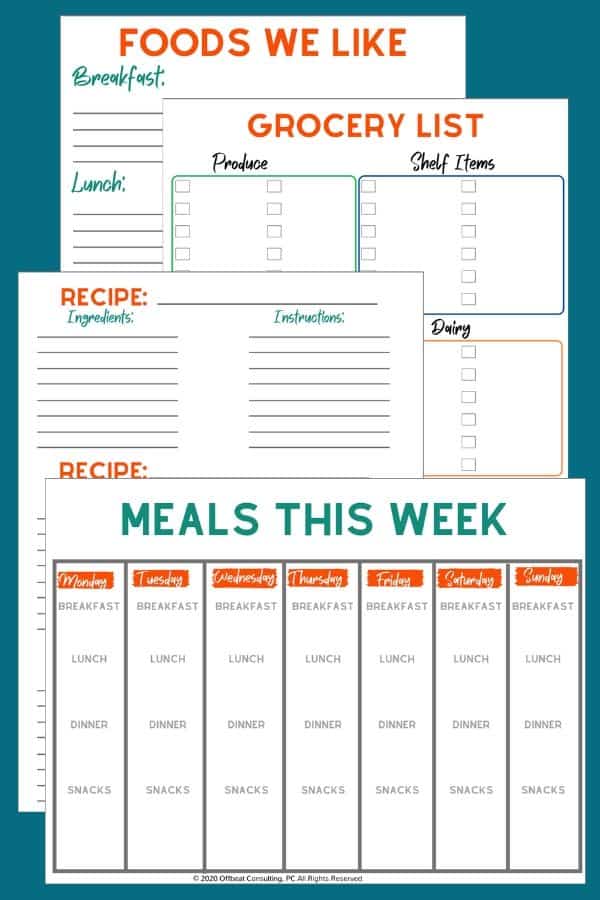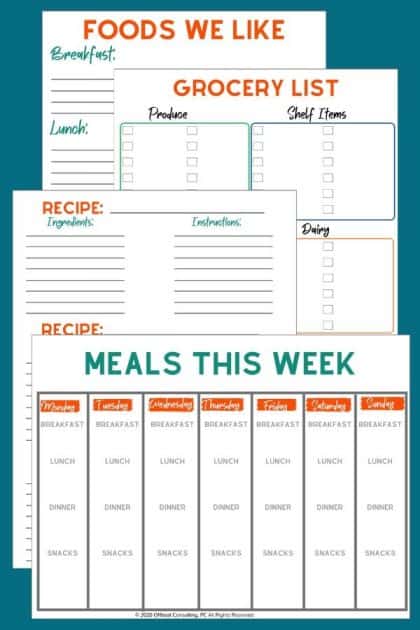 Get The Planner!
Using the Meal Planner has helped me and my family eat healthier, spend less time at the grocery store, and eat a little healthier. That's a win!
Pro Tips To Get The Most From Your Planner
Here are some of my personal tips to help you get the most out of the meal planner.
Tip #1
Put these pages in a binder all together. 1. It's harder to lose a binder than it is an individual sheet of paper 2. It's easier to use it when it's all together instead of spread out all over the place (trust me, I've learned that the hard way!)
Tip #2
Look for fast and easy recipes, especially if cooking isn't totally your thing or you're super busy (who isn't, right?) I usually put stars by the recipes that are particularly quick and easy so I don't have to try to keep track mentally of which ones are quicker. I've learned that I'm more likely to cook if I know I can make something I like, quickly. So fast and easy for the win.
Tip #3
When putting meals on your calendar, identify which days are likely to be the most pressed for time. I like to make sure there are super quick recipes planned for those days. It makes it more likely that I'll actually cook that night instead of getting take out.
Tip #4
Print extra grocery lists, recipe cards, and calendars. Once you buy the printable, you're download is yours and you can print as many times as you need to. So grab yourself a binder and a hole punch a print out several of eat so you have them on hand. Once the week is over, trash/recycle the used and keep going with a fresh new weekly plan.
Tip #5
Once you make your calendar and list, snap a picture of them with your phone. Then, if you find yourself at the grocery store and remembered everything except your list (happens to me a lot), you have a copy of it on your phone.
I take a picture of the calendar as well in case I want to reference it at work to remember what I'm doing for dinner.
Don't Miss Out!