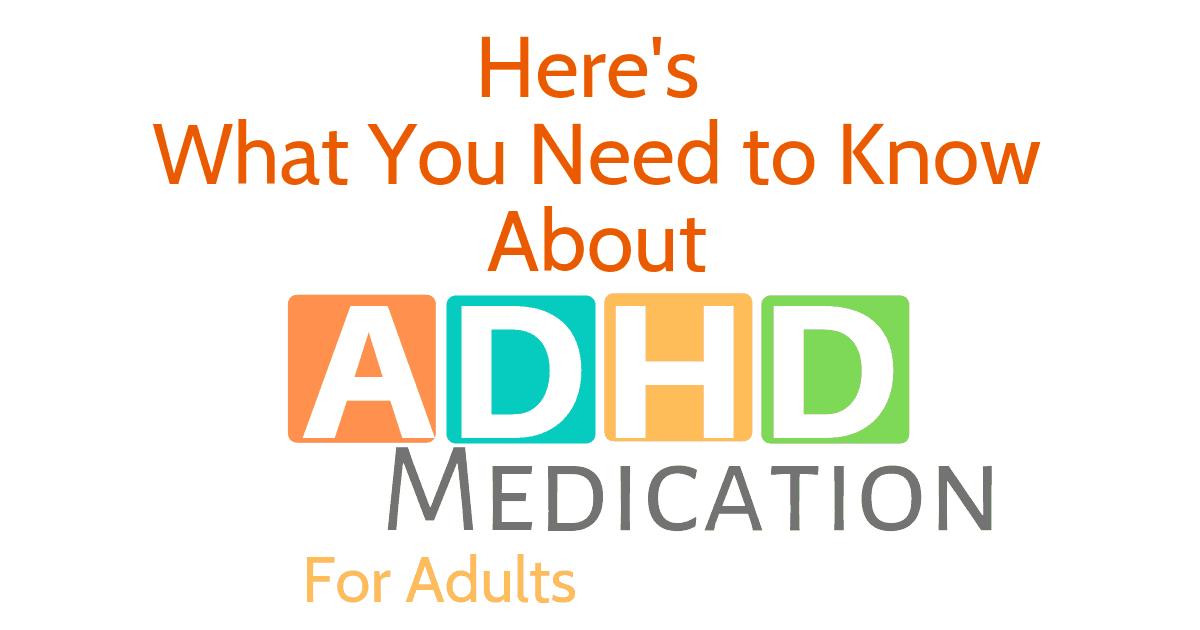 ADHD medication for adults tends to be a hot topic with a lot of bad information in circulation. But taking a stimulant was one of the best decisions I made for myself as an ADHD woman and it's time to clear up some myths that won't seem to die.
Let's start off with something important…I'm not a medical doctor. What I've giving you here is a crap load of research that I've done and information that doctors have discussed with me. It's general information, pulled from research, that you need to discuss with your individual doctor who knows you better than research does ?.
Ok, moving on…

Stimulants like Adderall and Ritalin are the first line treatments for ADHD and have around an 80% effectiveness rate. That's higher than most psychotropic drugs. Non stimulants are effective (but much less so) and diet and supplement strategies have no solid research showing effectiveness.

Stimulants are a controlled substance and like any medication with the potential for addiction, taking it or asking for it tends to get a few raised eyebrows. And that leads many to question if medication is really necessary.

The medication topic is further complicated by some common myths that get thrown around in the professionals, friends, and family; it's also hampered by the lack of understanding of what ADHD in adults really looks like and why medication is such a necessary treatment.

So Let's Clear Up Some Myths about Taking ADHD Medication in Adults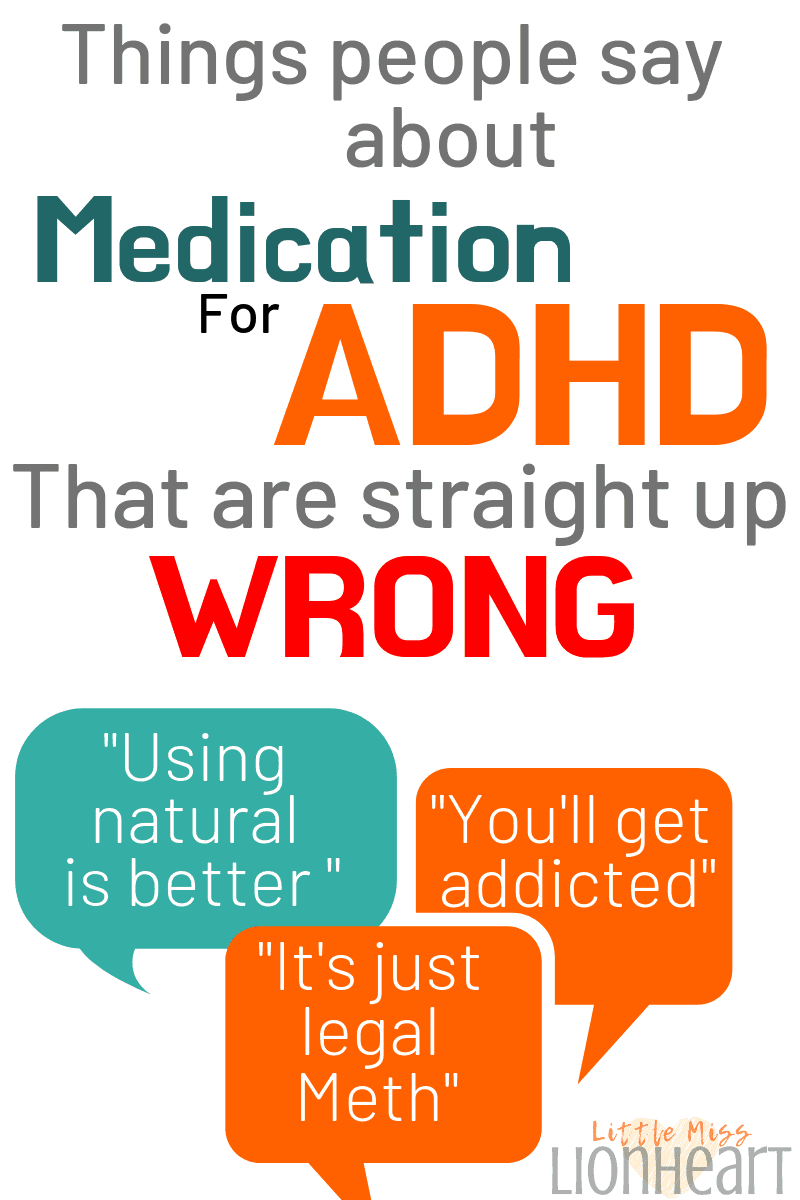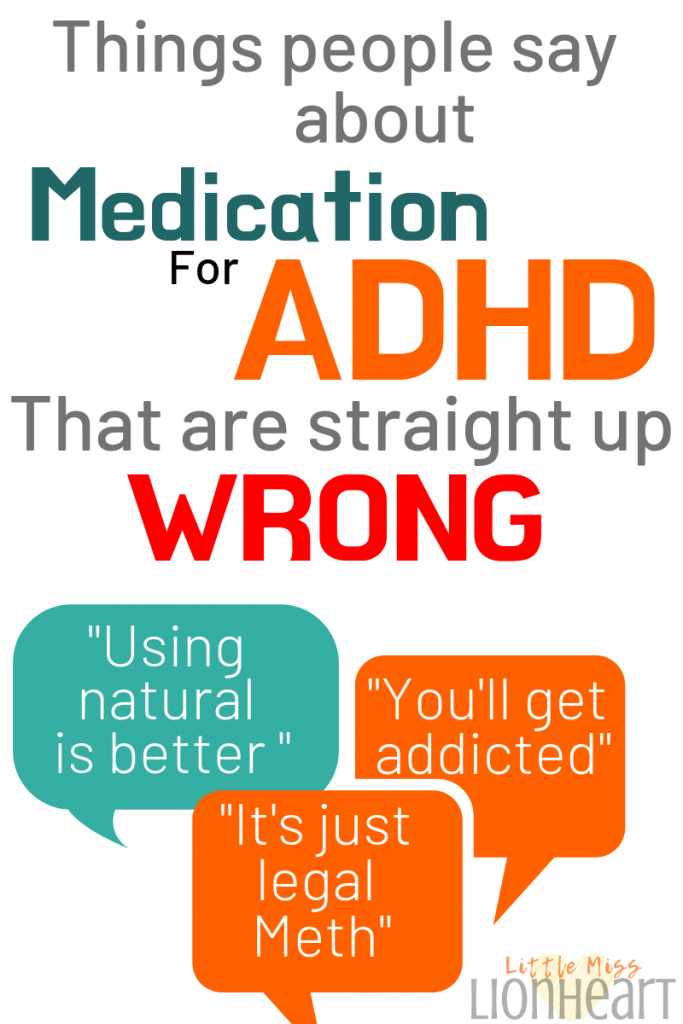 Common myth #1: ADHD medication is basically Meth

In some ways, the Adderall and Meth are similar and in some ways they are very, very different. Both belong to the stimulant class and have similar chemical make-ups. That alone can scare people, thought it's not as scary as it seems.
Methamphetamine differs from Amphetamines like Adderall because of an extra methyl group in the chemical structure. That seems like a very small change–and it is–but it makes a big difference.

That extra methyl group makes methamphetamine more fat soluble than Adderall, meaning it crosses the blood brain barrier rather quickly and effectively, creating a high and a rush of euphoria that skyrocket the risk for addiction.
Amphetamine doesn't have that extra methyl group and isn't able to cross the blood-brain barrier as well. Amphetamines like Adderall don't give you a high, if they are used as prescribed. For adults with ADHD, it instead creates a sense of calm.

Meth stays in the body far, far longer than Amphetamines; it also creates a greater degree of side effects, some just very unpleasant and some dangerous.
Here's great video from Totally ADD talking about Ritalin and Meth. Rick is hilarious.
Some other things to consider about prescription drugs vs. street drugs
Both Adderall and Meth are chemically similar to phenethylamine, which is naturally produced in humans. Phenethylamine is also considered a stimulant and studies indicate that us ADHDer's don't have enough of it. When we take Amphetamines (like Adderall), it increases this natural chemical to the same level as other humans. If Adderall is "basically just meth" it would appear that phenethylamine is "basically just meth," too. Seems like a bit of a problem…

And let's not forget that, without treatment, ADHD women are more likely to abuse substances or that ADHD medications aren't the only drugs commonly used that are chemically similar to street drugs.
Heroine (pure, that is) is almost identical to Morphine and very similar to Oxycodone. Ketamine is a street drug but it's also being used and studied for it's effects on treatment resistant depression. And those are just a couple of examples.

Common myth #2: You'll become a drug addict if you take ADHD medication

Stimulants have the potential for abuse. They are a Schedule C drug and tightly regulated because of that. No arguments there. That being said, ADHD medication in adults (or kids for that matter) does NOT lead to an increased risk of abuse and many studies show that they actually decrease our risk of addiction.
Substance abuse is common in Adults with ADHD who are unmedicated because of the core symptoms of ADHD: impulsivity and self medicating the struggles. On the other hand, stimulants reduce impulsivity and improve ADHD related struggles. That may be why adults with ADHD who are treated with stimulants are less likely to struggle with addiction and if treatment began in childhood, the reduction in substance abuse risk as an adult is even greater. That's a pretty powerful argument for early intervention.

Common Myth #3: Long term, you might be brain dead from stimulants

Decades of research on the long term effects of stimulants have turned up no major issues. While we will certainly benefit from more studies, we have enough to feel reasonably confident that we are in no greater danger taking stimulants long term than we are other medications. Yet, people tend to assume that not finding an effect meant that there (probably, definitely) is an effect and it is (probably, definitely) a terrible one.

Stimulants were first used in the 1930's for things other than ADHD. ADHD was first recognized by name in the 80's. The DSM II called it by a different name: Hyperkinetic Reaction of Childhood (1968) and the study of stimulant use started then. That gives us almost 90 years of studies on stimulants and more than 50 years of that includes research for ADHD (under both names).
In that time, we've had more than a few studies on stimulant use (often in treatment of narcolepsy) and at least a few of those have studied long term effects. It's a lot easier to prove something does exist than it is to prove that it doesn't. In 50+ years of research, we still haven't found any long term problems of stimulant use (when used as prescribed, obviously).

So, thank you Aunt Sally, but I probably won't be brain dead or have a heart attack or whatever else you're concerned about when I'm your age. At least, not from the Vyvanse my doctor prescribes.

Common Myth #4: Natural is always better

Many ADHD women are against medication simply because it's "man made" and "natural is always better." Better meaning safer and more effective.

There are a few important questions here.
Why do we think that natural is better?
Why do we think that man made is more dangerous?
The answers to these questions tend to be some variation of "it's common sense," which, by the way, isn't an answer.

The Black Plague shows that natural is not always better.

Consider for a moment that the Black Plague came from animal feces, transmitted to humans through fleas. In other words, it was naturally created through natural means. The mortality rate was about 60% and around 50 million people died across the world in the middle ages because of Black Plague.

But the cure for the Black Plague is antibiotics, otherwise known as man made medication (not so natural). The Black Plague today is nearly always cured if given proper treatment. Over the last 100 years, the number of reported cases of Black Plague might be a few thousand and most of them survived.
Natural isn't always better.
Medication for ADHD far outranks natural treatment in studies of effectiveness

Most ADHD women taking the natural route want to control their symptoms through diet and supplements, thinking they are safer and more effective. If you're interested in this route, just bear in mind that:

Supplements are man made just like medication is; our bodies may produce the vitamins themselves but what we are getting from a supplement really isn't the same naturally produced substance.
Most of our food (even that we grow ourselves) is not as natural as we think it is. Most fruits and veggies are the product of human interference through cross breeding seeds and genetically modifying the dna to produce seeds that will grow larger products.
Natural isn't necessarily safer. Especially since vitamins and minerals aren't regulated. Studies have shown that the dose you're actually getting often differs dramatically from the amount indicated on the packaging. For some Vitamins, that's not a big deal but for others it could be toxic.
Studies show little to no effectiveness of diet or supplement treatment for ADHD. Stimulants on the other hand hover around an 80% effectiveness rate.
Whether you decide to stick to 'natural' options or not is totally up to you. Regardless of what you decide is right for you, it's helpful to know what your options are and how likely they are to be helpful.

Now, for the good stuff…

The Benefits of Taking ADHD Medication as an Adult
For most of us ADHD women, medication has been life changing. At least, once we found the right one and the right dose.
Let's get this started with an analogy that will have us travelling back to the 90's and early 2000's…
Before this wireless age, there was dial up internet. Do you remember how you could start loading a webpage and go make yourself a sandwich before the page was finally loaded? Or how when the phone rang it forced the internet connection to break? Oh and the crazy noises that came with trying to connect to the internet? Yeah…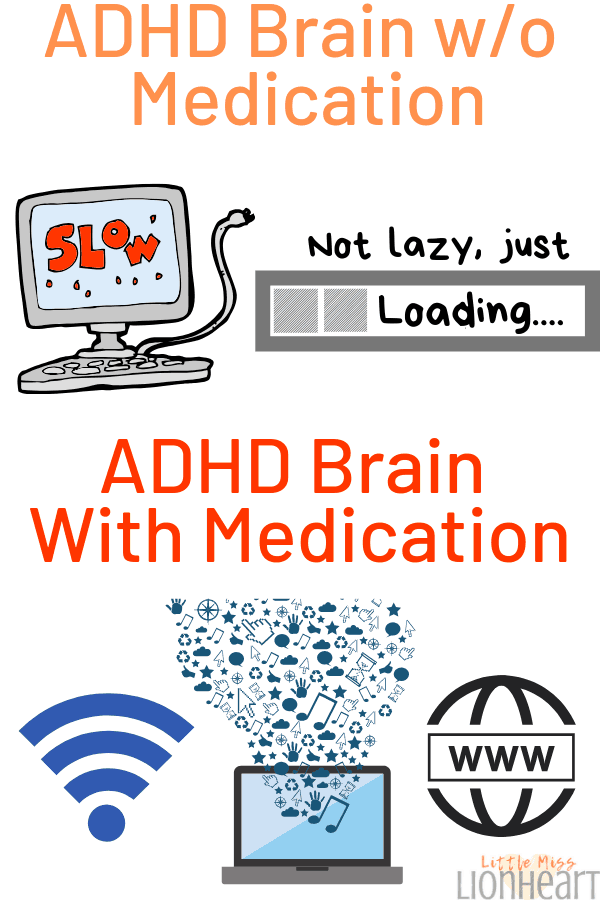 ADHD Women BEFORE and AFTER Medication:

ADHD in adults is like living with a brain running on dial up
Before Medication
A person with ADHD often feels like their brain is running on dial up. It takes longer to make connections, it often feels kinda fuzzy, sometimes it fails to load, and way too often the something rings through and breaks any connections you are trying to make.

On ADHD medication
It feels like your brain is on the same high speed internet that everyone else seems to have. Connections happen quicker and more clearly, things don't "ring in" and break your focus or pull your attention as often. It feels like your brain is turned on.

The ADHD Woman on dial up feels SO MUCH
Before ADHD Medication
Running on dial up makes everything feel more overwhelming. Life goes on at regular speed but the dial up ADHD brain is always a few steps behind, waiting for the appropriate connection to load. It's almost impossible to keep up with everything that you need to keep up with and that leads to feeling frazzled, anxious, and overwhelmed almost constantly.

On ADHD Medication
With the connections running smoother, quicker, and more clearly, it's a lot easier to keep up with life at regular pace. You don't have the fuzziness that prevents a clear thought process or distractions ringing in. With medication, you can keep up which means the overwhelmed frazzled feeling is gone. It's a nice calm and productive feeling that replaces it.

The ADHD Woman's dial up brain freezes randomly
Before ADHD Medication
It's easy for your brain to get hung up on one track of thought the way dial up internet had a way of just kind of freezing on you. With ADHD, it can be hard to control when your thoughts when they get stuck on something. Feelings can be overwhelming when your thoughts are caught on something that made you anxious, sad, angry.

On ADHD Medication
You have better control over your thoughts and don't get hung up obsessing (as often) on thoughts and events with emotional content. You are able to break out of that never ending circle. It's not that you don't experience emotion. It's that you no longer feel out of control when you experience it.
The List of Other Benefits of taking ADHD Medication for Adults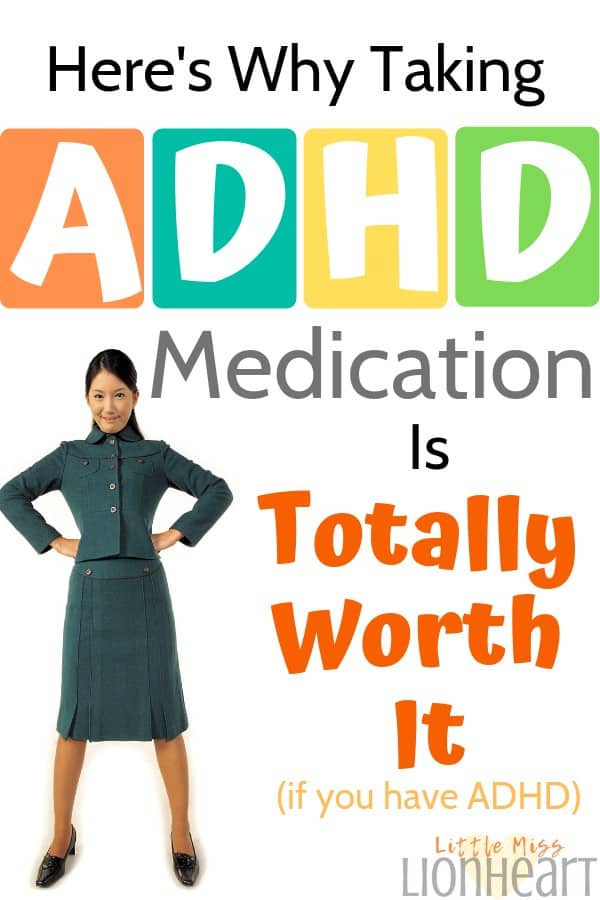 Medication has some huge pluses for ADHD women.
It helps you to become more productive
You're better able to use organization strategies, like these
You can be in better control over what you are thinking about
You tend to be calmer and more focused
If you are more introverted, it can help you be a little more social
You're less impulsive which can save you money, help you keep your job, and improve your relationships
You have fewer "foot in mouth" moments
You're less likely to become suicidal: ADHD is linked to an increased suicidality rate due to the overwhelming emotional impact that is often involved but usually overlooked
You may not get as paralyzed about decisions
You're less likely to be running late all the time
You may find that many other diagnoses like depression or anxiety are improved (when secondary diagnoses)
ADHD Medication for Adults isn't the only thing, though…

If you are thinking to yourself,

"Great! I need medication because it's going to fix everything"
OR
"Yeah, well how come it didn't fix everything for me?"

just know that medication is only one piece of the puzzle. Treatment has to include more.

As ADHD women, taking medication levels the playing field. Think of it like the foundation of your house; it makes everything more solid. In the brain, medication restores your neurotransmitters back to baseline. In doing so, it allows us the ability to overcome our executive function deficits.

But it doesn't automatically teach us the executive functioning skills that we lack. Trying to learn them without ADHD treatment feels like herding cats. Trying to learn the with medication is more like herding sheep: you still have to figure out how but it's a lot easier to do.

Going Back to Our Construction Analogy…

ADHD medication isn't the house. It's the foundation. The skills that you build on top of medication are the house. So if you're an ADHD woman who's taking her medication and wondering why the heck you still struggle, it's because you have a foundation but stopped short at building the house .

So how do we learn those executive functioning skills?
By educating ourselves through blogs like this one
By using resources like the ones I recommend here
And Strategies for organizing, being productive, and others
By seeking therapy and/or coaching
And by asking other ADHD Women how they've overcome some of the things you are still struggling with.
Learning these skills takes time, effort, and patience… but so does building a house.
Exploring ADHD Medication for Adults is Worth it
Finding the right medication and the right dose takes trial and error. I won't lie, that part sucks. Some people get lucky with the right medication the first time; others have to try several before finding the one that works.
The right ADHD medication improves your symptoms, doesn't make you overly tired or change your personality, and doesn't have a crazy ton of side effects you are trying to learn to live with.
The right ADHD medication helps calm the overwhelm and mental chaos that constantly run through your brain. It improves your ability to stay on task and ignore extraneous stimuli. One of the benefits I got from medication that I wasn't expecting was the ability to carry on a conversation with music playing in the background. Before medication, that was impossible for me.
The right ADHD medication helps you pay attention to your loved ones and friends when they're talking to you. It helps you listen to your boss at work and complete your tasks without getting distracted or forgetting (and without getting overwhelmed by them).So
In other words, it may be a journey to find the right medication, but it's worth it.
If You Think You're an ADHD Woman but You Haven't Been Diagnosed…
Make sure you look at my Guide to Diagnosing ADHD in women. It's designed to help you find a doctor who understands ADHD and make sure you have the tools you need to get an accurate evaluation.
ADHD Women, Connect with Me!
If you're taking medication for ADHD as an adult, what are some other benefits that you've noticed?
And if you're hesitant about medication, what concerns have kept you from trying it?