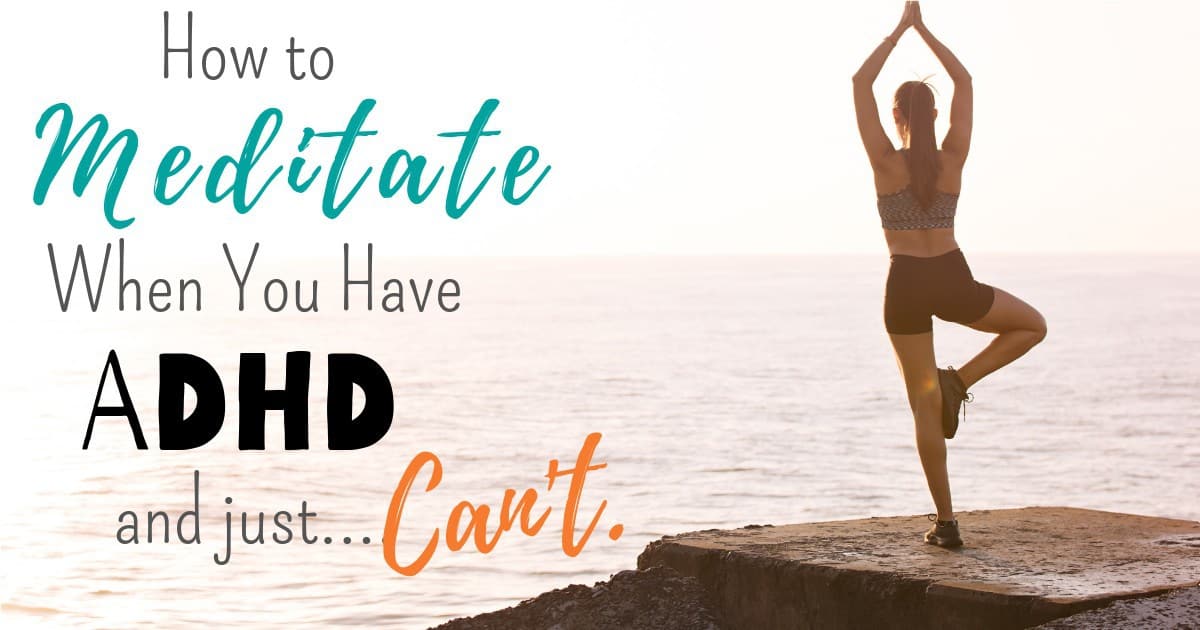 Mindfulness Meditation for ADHD is one of the few natural strategies that seem to actually help those of us who struggle with attention to regulate our focus. But practicing mindfulness is pretty difficult, even for neurotypicals, so how do those of us with attention dysregulation stand a chance?
With a few ADHD style tweaks, mindfulness can be a great tool in your ADHD toolbox. I'll show you how to tweak mindfulness and make it work for you.
But first, why? Why should you be interested in learning to get better at being mindful?
Related: When You think it's Anxiety but it's really ADHD
The Benefits of Mindfulness Meditation for ADHD
Minfulness teaches us how to have a little better control over where our mind goes, which can be especially helpful if you struggle with your mind going to difficult places OR if you struggle with your mind just going (and going and going…) in general.
You can see how having better control over your attention could really benefit those of us with ADHD who especially struggle with things like focus and concentration and bouncing thoughts.
But it also benefits us in other ways, too. Research indicates that mindfulness also has a really positive impact on our
emotions
negative self talk
depression
stress
anxiety
working memory
sleep
Since the ADHD struggle often includes pretty much all of these challenges, it makes mindfulness an even more useful tool in our belt.
Related: What You Need to Know About ADHD and Anxiety
What to do When You Aren't Good at Mindfulness Meditation
Mindfulness is a struggle. Anyone who's tried to meditate can tell you how hard it can be to stay focused. Your mind wanders. You pull it back, it wanders again. And that's the neurotypical experience. For those of us with ADHD, it's even harder to keep our attention regulated (duh, right?).
It's okay. One of the reasons people struggle so much with mindfulness and eventually give up is they expect that they should be good at it. Then, when they get distracted easily, they get frustrated and give up on it. I can't tell you how many times I've heard someone tell me that they just can't meditate because they aren't good at it.
Let me let you in on a little secret…
None of us are good at it. Yes, Seriously. No one's mind just naturally stays focused. Especially not when they first get into it. The fact that your mind wanders does not in any way mean that you are doing wrong, that you are bad at it, or that you cannot meditate.

In fact, you should expect it to wander because that's part of the point of practicing. I know, your mind is probably spinning a bit with that statement…
Think of it like this: When you are lifting weights at the gym, it needs to be hard in order for it build muscle, right? If you just lift easy weights, it doesn't do you much good. Similarly, if meditation is super easy for you, practicing it isn't a huge benefit. The fact that it's hard makes for a better pay off.
When you are lifting weights, repetition is key, right? You don't just lift it once and leave. You repeat, pause, then do another set. When your mind wanders while you're practicing mindfulness, the act of pulling your attention back is like doing a weight repetition. Those repetitions help strengthen your focus.
So expect your mind to wander and know that when it does, pulling your attention back is part of the practice.
How You Pull Your Mind Back Matters
Now that you know that it's okay for your mind to wander and that pulling your attention back is a good thing, next is learning how to pull it back. Because doing it wrong will hurt you.
The key is to be gentle and let go of any self criticism that pops up. If you get annoyed with yourself every time you attention wanders, you'll inadvertently teach yourself to avoid trying. We humans tend to try to avoid things that make us feel bad about ourselves.
When you notice your attention has wandered, just gently shift it back. If you notice shame or frustration popping up, remind yourself that it's okay, it happens to everyone, and it's part of the practice.

Best Ways to Tweak Mindfulness Meditation for ADHD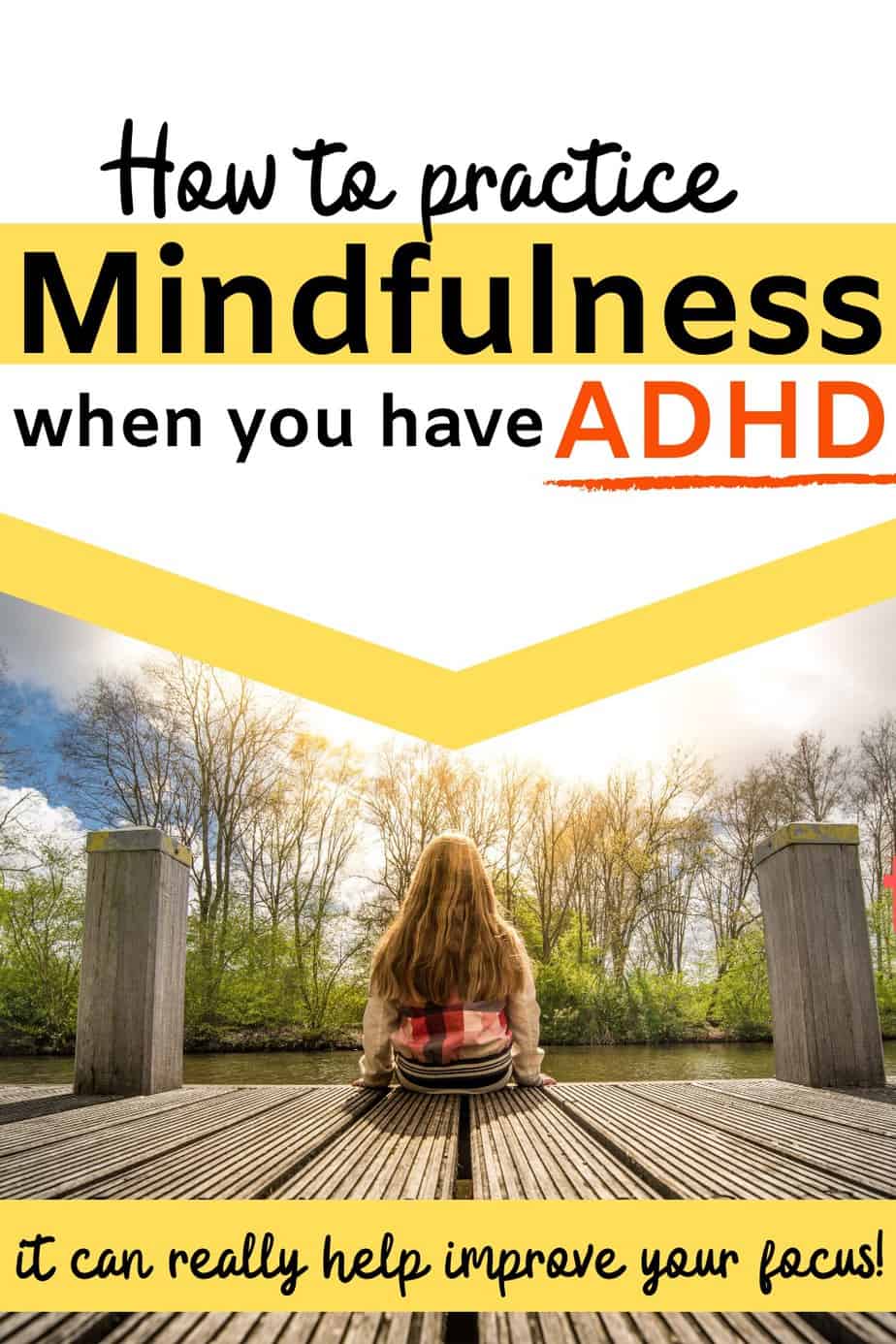 In addition to learning to be gentle with yourself and having realistic expectations for your practice, giving your mindfulness mediation exercises an ADHD style tweak can can really help improve your enjoyment and committment to the practice.
The kind of strategies that work better for ADHD are those that work with the way your ADHD mind prefers to do things, taking in to account things it needs and things that it doesn't do well with. Here are some ideas, but try them out or use them as a jumping off point to find what works best for your brain.
Related: How to Make ADHD work for You with Holistic Strategies
1. Guided Meditation.
I actually really like these and I think they can be a bit more helpful for ADHD than doing the same thing freestyle. Having someone's voice can help anchor you a little better by giving you something more specific to pull yourself back to when your attention wanders. You just reorient yourself to the voice that you are hearing.
I typically look for one that has me imagining a scene that I'm interested in (for me, that's usually some kind of nature scene). The imaginal exercises can be more helpful than some of the others because they can be a bit more interesting. And when you have ADHD, interesting is really helpful.
Here's one of my favorites from the app Stop.Breathe.Think.
Here are a few great apps:
2. Creative Activities
The most meditative I get is when I'm painting, writing poetry, or journaling. Many people find that doing creative activities like these and others are an easier way to practice mindfulness. They engage your interest a bit better and it can be a lot easier to let yourself get absorbed only in what you are doing.
In fact, art was the first introduction I had into the world of mindfulness meditation with ADHD. I had no idea that's what I was doing, but I'd notice that no matter how I felt when I started, I could get completely absorbed in what I was creating and focus only on what I was doing. And when I was done, I felt so much better. Calmer. More at peace.
Any creative activity can do the trick as long as it's something you are interested in. I like to write or be artistic. My husband likes to create music. In fact, creating, in general, can be mindful. Even if it isn't "artistic."
My husband's favorite mindfulness strategy, besides music, is building a campfire. He always leaves that activity calm and content because his whole attention is on that fire and figuring out how to build and sustain it.
Let your mind run wild here. The options are pretty endless.
3. Physical Activities.
Yoga is probably the most obvious way to use a physical activity as a mindfulness practice, but it definitely isn't the only way.
Yoga has you focus on one move and one breath at a time. For those who really hate the sitting still aspect of meditation, a physical strategy may be what you need in practicing meditation with ADHD.
You could also accomplish the same thing with dance or any other preferred exercise as long as you are intentionally focusing on the one thing you are doing in the moment (not the list of things you need to do or what that other person over there is doing).
Exercise has it's own benefits on memory, attention, emotion regulation, and general well being. When you combine it with a mindful practice, focusing on the one thing that you're doing, it's even better.
4. Use Your Hyperfocus.
Another potential benefit of the ADHD Hyperfocus is that, yes, it can offer ways to be meditative. Especially when we are hyperfocusing on something we are interested in and not just momentarily tricked ourselves into obsessing over something.

If you are really interested in something and you pursue it and only it for a period of time, focusing your mind exclusively on that one thing, it could be meditative.
I don't recommend doing that with television (I know I'm not the only one that hyperfocuses on that, right?) or anything that causes your anxiety to run wild. I hyperfocused on medical diseases for a long period of time once. It was interesting but also anxiety producing so I don't recommend that one!

The options for Hyperfocus and mindfulness are limitless, any healthy pursuit you are interested in can be fair game. But make sure you keep in mind that we often have difficulty coming out of hyperfocus so make sure you time it when it works best for you. Probably not right before you need to leave for work. Or before bed…I learned that one the hard way.
Connect with Me
I showed you mind, now show me yours! I want to know your top mindfulness meditation for ADHD strategy. What way do you practice that works best for you? Which are you most interested in trying?

And don't forget to let me know how it goes!