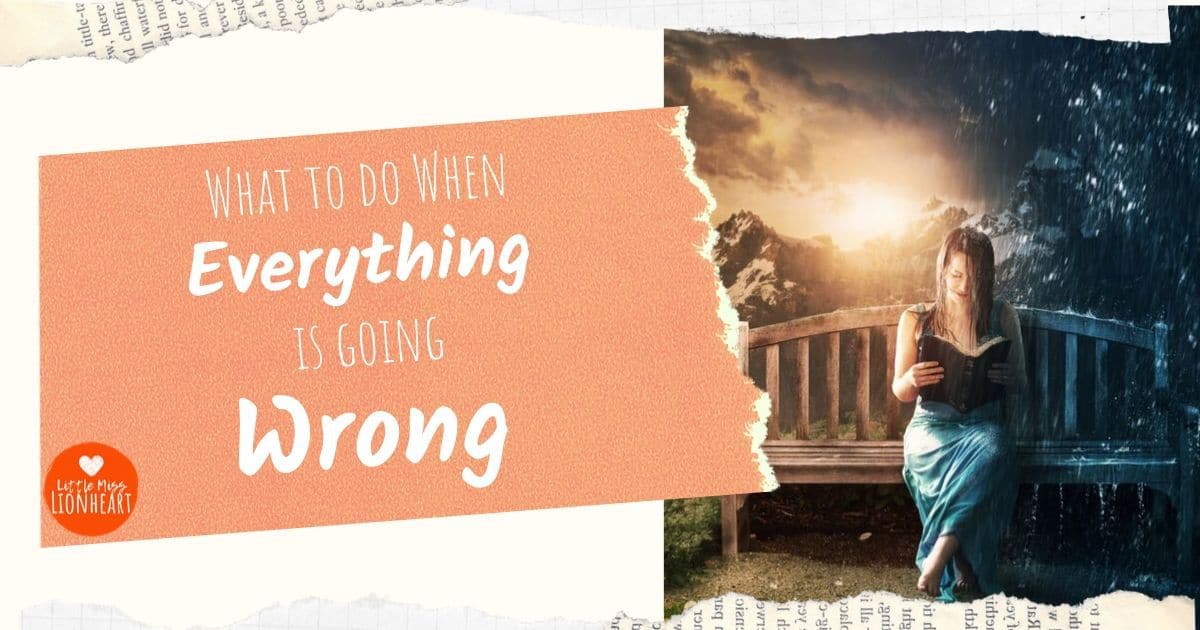 Here's to hoping you guys had a better week than I did. These tough weeks can be so hard to deal with. Think of this as a go-to guide on what to do when everything goes wrong.
These super stressful weeks, when you're totally at a loss on how to deal because everything is going wrong create a lot of anxiety. If you need some ideas on how to calm your anxiety, check out my helpful tips.

BTW: This post contains affiliate links.
Life has a way…
Tuesday night the Hubby was in a car accident. It had just started raining and apparently the stretch of interstate he was on coming home from work got slick fast. Next thing he knew, the truck was flipped over and two good Samaritans were helping him get out.

This is how it looked when he got out. Scary, right?

A way of putting us in check.
He was alright but banged up and sore so we spent the night in the Emergency Room. After a few scans to ensure he was legit ok, we finally rolled into bed about 4am.
The doctor said he was lucky to have walked away and that he was one blessed dude. There was nothing wrong with him save sore muscles and a tiny scratch on his finger. Praise God, Hallelujer? (you have to hear that in my best Madea voice).
But wait, there's more!
Anyway, we finally find a car that we are interested in but had to wait until Saturday for the dealer to get it in for us to see. We buy it Saturday night and we're all excited as you usually are when you get something nice and new…but Sunday morning this nice new car we just bought…won't start.

We try jumping it off and you'll never guess what happened. The jumper cables started sparking like crazy, smoke starts coming off of the cables and the coating around the wires of the jumper cables…melts! And the car still won't start.

Good ole Murphy's Law at work.
Needless to say, by this point I'm furious. Surviving with one car when both people work is a nightmare. Getting into an accident and losing the good car that you have, is a nightmare.
Buying a car that stops working the next morning, well that's just Murphy's law apparently. Smoking cables is just the icing on top. But wait! There's more!

So it turned out that the car wouldn't start because the battery was dead and the jumper cables were smoking because the battery was DEAD. Silly me thought "I should clean the corrosion off of the battery cables" and went to blow it away…with my eyes open…didn't end well.
My sister is a nurse; you can imagine the strange questions she gets. Her response back to me started, "Oh Boy…" Oh, Boy is right.
Related: It's Okay Not to Be Okay, Especially on those Really Bad Days

PSA…
Never attempt to blow away battery corrosion with your eyes open. Better yet, just wear safety goggles. I mean, just always wear safety goggles.
Especially if you are impulsive like I am and never know when you are going to find yourself about to do something stupid without realizing it's stupid until after you've already done it and you have the red, irritated eye to mock you.

What do you do when everything is going wrong?
With it being such a mother flippin' crappy week, I've realized a few things have kept my sanity semi intact. These strategies work for a murphy's law kind of week.
When Everything Goes Wrong… Walk
I was trapped at home and had to find a way to get the hubby's medicine from the pharmacy and decided there was no other option than to just walk there. It's only 3-4 miles round trip. So I walked. What do you do when everything goes wrong…? Walk.
Walking and exercise are so good at helping to work out emotions. If you're angry because your week is about as fun as pulling shark teeth, take it out with weight lifting or power walking.
Releasing endorphins will help with the pain of the week, in more ways than one. And of course, there is that added benefit of weight loss and gaining strength, which gives us all that extra boost! Here's a great guide to helping you get motivated to work out!

Sweet Relief.
At some point on the walk back home, I realized that I wasn't as frustrated as I had been. I calmed down. Then at another point before finally making it back home I realized that I had blisters on the bottom of both feet, but I guess that's beside the point.
The moral of this story is that, despite the blister pain, emotionally I was in a much better space post-walk than I had been pre-walk.

The weight of the….blanket?
What else do you do when everything goes wrong? Buy a weighted blanket of course! I bought mine a few weeks ago to see if it helped with anxiety and sleep, both of which are ongoing issues for me.
At first, I was disappointed because I was expecting it to be as heavy as Zeus is when he lays on my diaphragm and prevents me from breathing but also makes me calm down…possibly from lack of airflow to my brain but hey, it feels better, right?

That was an unrealistic expectation considering this blanket weighs 15 pounds and Zeus weighs 60. Once I let go of that ridiculous idea, I realized that this blanket feels like you are being held. It feels like a hug.
When you're anxious and stressed the gentle weight of it is soothing. In all of the chaos and fear that has surrounded this week, in the midst of the frustration and the worry, I've used it to calm myself.

Do your research.
After researching for a while and having a heart attack at the prices, I finally settled on the Good Knight Weighted Blanket.
It comes in 3 weights (FYI you want to choose one that is at least 10% of your body weight for adults) and it's cheaper than other's I've seen. Plus, I've been really pleased with the quality. I've had it for well over a year now and it's still going strong.
It's not Xanax. It's not going to put you out of your mind. It's not like that. It's more like an arm around your shoulders that comforts you. It's hard to explain, but it's been a lifesaver this week.
The hubby has been struggling with some restless leg issues recently and I was really surprised to find that the blanket has also helped calm that. It's a multipurpose blanket, apparently.
Sleep is so incredibly healing
And sleeeeeeeeeeeeep. Yes, the blanket been helpful in keeping me asleep. It takes some time to adjust to the extra weight when you sleep with it but now that I'm used to it, I won't even try to sleep without it.
That bring me to another important point, a good nights sleep! Getting good sleep is very important, especially when everything is going wrong.
It can make all the difference in a "Murphy's Law" kind of week when everything is going wrong. Our bodies heal and rejuvenate while we are sleeping and if you've ever lost a lot of sleep, you know what an emotional wreck it can make you.
Bad days can take a lot of energy. A supplement like melatonin (I use this one) or lavender essential oil can also help with relaxation and sleep. But of course, talk to your doctor first.
Related: How to Get Better Sleep
Between my 3-4 mile walk and my weighted blanket, I fully expect to sleep like the dead tonight. HALLELUJER!?

Be Random When Everything is Going Wrong.
Random acts of kindness directed towards others can certainly help turn those bad days around. Once, I was having one of those days. A really crappy day.
Someone planted the idea of doing some random acts of kindness into my head. So, I went and bought several bags of Dove chocolates and started handing them out to strangers. People were pleasantly surprised. I got compliments for being so kind.
Ya know what? I felt a lot better after that. My problems didn't go away, but I felt more empowered to take them on.
What do you do when everything goes wrong…? Show kindness. Do something to brighten up someone else's day and in turn, you'll find that yours is also a lot brighter.
In case your having a bad day.
Here's a cute video of the crazies to brighten up your day. Spoiler alert: when playing, little guy always wins. He's the real lionheart? Enjoy!
Connect with Me
How do you survive your weeks when everything is going wrong? Got a strategy I didn't cover here? Drop it in the comments!