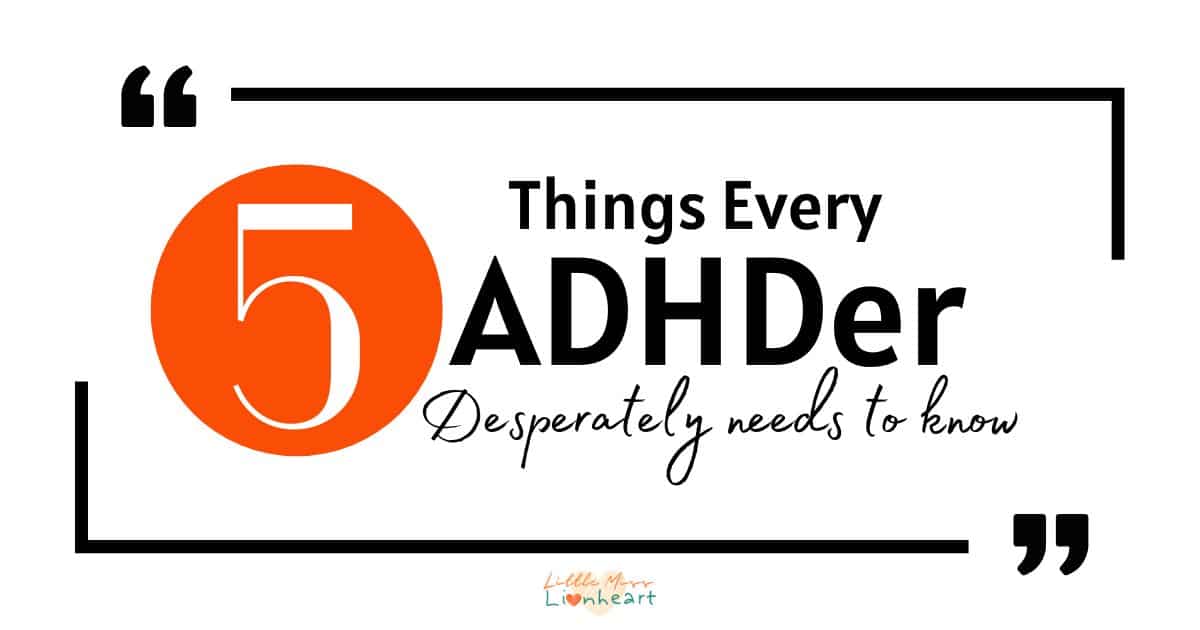 As a clinician that treats ADHD, and fellow neurodivergent brain, I've thought a lot about the things every ADHDer needs to hear. Things beyond the practical tips and tricks. Those are super helpful, don't get me wrong; we definitely need those, too. But most of us have internalized lies about our struggles, we've been told things that only make our difficulties that much worse and when the strategies that work for everyone else don't work for us, we're left with a toxic amount of shame.
That got me to thinking about some of the most common things I say to my ADHD clients and friends and these 5 things emerged. It's far from a comprehensive list, trust me, I know. But if we ADHDers could fully believe and accept these things about our unique brain, it would go a long way.
Not just us, either. The people in our lives would probably benefit from understanding these things about us, too.
You aren't broken. You're a 5-speed
Most of have felt like there's something terribly wrong with us because of one ADHD struggle or another. The world isn't built for us and it sucks. We look around and see everyone around us managing all the crap we're overwhelmed by with what seems like ease and, at some point, we start to wonder what's wrong with me? Why is it so easy for them and so hard for me? I must be broken, lazy, stupid, weak, [insert your own shaming descriptor here].
I've got news for you. You're a 5-speed brain in a world of automatics.
If you've got ADHD, you aren't broken. You're a 5-speed brain in a world of automatics. Click to Tweet
Think about it–all those executive functions that seem to come naturally to the people around you don't come naturally for you, right? You have to really work at it. And keep working at it. They seem to plan and prioritize on the fly whereas you have to push yourself to sit down and do it manually, assuming you can get yourself to do it at all (lucky us, motivation and getting started are two of those pesky executive functions we suck at. So are planning and prioritizing for that matter).
If you're driving a 5-speed in the wild, you have to figure out when it's time to shift gears, manage the gear-shift, and the clutch just right or you get nowhere fast. If you're driving an automatic, all of that's done for you. You can probably see why I'm drawing the analogy now.
The thing is, there's nothing wrong with either type of engine. They're both good, both effective methods of transportation. But if you've got a 5-speed and only ever been taught how to drive an automatic, you end up stalling out, right? A lot. And after a while, when everyone around you is driving their automatics with ease, giving you tips on how to drive like them, it's gonna get more and more discouraging. If you don't know any better, you'll start to wonder what's wrong with you. Why is driving so hard for you and so easy for everyone else? Why do the tips that work for literally everyone else around you not work at all for you? Are you just incapable driving?
There are 5-speed brains and automatic brains. The world is built for the latter. All the adulting tips and tricks out there? You can guess who they're for. So the next time you start looking around, seeing everyone else balancing their lives so much easier than you, remember this. You aren't broken. You're a 5-speed. You need (ADHD friendly) tips and tricks that are built for your 5-speed brain.
You've Got 99 problems, but Motivation isn't One
Alright, fine. Motivation is a problem. Sort of.
Hear me out.
When we struggle to get ourselves to do something we know is really important, we blame it on lack of motivation. But motivation is the want to, and many times we have the want to in spades. But does that automatically translate into getting it done?
Nope.
In reality, what we blame on motivation is often a problem of overwhelm. We ADHDers are always walking a tightrope between being overstimulated and under-stimulated, overwhelmed and underwhelmed. We're frequently falling off one side of the rope or the other.
We blame our productivity struggles on motivation because it seems ridiculous that a sink of dishes would overwhelm us. Plus, many of us have had people close to us see our struggle and assume we're just lazy and unmotivated so we've gotten that message too many times and now we believe it.
But doesn't it make sense that we'd be more prone to overwhelm than your average brain? When you've got to do everything manually and your thoughts ping-ponging and emotions are flying all over the place (yep, that's an ADHD thing), and meanwhile none of the tips and tricks you're given make any of it better…it even sounds overwhelming. And honestly, that's just the tip of the iceberg.
It's really important that we know when overwhelm is our underlying problem. If we assume it's motivation, we either try to Jedi mind trick ourselves into more willpower (which probably doesn't work), or we try to make the task more interesting (which can work, when the issue actually IS motivation). Neither option works well for overwhelm.
Instead, we need to identify what's causing the overwhelm, then we can problem solve. It might be a sensory issue, or something about the task may feel too vague. It might have too many steps or our lovely ADHD brain may be starting too far into the task and skipping over the beginning steps.
[READ: ADHD & Overwhelmed: How to Stop It in its Tracks]
Your Nervous System Runs on Interest
You remember those 99 problems we just talked about? One of them is definitely dopamine.
For those of us with ADHD, it's a rude jerk.
You've probably heard that our brains are low on the illusive neurotransmitter. Dopamine handles things like motivation, focus, the ability to start and stop tasks without ripping your hair out.
Other things like the internal push that clarifies your priorities and gives you a drive to work on something you may not want to work on. Ever wonder why some people can stay ahead on things, even things they don't like doing? Dopamine. It helps clarify how big of a priority something is and provides the internal push to do it without having to rely on the panic of a rapidly approaching deadline. It's even responsible for the sense of accomplishment other people get from doing that task they dreaded doing.
And we're low. We aren't stupid, we logically know that doing our taxes before tax day is important, our brain doesn't give us the push that makes it feel like it's important. That's why we wait till the last minute to do it. We don't get that push until then, and then it's suddenly extremely clear what we need to do and that sense of urgency to get it done is almost overwhelming.
Like I said, dopamine is a rude jerk.
So we aren't powered by it the way people around us are. Instead, those of us with ADHD are powered by interest.
It's the ADHD tale as old as time. "Why can't you pay attention when I'm talking to you but you can sit and play video games for hours?" "How come you can clean other people's houses for money but you can't even think about cleaning your own without panicking?" Like all that's evidence that you're just doing it on purpose.
In reality, it's because we run on interest. Our brain uses it to tell us what's important and to give us the oomph, that push we need to overcome the struggle with executive dysfunction and cut through the overwhelm.
You may not be able to strong arm yourself into more willpower, but you can try hacking your nervous system. I'm always asking myself how I can make a boring task more interesting. More palatable to do. Can I make it into a game, a race against the clock? Can I add something like an audiobook or my favorite coffee drink to a task to make it less boring?
Stop Wasting Your Spoons
With everything we've covered so far, it probably won't come as a surprise to hear that it takes more effort for us to manage life than it does for other people. They're automatics, we're 5-speeds.
Humans only have so much mental and emotional energy, so many 'energy spoons' if you will, to use in a day. We're already using more spoons than your average brain on any given task we're working on, so when we start wasting them on shame and negative self-talk and wondering what in the mother-forking shirtballs is wrong with us, we're sabotaging ourselves.
When we waste them on unhelpful comparisons, on reviewing our past "failures", on berating ourselves for our mistakes or the things we can't get ourselves to do, on pressuring ourselves into 'normal' or 'perfect', we're sabotaging ourselves.
That stuff drains our energy even further, so we have even less ability to do the thing we're already struggling to do.
Instead of getting shameful and accusatory with yourself, get curious. When you're trying to figure out why you are struggling, don't be judge, jury, and executioner of yourself. Be the investigator, the detective, the problem solver. Curiosity is good for our energy spoon dilemma. Self-flagellation is not.
Let Go of the "Right Way" To Do Things
Contrary to popular belief, most things don't actually have a "right way" to be done. What we think of as the 'right way' is really just the way most people do it. But we ADHDers tend to put a lot of pressure on ourselves to do everything the 'normal way', the 'right way', 'the way everybody else does it' and that's just another way we waste our energy spoons.
Remember, you are a 5-speed. If you are pressuring yourself to do something the way everyone else does and it isn't working for you, you're driving your manual engine like it's an automatic and probably wondering why you keep breaking down.
Give yourself the freedom to experiment with doing things a different way. Don't ask yourself if it's 'right' ask yourself if your method is effective. Does it work? Great, use it. No? Tweak it or try a different way.
Don't waste your time in the weeds of comparison or chasing normal. One of the upsides of ADHD–yep, there seem to be a thousand and one downsides but I swear there are upsides too. Some people actually prefer to drive a 5-speed even though it's harder and more involved–so, yeah, one of the upsides is creative thinking.
So, play to that strength. Give yourself the freedom to get creative in your approach, to think outside the box. We are more likely to get things done when we remove as many unnecessary steps as possible–efficiency is the name of the game when it comes to ADHD. So get creative and look for ways to simplify things. You'll be more likely to get that task done if you do, and save yourself some energy spoons in the process.
[READ: The Best Mental Hack to Overcome Your Fear of Failure]
More From Our Readers
I asked this question on the Little Miss Lionheart facebook page, "What is one thing you feel all ADHDers need to hear?' These guys are like…super wise. I'm impressed.
Here's what they said…
"My ADHD makes me intense and too much for some people, but I'm also damn good at my job because it demands someone that doesn't think like anyone else. So, ADHD is one of our assets and the people that don't get that simply aren't our people." -Patricia H.
"Owning your ADHD is your "get out of shame free" card!" -Tanya F.
"There will be days when it seems like it's easy to "have it all together," and there will be days where no matter how hard you're trying and no matter what strategies have worked in the past, it just isn't coming together right/how you want it to. Have patience with yourself, because that's NORMAL, and it's not your fault. Just do what you can, and try again tomorrow." –Kaycee J.
"Stop trying to be "normal", and just find what works for you and lean into it." -Maggie B.
"The shame we often feel in our day to day as people with ADHD is triggered by our perceptions of expectations placed upon us. By throwing off that impossible mantle and really focusing on making a life that works for us and our brains – not that meets someone else's standards – we can thrive." -Kacey Y.
"It's not your fault!!!" -Katelynn D.
"You are not broken, you are different. There are a lot of things you *can* do, just not in the "normal" way." –Lisa B.
"Be kind to yourself." –Kelly H.
"It's ok for your belongings not to be in their designated places. It's ok to feel too overwhelmed to put your belongings where they need to be. It's ok to tell yourself that you can get back to it when you have the energy and the focus. If anyone tells you otherwise I'm sure you'll have a designated place for them too." –Nina J.
"You are not a failure." –Deanna J.
"It's not a disorder or disability…it's our superpower! (Unless you're at Disney! Then we can milk it for all it's worth!
)" –Staci D.
"Everyone may not understand (or even believe) you, but your work is to understand yourself. Once I learned how my unique brain functioned, my world opened up. Diagnosis was a complete game changer for me." –Cheryl T.
"You're not lazy! It actually IS harder for us." –Heather S.
"You are not a bad person." –Monica B.
"I'm still in the diagnosis stage but this podcast said, "that was a good idea/craft etc but it's OK to donate and let someone else do it." Or accepting that sometimes "to-dos," are things we add on in an attempt to be a perfectionist that we can sometimes eliminate if we are drained and they aren't crucial." –Chelsea M.
"Being a perpetually exhausted pigeon is a normal part of ADHD and you are not lazy. Your energy level doesn't define you." –Kiena S.
"You won't necessarily "grow out of it." –Carole N.
"It can be a good thing when you learn to manage it!" –Debbie N.
"Embrace your uniqueness. Use it for good" –Suzanne M.
"You are incredible exactly the way you are and should not have to pretend to be anything other than your gloriously wired self." –Kim S.
"You are not defective. You're symptomatic. The insidious tendrils of a dopamine deficiency impact our lives in so many ways. Arm yourself with information! The more you understand your specific ADHD, the better you can treat it." –Rebecca D.
"Stop being so hard on yourself. ADHD is real and so are its symptoms. Just in the past year (at age 44) I've learned to give myself some grace and it has allowed me to work towards healthy coping skills." –Rachel K.
"There's nothing wrong with YOU. You have a beautiful unique brain that experiences the world differently than NTs, is all. YOU ARE NOT BAD, LAZY, OR HARD TO LOVE FOR HAVING ADHD." –Melissa F.
"Diagnosed at 61. My advice. TAKE THE OFF THE MASK. Take the off the mask. ONLY then can you and others see the wonderful miraculous wonder you are. You have worked harder than everyone around you, you hurt deeper than most and accepted what came your way and just dealt with it and still turned out more than ok. Throw off your mask so others can find you. Others who, like you, see more, hear more, understand more, study more, focus more, get lost more, get overwhelmed more, get reorganized 100's of times more and who is far harder on yourself than any neurotypical around. Take off the damn mask and brighten the world by just being the quirky, kind, loving person you are." –Cyndi C.
"ADHD is not a moral issue!!" Sarah C.