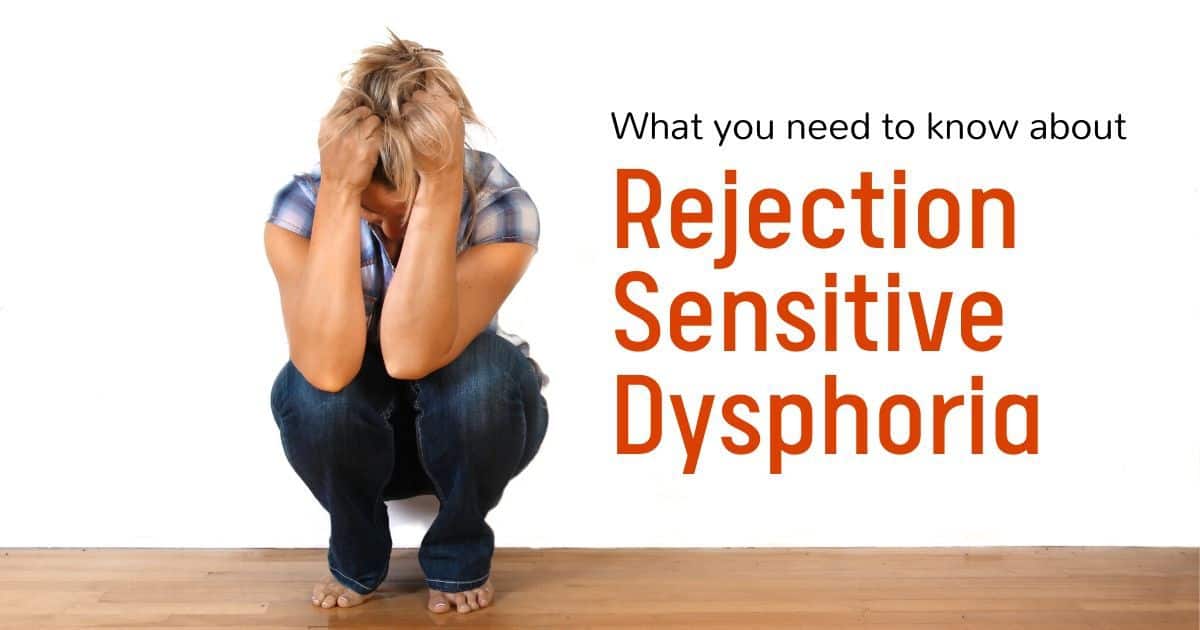 Disclosure: This post may contain affiliate links. If you order through a link, I recieve a small commission at no extra cost to you. Thank you for supporting Little Miss Lionheart!
If you've ever overthought a conversation with a friend until you literally had a meltdown, you might have Rejection Sensitive Dysphoria. If you've ever been overtaken with irrational anger because of critical feedback from your boss, you might have Rejection Sensitive Dysphoria.
Truth is, RSD is really common in those of us with ADHD. Like, really common. It's baffling that while the research on ADHD consistently shows Rejection Sensitivity as a common symptom, the criteria for ADHD doesn't say a word about it.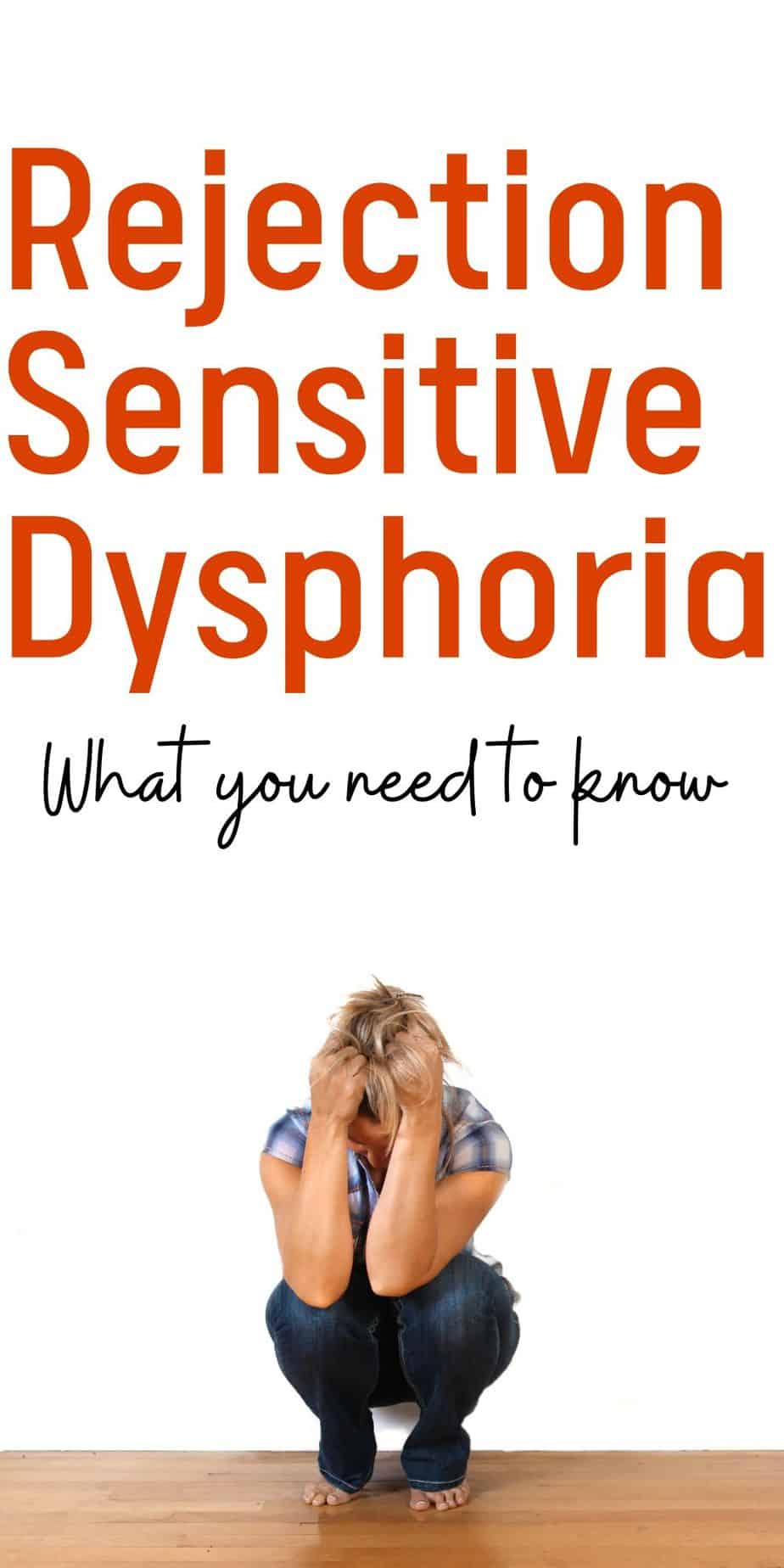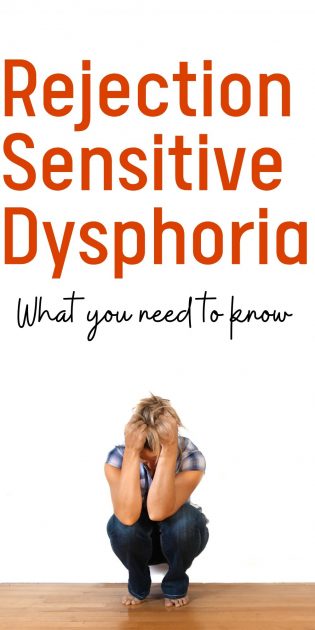 What is Rejection Sensitive Dysphoria?
Rejection Sensitive Dysphoria describes the intense emotional flooding that hits a person with ADHD when they experience perceived rejection (slash criticism or disapproval). It's so overwhelming, most of us who experience it don't have adequate words to describe the experience. It hits hard and fast, without warning.
It's pretty aptly named–the word 'dysphoria' is Greek for "unbearable" and that is really what it feels like. If shame, embarrassment, and grief come in waves, RSD would be a Tsunami. It shoots up out of the blue, crashes into you and knocks you off your feet before disappearing.
It's the gut punch you get when you think someone doesn't want you around. The sickness and hot lump of tears in the back of your throat when your boss even gently reprimands or corrects you.
Basically, it's the worst.
RSD Symptoms
RSD is emotional flooding that comes from the perception that a person is being rejection/dismissed/disrespected/disapproved or isn't wanted.
Some of the signs you're experiencing rejection sensitive dysphoria are:
Get Easily Embarrassed
Feel anxious in social situations
Overthink social interactions
Get particularly overwhelmed by feeling like someone is upset with you, doesn't approve of you, disappointed with you, or doesn't want you around.
Avoid Social Situations and withdraw from others
Have low self esteem and feel like a failure for not living up to other's expectations
Overly critical of yourself
Tend to Assume in social situations that no one likes you
Have strong emotional reactions that, once they've calmed, you tend to feel embarrassed by
Tend to assume the worst– every time your boss "needs to speak with you" you assume it's going to be terrible or you're in trouble
Some people Internalize the flooding:
In turning the pain inward, you are more likely to experience anxiety or depression during the overwhelm.
More likely to cry and avoid than to become angry and lash out.
To avoid the pain, you're more likely to become MORE perfectionistic.
Internalizers tend to become hard core people pleasers in an attempt to prevent the feelings of rejection sensitivity.
These internalizers tend to look similar to the Highly Sensitive Person. And they can definitely be both. Find out more about the overlap between ADHD and HSP here.
Other People Externalize the flooding:
In turning the pain outward, you are more likely to experience anger or rage during the overwhelm.
More likely to have emotional outbursts and say things you don't mean than you are to shut down in the heat of the moment.
To avoid the pain, you are more likely to stop putting yourself out there or doing new things.
Externalizers are more like to stop trying, slack off, and avoid engaging to prevent Rejection Sensitivity.
What Causes it?
Rejection Sensitivity is thought to be passed on in your genetics. There's not a lot known about it's cause, but the current theory actually sounds a lot like the theory for the Highly Sensitive Person.
Basically, it's believed that the ADHD nervous system (much like the HSP) is more highly attuned. This high sensitivity creates an overwhelming physical response to strong emotions such as those created when we feel unwanted or rejected.
The Lasting Impact of Rejection Sensitive Dysphoria
While the initial emotional flooding doesn't last all that long, the experience takes it's toll on a person. Humans tend to do everything possible to avoid the feeling of shame, and RSD is a lot like shame.
It makes you feel worthless or "bad." Even after the initial experience wears off, it can sometimes create this ongoing sense of being defective. This opens up self criticism and issues of chronic low self esteem.
It makes you feel like every interaction you have with another person puts you at imminent risk of this unbearable pain at any moment. So many start to avoid relationships or social interactions, experiencing loneliness instead.
Related: ADHD and Anxiety: Here's what you need to know (especially if you have both)
It's is NOT in the DSM 5 and It's Connection to ADHD is Missed
Rejection Sensitive Dysphoria is a symptom, not a diagnosis, so it's not listed in the DSM. Unfortunately, it's not really listed as a symptom of ADHD either. Research may consistently show that RSD is a common experience for us, but the criteria for ADHD remains exclusively focused on inattention and hyperactivity without a single word about emotion listed.
Because of this, a lot of doctors and therapists aren't aware that ADHDers often experience RSD as part of their diagnosis (though a few are certainly more aware). And if you start describing your experience with emotional flooding, you're likely to get misdiagnosed.
Rejection Sensitivity is often Misdiagnosed
It really shouldn't be a surprise at this point that people who experience RSD get misdiagnosed with other things. Here are some of the most common:
Bipolar Disorder
Borderline Personality Disorder
Post Traumatic Stress Disorder
Social Anxiety
Rapid Cycling Mood Disorder
Depression
How to Treat Rejection Sensitive Dysphoria
The therapist in me really hates to say this, but the initial experience of emotional flooding from RSD doesn't generally respond well to therapy. The experience happens so fast and is so overwhelming it leaves little time for skills. And while trauma can certainly make RSD worse, it's not caused by trauma.
That doesn't mean that therapy isn't helpful at all, because it is. It can help treat the lasting impact that RSD has on a person.
Medications That May Work
When you find a doctor who either understands RSD or is willing to learn about it, there are a few medications that can be effective in treating the initial flooding.
Two are non-stimulants:
One is an antidepressant class that also treats ADHD:
Talking to your doctor can help you find the best treatment course for RSD.
Treating the Lasting Impact
Remember when I said therapy could help the lasting impact of RSD? Let's talk about that for a sec…
Therapy can be really helpful for improving that low self esteem that RSD creates. It can help you avoid the critical self talk that makes everything so much worse. It can help you see yourself in a better, more accurate way than your Rejection Sensitive lenses allow.
Therapy can help teach you skills that help improve your day to day experience with RSD. Things like
Dealing with traumas that may make your RSD worse
Learning to change your inner dialogue with yourself
Practicing self compassion to get rid of shame
Looking for a therapist but can't find the time or struggle to remember appointments? Check out BetterHelp. It's a virtual therapy service that allows you to text, chat, and video chat your therapist without having to worry so much about managing all the appointments.
Connect With Me
Have you experienced RSD? How would you describe the experience? Analogies are welcome since language in general just doesn't feel like it cuts it. Let me know in the comments…