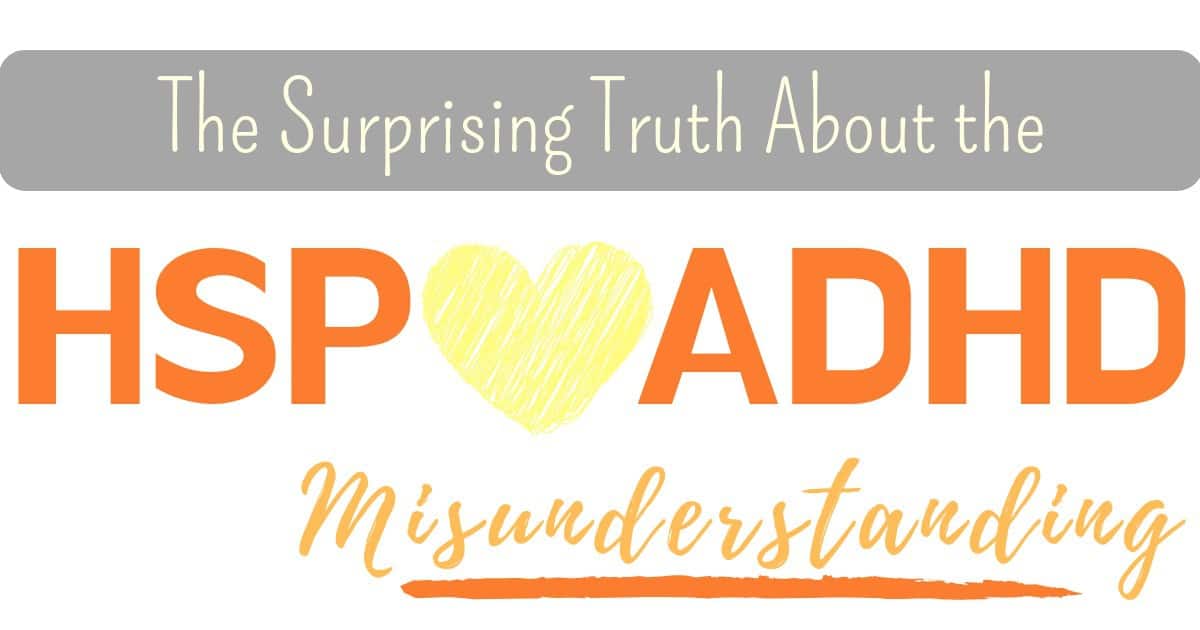 Too many people have an obvious misunderstanding of what ADHD really looks like and how it impacts those of us with it.
The HSP ADHD discussion really shows that misunderstanding in a big way.
Here's a hint: people with both HSP and ADHD will often ask themselves before learning more, "Why am I so sensitive?!"

In case you are unfamiliar, the Highly Sensitive Person is a term coined by researcher Dr. Elaine Aron. It describes approximately 20% of the population who have a heightened sensitivity to subtle changes in their environment, experience, and others.
ADHD and HSP overlap quite a bit. Yet, most don't realize it.
Dr. Aron was asked about the similarities between the HSP and ADHD. Unfortunately, it seems she doesn't realize the overlap either.
I appreciated her transparency in sharing that she isn't an ADHD expert, especially since her answer misrepresented ADHD.
Unfortunately, many therapists, psychiatrists and other doctors seem to have that same misunderstanding. I know I've encountered them; I'm sure you have too.

She said that she thought HSP and ADHD were exact opposites. They aren't.

Let me explain.
Here are some HSP ADHD similarities and differences.
As you read this, keep these two things in mind:
Not every HSP person has all of these HSP traits just like not every ADHDer has all of these ADHD traits.
If it has a star, there's a little more explanation warranted.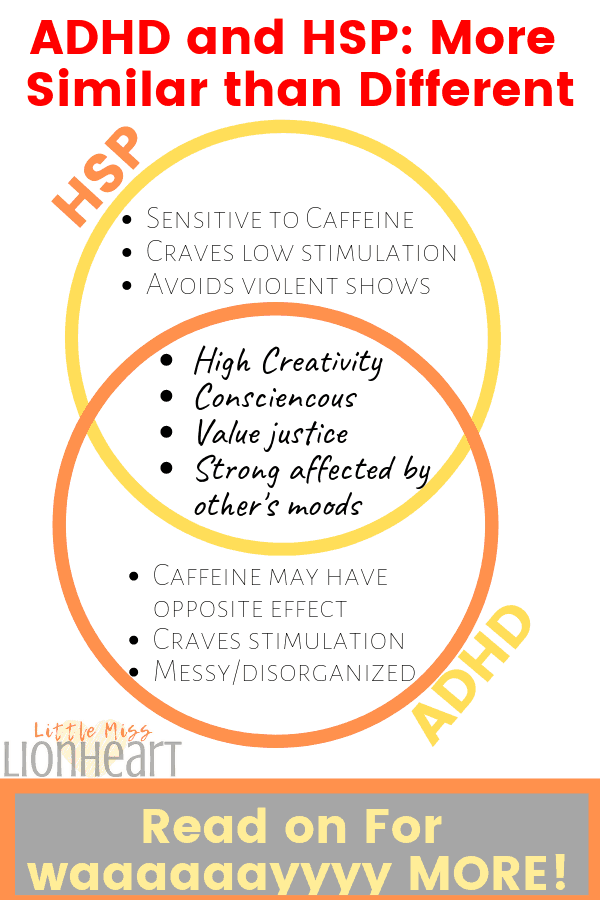 HIghly Sensitive Person Traits
Sensitive to pain
Sensitive to caffeine
Deeply affected by delicate art, tastes, music…
Easily started
Tend to just "know" why people are uncomfortable
in an environment
It's unpleasant when a lot is going on around the
Avoids violence in the media
Change shakes them up
They crave low stimulation
ADHD Symptoms
Attention Deficit Hyperactivity Disorder Symptoms (Inattentive and hyperactive types)
Disorganized
Messy
Forgetful
Difficulty paying attention
Difficulty with prioritizing and time management
Thrive on change
May be fidgety
Craves the right amount and type of stimulation*
BOTH: ADHD HSP Common Traits
More perceptive
Feel things very deeply
Can get highly overwhelmed by emotion*
Sensations can be very overwhelming*
Other people's moods deeply affect them*
They have a rich inner life*
Withdraw when overwhelmed*
Aware of subtleties in environment*
Rattled by a lot to do in a short amount of time
Conscientious*
Often people pleasers and perfectionists*
Irritated by too many requests at one time
Deeply value Justice
More sensitive to criticism*
High emphasis on avoiding overwhelming/upsetting situations
Do you find it as interesting as I do that the both list is so much longer than either of the other two?
Granted, this is not a comprehensive list on either Highly Sensitive Person problems or traits, nor the ADHD life, but it is a pretty thorough overview so my statement stands.

Let's go over a few of the crossovers in more detail, especially since this is where the breakdown in understanding ADHD occurs.

Both HSPs and ADHDers can get easily overwhelmed by emotion, rejection, and criticism.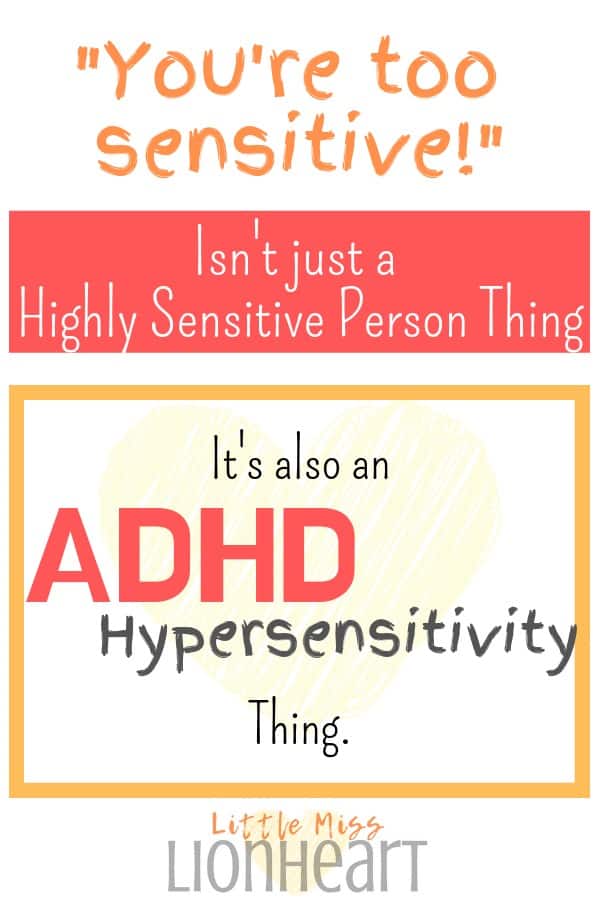 If you know much about the HSP trait, you'll know this is one of the first things that jump out at you.
It's why they often wonder "why am I so sensitive" and why they've been told most of their life that they are overly sensitive. The fact that it's an HSP trait isn't a surprise.

That it's also an ADHD thing, IS a surprise to many, however. It's called ADHD Hypersensitivity or Rejection Sensitive Dysphoria.
Researchers argue that mood disregulation is a core part of ADHD (so why it doesn't show up in the diagnostic criteria frustrates the hell out of me).
It's also why ADHD is often misdiagnosed for a mood disorder or a personality disorder (also according to researchers).

Because the brain connectivity networks that carry information (including emotion information) don't work well for people with ADHD and they have working memory challenges, a momentary emotion can flood the brain and crowd out any other functions that could help moderate that emotion.

That leads to heighted sensitivity which looks very similar to that same Highly Sensitive Person problem. It's one of the more challenging parts for both HSPs and ADHDers.

Both HSPs and ADHDers are Aware of Subtle Changes in the Environment
It's a classic misnomer that people with ADHD don't pay attention. We DO–just often not to the things that we're "supposed" to be paying attention to.
When I first got diagnosed, my doctor told me that he believed ADHD was named incorrectly. Rather than Attention DEFICIT, he believes it should be called Attention DYSREGULATION. We pay attention, it's just hard to control what we pay attention to.

That being said, ADHD is thought to have been an evolutionary advantage back in the days of trying to survive and no end up as food for another animal.
They are the ones who would hear the random sound of a snapping twig while the others where doing their own thing and launch into defense.
We are distracted by anything and everything but when it's go time, no one can focus like we can.
It's that hyperfocus thing.

So the fact that we get distracted by other noises in the environment or strange movements and objects around us means that we notice things others miss.
Ironically, everything about the evolutionary advantage of ADHD is also said about the HSP trait. Interesting, isn't it?

Both HSPs and ADHDers tend to be consciencous. Even when it doesn't look like it.

Describing ADHDers as consciencious might shock the people in our lives who get frustrated by our forgetfulness, disorganization, or time management. All three of those challenges make us look like we don't care.
It's not true though. Just like HSP is tied to empathy, ADHD and empathy go hand in hand.

Executive Functioning Challenges Complicate the ADHD Picture
ADHDers suffer from executive functioning challenges meaning things that other people find "innate" or "easy" are a constant battle for us.

The executive functions are a set of processes that all have to do with managing oneself and one's resources in order to achieve a goal.
It is an umbrella term for the neurologically-based skills involving mental control and self-regulation.

ADHDers have an impairment in these skills that leads us to be late, forget important things, and not follow through when we need to.
Those impairments make people feel like we don't care enough about them because "if you cared you would have remembered."

Regardless of how it looks, on the inside ADHDers are often incredibly consciencous. We want to do the right thing.
We also tend to care about justice to an intense degree. ADHD and Empathy go hand in hand.

And even though it may not look like it on the outside, this is an HSP ADHD shared trait.

People with Both ADHD and HSP MAY have Rich Inner Lives.

With ADHD, this can be hit or miss. We may have the personality that has difficulty entertaining themselves with their thoughts. OR we may have the personality that can be lost in thought for hours.
I once drove 3.5 hours in the car before realizing that I had been driving in complete silence. I was lost in thought!
My theory is that this is more common the higher you are on the inattentive scale. Inattentive ADHD is often referred to as the day dreamer for a reason.

Of course, the ADHD sterotype is that we're always bored, all the time. Surprise! We're more complex than that.

ADHD and HSP: A difference in Stimulation

HSPs tend to crave low stimulation. When there's too much going on in their environment, they often find themselves needing to withdraw into a quiet dark room to recooperate.
ADHDers are a bit different here. We don't want understimulation nor overstimulation–another area we're a bit misunderstood.

We ADHDers need the right type and amount of stimulation and the specifics of that vary for each and every one of us.
Some of us (ahem, me) can't focus if there is even the tiniest noise in my environment (though, thankfully medication has improved this). Others can't focus with silence and have to have a tv or music playing in the background.
We can definitely be overstimulated but the remedy is not always a quiet dark room. Sometimes it's exercise, sometimes it's just getting away from that one environment and finding one that fits our stimulation needs better.

Then there are the HSP ADHD Unicorns.

That is, those of us who are both. Yes, ADHD and being an HSP can absolutely coexist. The combination can be wonderful and confusing all at the same time and probably looks very different for each of us.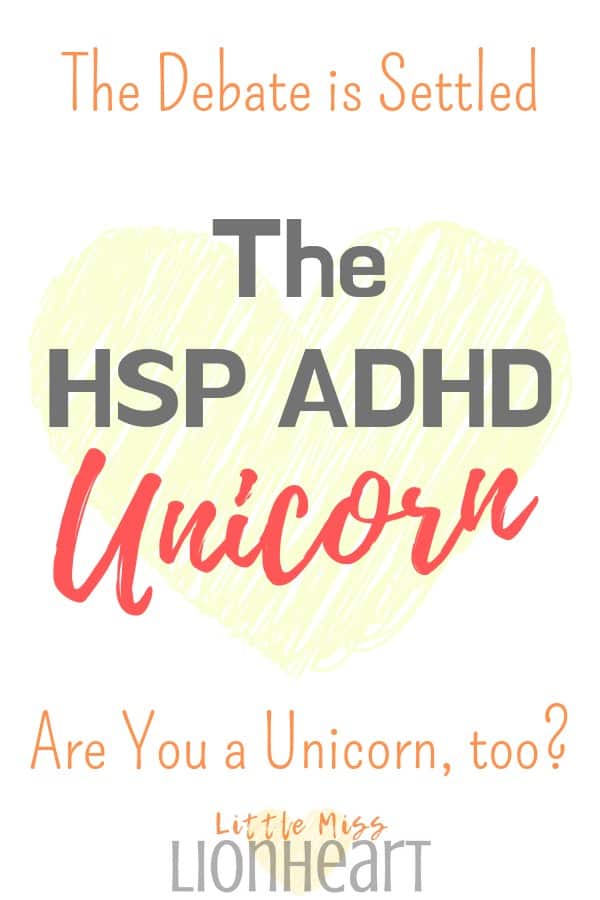 Double the empathy can be a wonderful gift and a horrible curse.
HSP and ADHD are both prone to anxiety and being overly empathetic can definitely provoke said anxious dementor.
Both are prone to sensitivity with perceived rejection or criticism. Double the dose is a nightmare.

When change BOTH excites you and scares the hell out of you it can be an incredibly confusing experience. Or when you startle easily but you are also distracted by something else, the potential reaction from practical jokes can make you a great target for practice.

Sensory Challenges in HSP and ADHD
Did I mention sensory overwhelm is common to both HSP and ADHD? Especially since sensory processing disorder is frequently diagnosed with ADHD. All the sounds, smells, fabrics and tastes and textures… Oh my lord.

But being more empathic, sensitive to your surrounds and the people around you can also mean that you have greater ability to help others. Greater ability to connect with others. A double dose of creativity and value for justice along with the ADHD hyperfocus potential can make you a powerhouse if you harness it.

Having both is a balancing game. I love a party or large event…for a little while. The ADHD part of me that loves all the commotion and people watching can really dig a big event. But after an hour or two, the HSP in me is completely drained and needs to be alone to sleep for the rest of the day.
Learning to balance the two is a challenge. If I time it right, I can avoid the overwhelm. If I miscalculate, I'm out of commission for a little while to recover.

In other words, it's not always either, or. Sometimes it's an HSP ADHD thing.

So if you've ever wondered why am I so sensitive, look at HSP, ADHD, or BOTH!

It's an ADHD thing! And it's an HSP thing! Or It's and HSP ADHD thing… Seriously.

These two are not nearly as different as people think. And showing how much they have in common can really help people have a better understanding of what ADHD REALLY looks like. I've often said that many therapistis and psychiatristis have a basic understanding of ADHD but need this kind of nuanced understanding to really be effective with us.

The overlap between ADHD and HSP covers some of that nuanced view. And ADHD is waaaaaaayyy more than just a school performance issue.

Are you an ADHDer? An HSP? Perhaps an HSP ADHD Unicorn like me?

Let me know!
---
PS: Wanna know more about HSPs or work through some of the hypersensitivity from being an HSP or an ADHDer? Here are a few of my absolute favorite workbooks:
⬆Those are affiliate links, btw. If you buy one of those, Amazon pays me a small commission but it doesn't cost you anything extra. I only sell things I find helpful and I've used all three of these workbooks myself. If you buy one, I hope you love it like I do.