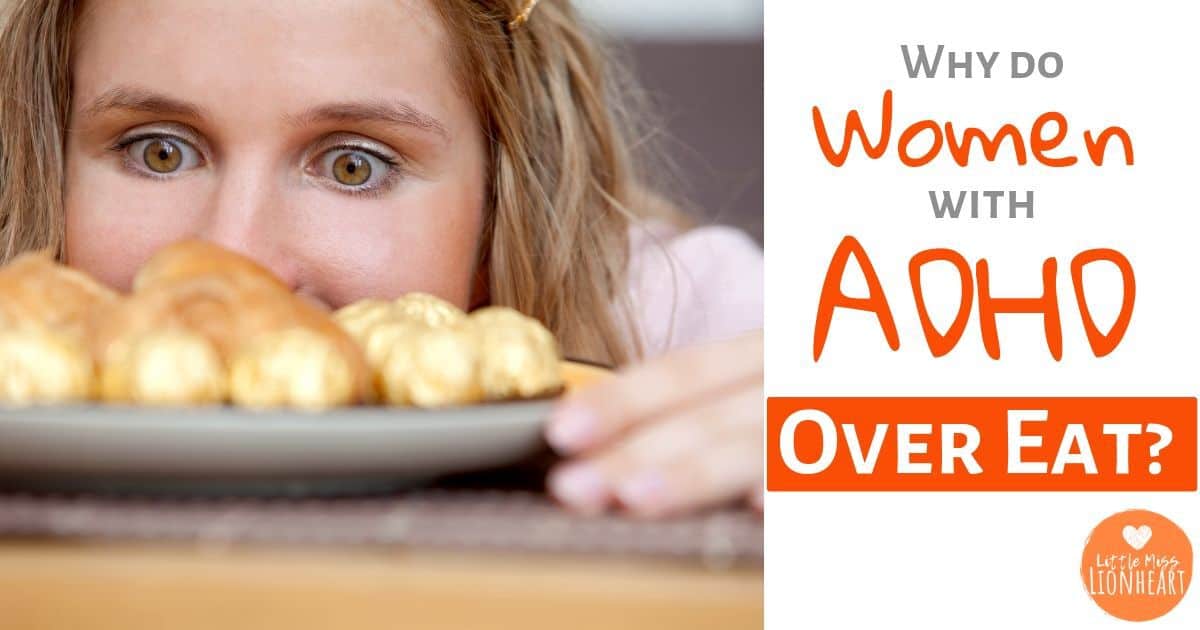 If you're like me, your own eating habits can spiral out of control pretty easily. A girl scout cookie can easily turn into most–or all–of the box. What you may not know is ADHD and Overeating go hand in hand. You may be surprised just how common this combination is and why.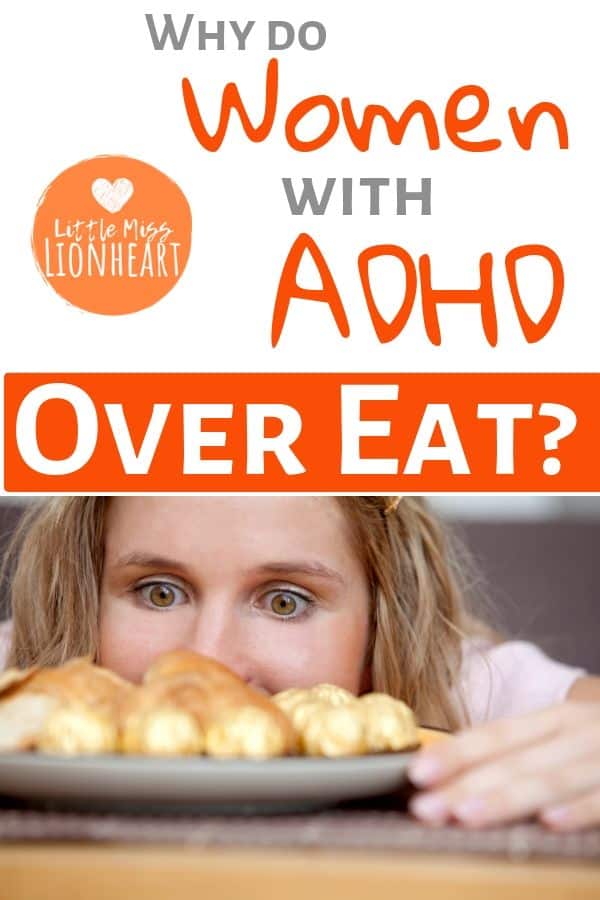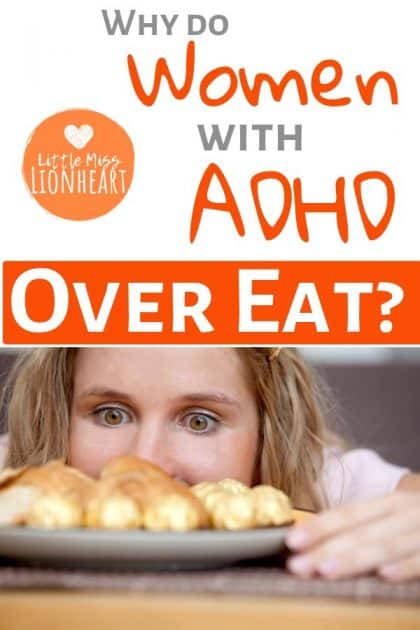 1. ADHD and Overeating May be Linked by Your Impulsivity
ADHD, Obesity, Binge Eating Disorder, and Bulimia Nervosa all share the propensity toward being impulsive.
With ADHD, we tend to get a wild hair to do something, buy something, say something, eat something and we struggle to stop ourselves from engaging with that impulse.
So we get an impulse for that donut in the break room and eat it without a second thought. Another impulse as we pass by Starbucks (I'm particularly guilty there!) And another when we see the bag of chips in the pantry…
Unfortunately, this may not be a "once in a while" kind of problem. We tend to simple crave carbs and sugar, probably due to the dopamine boost these foods provide our dopamine deficient brains. The combination of impulsivity and craving is part of the reason that ADHD and overeating go hand in hand.
Related: ADHD and Eating Disorders: What You Need to Know
2. ADHD and Overeating May be Linked by Your Inattention
Inattention is a common presentation of ADHD, especially in women. Inattention leads to problems when driving, and finishing dinner without burning it, and listening to important instructions, and…..overeating.
Related: 7 Ways ADHD Actually Get's Worse When You're an Adult
Inattention can make us unaware of cues about hunger. We eat without paying attention to how much we're eating so the handful of chips we meant to eat, quickly turns into the entire bag without noticing that we were full long ago or even realizing what we are doing until after the bag is finished.
When we are inattentive, we are more likely to eat more than we intended to and much more than our body needed from us. We may pay less attention to the type of food we are eating.
The connection between ADHD and overeating often involves a combination of impulsivity and inattention.
So, we may get the impulse to eat the cookies in the pantry, then continue eating them as our ADHD brain misses the signals telling us we've had enough.
3. The Need for Stimulation may Link ADHD and Overeating
Reaching the right level of stimulation provides the human brain with better alertness and makes it more receptive to information and learning. It helps us to be engaged and function well.
Neurotypical brains can self-regulate stimulation normally. But the ADHD brain is on a continuous quest for optimal stimulation and arousal and, just as we struggle to regulate attention, our brain struggles to regulate stimulation.
Dopamine is a neurotransmitter that is highly involved in the internal reward system of the brain and in regulating the "right amount of stimulation." As you might guess, the ADHD brain struggles to regulate dopamine which may be why we struggle to regulate stimulation. And the reward system is frequently underactive for us.
On top of that, activities that reinforce Dopamine in the brain are more rewarding to people with ADHD than they are to others. Lucky us, right?
Eating is one sure-fire way that humans get stimulated. It's why so many people eat when they are bored. Sugar or simple carbs with high fat content tend to create a surge of dopamine that we all find rewarding, but the ADHD brain finds even more pleasurable.
The cookies, cupcakes, fast food burgers and fries, chips, etc…those foods we often reach for are the ones that give us the highest dopamine rush. And those of us with ADHD tend to be less sensitive to the taste of sugar so we eat more of it.
These foods can feel like the answer to the search for stimulation and keep us coming back for more. It's really interesting that this dopamine process is similarly indicated in Binge Eating Disorder.
4. Your Struggle with Executive Function Impacts Your Eating
Starting and maintaining healthier eating habits require skills that those of us with ADHD often struggle with. I'm talking about executive functioning skills like:
Planning
Organizing
Task initiation
Following through
Problems solving
Managing impulses
Working Memory
and others
Eating Healthfully requires many of these skills. For example, If you don't plan and organize a healthy lunch, you're more likely to hit up the closest drive through when you get hungry. Those foods, which are high in sugar and simple carbs, initiate that craving problem we discussed earlier.
We tend to be more impulsive and inattentive when our diet is heavier in these kinds of foods. That makes us more likely to continue eating them, and here we have the viscious cycle.
5. Your ADHD Emotional Overload can Lead to Overeating
Many people can relate to the struggle with emotional overeating. Reaching for the ice cream tub after a break up is one of the most obvious ways that humans eat their emotions. And it's an even bigger problem when you have ADHD.
Dopamine, in addition to stimulation we mentioned earlier, is also responsible for giving us a sense of well being which may explain why we reach for food when we are upset.
Many people don't know that, in addition difficulty regulating attention and even eating, ADHD is often related to the struggle to regulate emotions. That leads to a single emotion having the ability to completely overwhelm the brain, and why ADHD is sometimes confused with Bipolar disorder. So our emotions can very quickly become very overwhelming to us, leading us to reach for comfort food as a way to cope.
Because this can be an ongoing struggle, eating our emotions can also become an ongoing struggle that links ADHD and overeating and sabotages our attempts to be healthier.
Related: How to Overcome ADHD Making Weightloss HARD
Connect with Me
What do you notice being the hardest part of have having ADHD and trying to regulate your overeating? Drop me a comment and let me know.