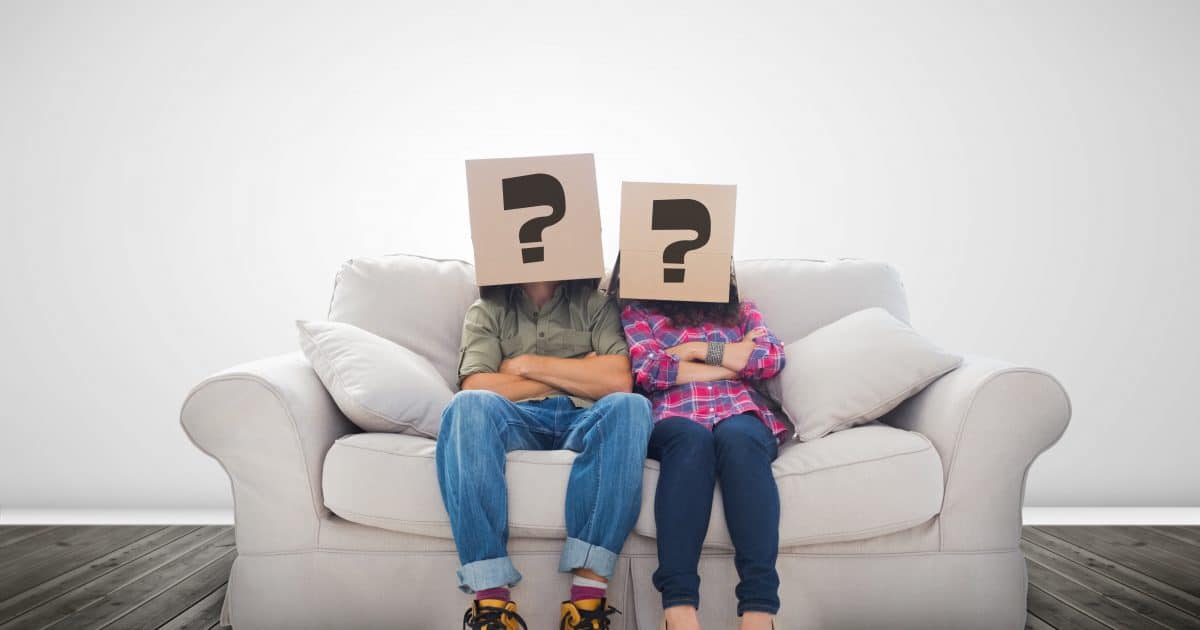 "People don't have ADHD as adults. That's just for kids."
Many friends, family members, and even doctors are under the wrong assumption that ADHD goes away when you turn 18. In the 1990's we really believed that was true, but research since then has proven that statement wrong. Actually, most children with ADHD, grow up to be adults with ADHD.
Unfortunately, many adults with ADHD have even been told by their doctors that "getting a diagnosis as an adult is pointless since you're not in school." Or that "you don't need medication an adult since you aren't in the classroom anymore."
Many people are unclear as to how the symptoms of ADHD affect you as an adult (or that it's even possible to have it as an adult). But most of us don't grow out of it and the consequences of having ADHD as an adult go well beyond the classroom.
Related: When You Think it's Anxiety, but it's Really ADHD
Here are 7 ways that ADHD actually gets worse with age.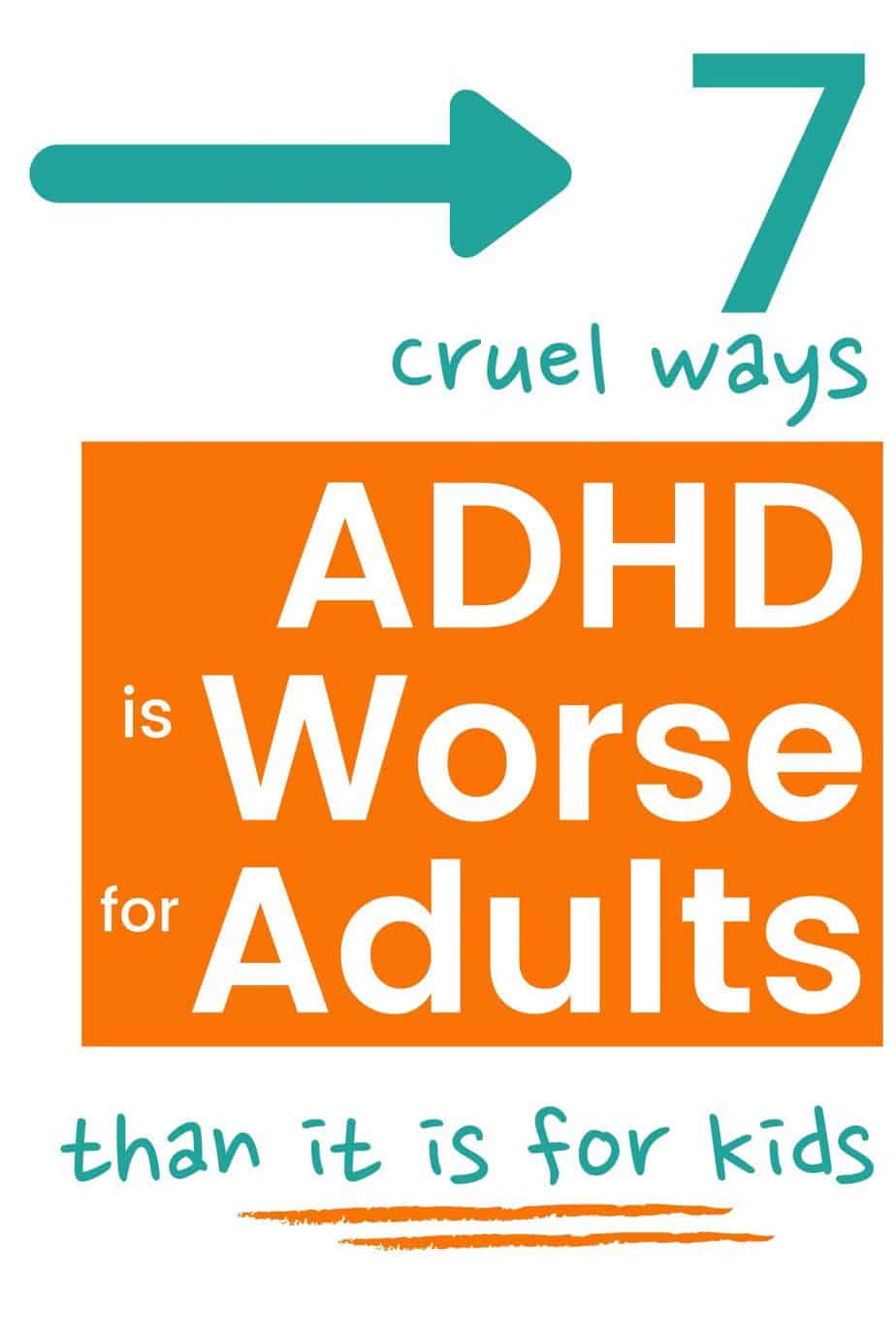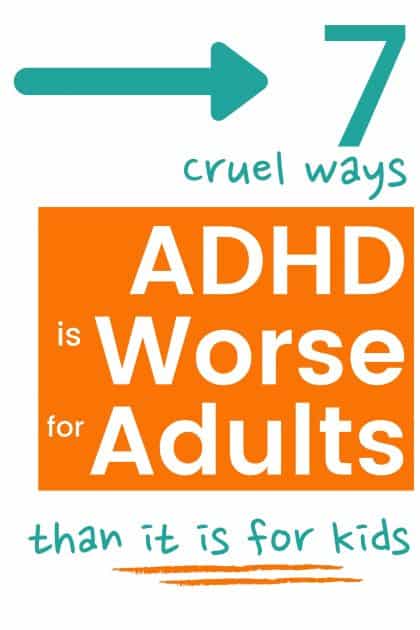 1. Adults with ADHD Can Struggle to Focus Even When Driving
Struggling to focus is one of the hallmark symptoms of ADHD. It's widely known that the child with ADHD will struggle to pay attention in school and that it's something that they struggle to control rather than something they do purposefully. Yet, somehow when you have ADHD as an adult, people think you should be able to control it. But it's not that easy.
Adults with ADHD struggle for focus even when they are driving. I can't tell you the number of times I've gotten lost on my commute because I wasn't paying attention and either took a wrong road or shot past my destination and have no idea where I am. Once, I ended up in another state.
ADHD as an adult who drives means you are much more likely to get into a serious car accident than adults without the disorder. By and away, the most common feedback we're given about this is "You just need to pay more attention."
Noooooo. Really. Pardon my sarcasm but did you notice that's the whole problem?
2. ADHD Makes Your Job a Constant Struggle
ADHD is a constant struggle with your executive functioning. You know, those skills that everyone else seems to have developed and consider being a "responsible adult?" Planning, prioritizing, being on time, concentrating, remembering…. There are more, but I forgot them all ?
When you struggle with these skills, it's going to impact your work. At work, having ADHD as an adult often translates into:
chronically being late to work
missing deadlines
struggling to pay attention during meetings
getting your paperwork done
making more mistakes
figuring out which of the 7 projects you are expected to complete is the most important to begin first
Getting started on a task
And the list doesn't end there. Many don't realize that struggling ADHD as an adult often includes struggling to manage your emotions. That's a problem at work. We're extra sensitive to criticism, but with the challenges you just read, it's pretty obvious that we often get much more criticism than your average bear.
Related: ADHD Hypersensitivity is Real and Looks a Lot Like HSP
And the consequences of all of this struggle often mean we are let go because having ADHD as an adult means your boss is often less forgiving than your teacher and his consequences are worse than losing recess.
3. You're Expected to "Self Regulate" with "Self Discipline"
As a kid, your structure was enforced for you. Most of us had adults that reminded us to take our medication, rushed us out the door in the morning, and made sure that we remembered to eat breakfast.
Some of us even had adults that reminded us to put our homework in our bookbag and forced us to sit at the table and actually do the homework. At school, your teacher made sure you were on task and learning, or at least tried to.
Related: Step by Step: How to be Productive when you have ADHD
Related: How to Manage the Overwhelm and Get More Done
Having ADHD as an adult means you are expected to regulate your own schedule, remember to take your own medication, rush yourself out the door in time for work, and no one is looking over your shoulder to make sure you aren't distracted at work.
Related: Do You KnowThe KEY to Getting Motivated when you have ADHD?
But doing all of this falls under those executive functioning skills that we lack and part of having ADHD means you are likely to struggle with some or all of these.
What's worse is, these things are expected of adults and struggling with them invites a firestorm of judgement. We're looked at as being lazy. Judged for being childish and irresponsible. And many adults with ADHD struggle with self esteem issues as a result.
4. ADHD as an Adult Has Bigger Consequences
For adults, having ADHD means having bigger consequences for your symptoms. If you fail to pay attention while driving you're more likely to end up in a serious accident. If you zone out on important conversations with your boss, you could end up losing your job.
Unfortunately, adults with ADHD (especially when unmedicated) are more likely to become addicted to substances, get divorced, have an eating disorder, and die early.
All because the symptoms of ADHD don't just "go away" and being an adult doesn't mean you can just "control the symptoms better." From low credit, to job loss, to accidents the stakes are pretty high for adults. Is it just me or is dying early worse than forgetting your homework? Seems silly to say that you don't need ADHD treatment if you're no longer in the classroom…
5. ADHD Often Strains Your Adult Relationships
From struggling to concentrate when spoken to directly to inconsistent follow through with things we've promised, having ADHD as an adult often strains your relationships.
In your professional life, bosses and coworkers can get frustrated if it seems like you aren't pulling your weight at the office. Plus, for those with some hyperactivity as part of their symptoms, we may have the tendency to speak before we think. That rarely endears us to the people around us.
In your personal life, forgetting to pay the bills, being really messy and disorganized, or failing to do things we've promised to do all strain our relationships with loved ones. Even when they are supportive and understanding, the toll that it sometimes takes to have to make up for these challenges can be pretty stressful.
Related: Here's why I take ADHD Medication and am Glad I Do
When the people you care most about don't understand why you struggle in the ways that you do, personalizing is generally the response. When you don't understand the interest based nervous system, being able to focus on a hobby for hours on end but zoning out as soon as you start a conversation feels like you just don't care. And it hurts our relationships with people.
And when they aren't supportive, or don't believe ADHD is real, the problem gets even more complicated…
6. Many People Think You Should Have Outgrown ADHD
Even people who "believe in adhd" treat adults like they are lazy or making it up because you should have "grown out of it"
In the 90's we were told that ADHD is a "childhood" disorder. Later, we discovered that actually, most of us don't outgrow it at all. Unfortunately, it seems like many people haven't gotten that memo.
When we struggle, even parents who were supportive when we were kids can become unsupportive in our struggle as adults because they are still under the outdated impression that we no longer have ADHD.
When you're struggling in your relationships or on thin ice at work it would make sense to go to the doctor for help. But when he says "you don't need that because you're not in school anymore" it's often the most invalidating and overwhelming feeling.
If even your doctor thinks ADHD doesn't exist in adults it can create a whirlwind of emotions and second guessing and frustration. And even fear. If he won't help you, what in the world will you do? Unfortunately, many doctors are still stuck in the 90's when it comes to ADHD and it causes it's own, unique, damage to us.
Let's just set that record straight. Over the last 20+ years, we've gotten better research on ADHD. It is now widely accepted that ADHD absolutey DOES last into adulthood for many with the condition. Anyone who tells you otherwise is behind on the research.
The fact that so many people don't believe you can have a legitimate struggle with ADHD as an adult is definitely one of the things that makes it harder on us now than it was when we were kids.
7. Same ADHD Symptoms, but as an Adult, They Even Look Worse
The symptoms don't go away for many of us, they just look different now. Your book bag is no longer a mess, now it's your entire house. And your car. And your desk…
You may not forget your homework anymore, but now you forget the load of laundry you started 3 days ago and now it' soured. And you forget to take your medication. And to pay your bills. Or get gas. Which means you got stranded on the side of the road. Again…
Related: I should have known it was ADHD when…
You're no longer struggling to focus at school, now you can't pay attention to your boss in a meeting. Or in a conversation. Or while you're cooking and somehow end up catching the stove on fire. Again.
And that leads to not following directions. As mad as your teacher was about that, your boss is probably even more pissed at you when he finds out. Your consequence is no longer missing recess. Now it's probation at work. Or getting fired…
You don't lose your report card any more but now you lose your debit card and who knows how long it's been gone before you realized it. Or you lose your phone and have to pay hundreds of dollars for a new one, for the third time this year…
Related: When you're not living up to your potential…
Connect with Me
The next time someone tells you that you can't have ADHD as an adult, show them this article. And keep in mind it just means they are stuck in the 90's along with snap bracelets and fanny packs so don't let the muggles get you down.
Drop me a comment with your experiences of how ADHD has been harder for you as an adult. Let's work together to really lay this myth to rest!?