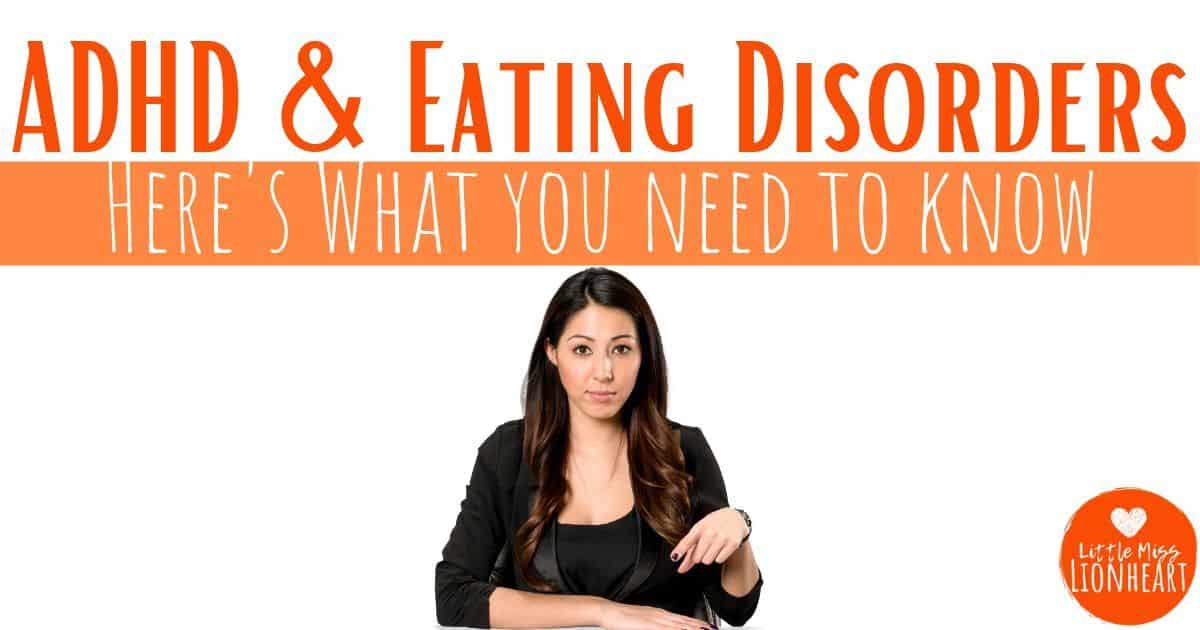 It's only in recent years that we've really started to uncover the link between ADHD and eating disorders or weight. What we've found so far has been pretty shocking. ADHD and Binge Eating, Bulimia, and Obesity share the strongest links.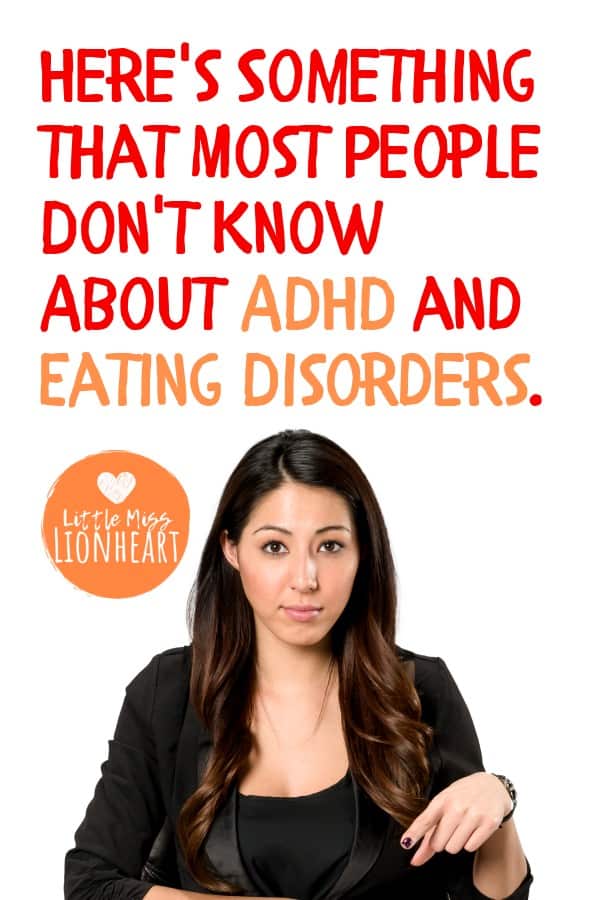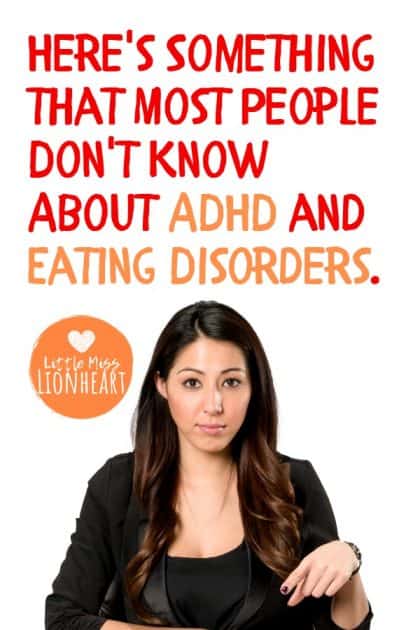 Until digging into the numbers, I had no idea. But ADHD impacts every part of a person's life so it makes sense that it will impact your eating as well, right? Here is what you need to know about the link between ADHD and eating disorders.
Related: 7 ways ADHD is Actually Worse When You're an Adult
The Link Between ADHD and Eating Disorders
We've only just begun discovering the connection between ADHD and eating disorders so the research is still ogoing. Here's what we have so far…
Research has shown that those of us with ADHD are more likely to develop Bulimia Nervosa or Binge Eating Disorder than those in the general population. While it's possible to develop other eating disorders with ADHD, these two have the strongest connection.
ADHD and Bulimia Nervosa
One thing that both Bulima and binge eating sometimes share is the feeling of being out of control. Those with Bulimia struggle with feeling out of control around food, and shame/anxiety that leads to purging/over-exercising.
Those with ADHD often struggle with feeling out of control with thoughts and impulses. That connection of shared feeling may, in part, show us why they are so connected. And connected they certainly are.
In one study, girls with ADHD were 3.6 times more likely than their peers to have an eating disorder and over 5 times more likely to have Bulimia.
1% of Women have a history of Bulimia vs. 12% of women with ADHD.
In one study, 9% of women inpatient for Bulimia also had ADHD.
Bulimia symptoms, among girls with ADHD, were most prevalent in the combined type presentation, followed by the inattentive type.
ADHD and Binge Eating
Binge Eating Disorder (BED) is the newest eating disorder in the DSM 5. It's characterized by eating excessively large amount of food on a consistent basis. Those who have BED often feel out of control when it comes to food and experience shame and guilt that leads to another binge.
It's on ongoing struggle to regulate your eating and find balance. Similar to the way ADHD is an ongoing struggle to regulate…most everything. In that light, it makes sense how ADHD and Binge Eating overlap so much.
Some experts say that approximately 30% of people with Binge Eating Disorder have co-occurring ADHD. That represents the strongest link between ADHD and eating disorders.
Some researchers believe that anyone with Binge Eating Disorder should be screened for ADHD.
ADHD and binge eating have the strongest connection of any other eating disorder by far. Many, many adults with ADHD struggle with regulating their eating. For some, that leads to Binge eating. For others, the overeating may not go as far as an eating disorder but will lead to overeating and being overweight or obese.
The Link Between ADHD and Obesity
Those of us with ADHD are much more likely to be on the heavier side. In fact, some studies have shown that adults with ADHD are 70% more likely to be obese than neurotypicals.
When trying to lose weight, the people who struggle the most are more likely to have ADHD.
Several studies have reported on the connection between ADHD and obesity. One 2005 study found that 58% of teens who were morbidly obese also had ADHD (and 60% were undiagnosed before the study). Another showed that 1/3 of those getting gastric bypass due to obesity also had ADHD Inattentive type.
In that same study, of the participants with a BMI over 40, half of them had Inattentive ADHD. That's a huge percentage!
I know I personally have struggled with the tendency to eat too much. Before I was medicated for ADHD, I could find myself obsessing about a food if it was in my house. That would happen until I'd eaten ALL of it. Trying to moderate it only made me feel more obsessed. For me, ADHD and overeating definitely went hand in hand.
Related: What you need to know about taking ADHD medication
While I'm smaller now, previously I struggled heavily with my weight and I know I'm not the only ADHDer who has that story! Between forgetting to eat, then eating so fast your brain doesn't have time to tell you when you're full, and being obsessed with food until it's gone–being overweight only makes sense.
I was able to get to a healthier weight with the right tools and support and I know you can, too! So don't read this article and think all of this makes it impossible. It's just harder because you are having to fight the ways ADHD tries to ruin your healthy eating efforts.
Related: How I lost 60lbs with these healthy weight loss tips!
Connect with Me
Have you struggled with your weight or an eating disorder as an adult with ADHD? If you are willing, I'd love to hear your story! Feel free to put it in the comments or, if you prefer, join the ADHD Facebook Group and share it there!