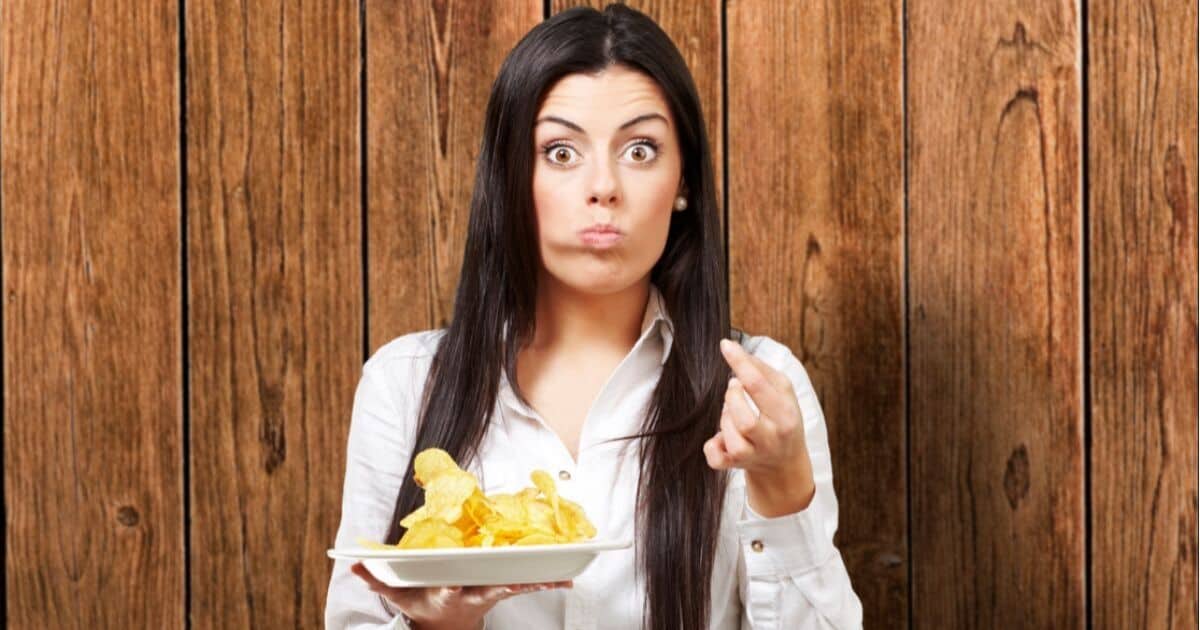 Disclosure: This post may contain affiliate links. If you order through a link, I recieve a small commission at no extra cost to you. Thank you for supporting Little Miss Lionheart!
When it comes to having ADHD, weight loss is surprisingly difficult. And being overweight is a common side effect that no one tells you about. It's a struggle to battle the nasty little ways that ADHD can interfere with your healthy eating goals.
To do it successfully, you need a solid plan for the challenges that pop up. One that's healthy for us and helps us reach our goals regardless of what ADHD throws at us.
Here are 12 strategies to help you balance your diet and develop healthy eating habits and lose weight with ADHD.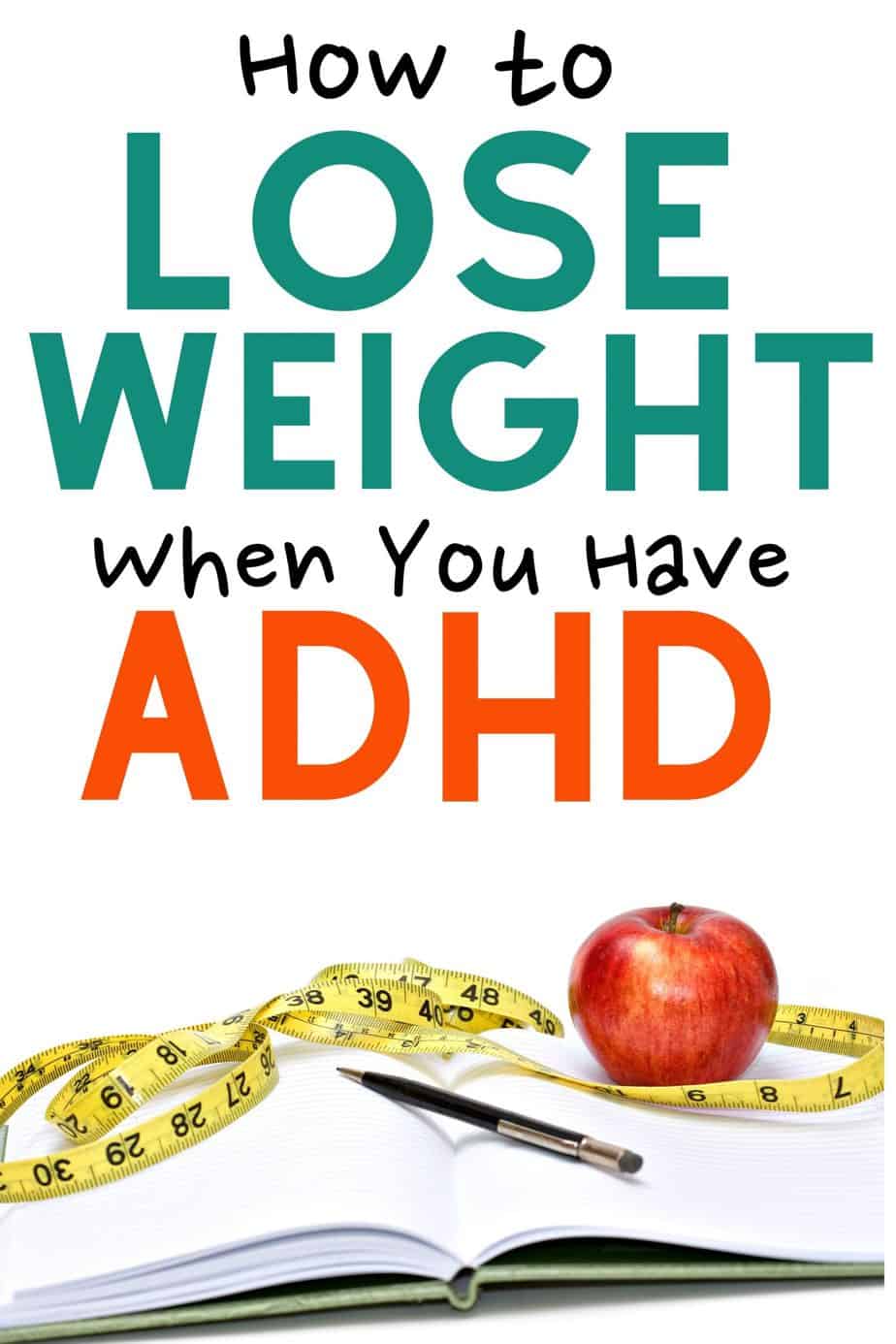 1. Practice Intuitive Eating
Dieting has a negative relationship with weight loss, ADHD or not. The more we diet, the more likely we are to gain weight. Weird right? Restriction may also increase our likelihood of developing an eating disorder, which is already something many people with ADHD struggle with.
Related: ADHD & Eating Disorders: What You Need to Know
Ultimately, we do our best when we change our focus to achieving balance with our ADHD weight loss, nourishing our bodies, and being mindful of what our bodies need.
Intuitive eating is a healthy way that we can begin to change our relationship with food and improve our health. It is based on 10 principles that helps us find balance with food.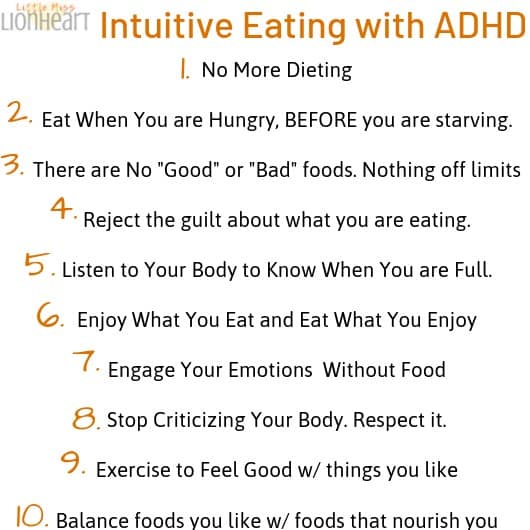 2. Exercise to Improve Executive Function (and health)
Few natural strategies for ADHD have research supporting evidence of benefit on executive function or other related challenges. The exception to that is exercise.
We'll just add that little tid bit to the long list of things exercise seems to help with.
Related: How to Use Exercise to Help Your Mental Health Most
Moving more helps us regulate dopamine, which is particularly helpful in enhancing our sense of well being, regulating our impulses and emotions, and improving our concentration and attention.
If you struggle to get yourself to exercise, I've found it helpful to find things I'm interested in that require me to move.
Related: The Couch Potato's Guide to Finding Workout Motivation
I've always wanted to learn how to do a handstand and a back walkover and it turns out that learning to do that is great exercise! And fun, so I keep doing it.
Walking with a friend or learning yoga are other ways I can usually get myself to exercise and even enjoy it.
The key is to look for ways to make exercise more interesting. If all else fails, find ways to make yourself move while your doing your favorite activities. A yoga ball always helps me with that!
If you are interested in yoga, but you're worried about being a total newbie, this class is for you.
3. Make it Harder to Eat Compulsively
Impulsive eating is common within ADHD and makes weight loss very difficult. For me personally, finding ways to make it harder to eat compulsively has been a very helpful strategy. Here are some ways that I've found that help me.
Don't keep food you tend to binge on in the house.
If you do have it in the house, try to keep it to an individual portion. So, instead of a whole box of cookies, buy just one.
Rather than a big bag of chips, get a small bag. Controlling impulses are hard enough passing temptations in the grocery store.
Keeping large amounts of binge worthy food in the house with the constant temptation it brings might just be impossible (at least, for me).
When foods you binge on ARE in the house, make eating it a multi-step process.
I've never been able to keep cupcakes in the house because I eat them until they are gone.
I've recently realized though, that it helps if I don't pre-emptively ice the cupcakes.
Instead of being able to run the kitchen and grab a yummy cupcake, I have to find the icing, get a knife, stir the icing, ice the cupcake, put everything up….
That little bit of extra effort helps it be a little less impulsive.
Reduce Impulsive purchases in the grocery store.
Grocery stores are designed to make impulsive purchases a persistent problem. You've noticed the individual candy bars and sodas at the check out right? Going to a grocery store with ADHD makes weight loss an ongoing battle.
They're banking on your impulses getting the best of you.

One thing I've realized is that by paying a little extra money to have someone else grocery shop for me, I actually save money.
Why?
I'm less susceptible to impulse buying.
Some grocery stores have their own employees who shop for you, which can save you money. They don't mark their food up when you purchase it online, there's no monthly subscription or tip needed…just an assembly fee.
I often shop at Harris Teeter because they have this option.
If you like other stores that don't have this option, you can check out companies like Instacart or Shipt.
The extra fees can add up if you aren't careful–food is slightly more expensive, there is a delivery fee, and your grocery shopper needs a tip so make sure you consider those extra fees to make sure it's worth it.
Depending on how expensive your impulse buys usually get, this option may still be cheaper for you in comparison.
You can always try only bringing a set amount of cash with you to the store and leave your debit/credit cards at home. That pushes you to buy what is necessary and consider what you take home since your funds are limited.
4. Treat Your ADHD
It's exciting to find that the link between ADHD and obesity is increased only among those of us who are unmedicated.
When we are treated for ADHD, our likelihood of obesity lowers by at least 40%. In this study, appetite suppression for stimulant medication vanished at the 2 month mark. Meanwhile, participants maintained weight and healthy eating habits at 15 month follow up.
Related: Why I take Medication for ADHD and I'm glad I do
This shows that medication for ADHD helps us learn to manage our weight, rather than taking our appetite away. Medication helps us overcome the road blocks we have in developing executive function skills.
We still have to learn how plan, organize, self-regulate, prioritize, etc…but with medication we are able to learn.
Part of good treatment, besides medication, will mean putting effort into developing those skills we lack like getting organized (mentally, physically), Being productive, and using holistic strategies that make ADHD work for you.
This is another exciting benefit that comes from treating ADHD. If you are on the fence or fearful about medication for ADHD for yourself (or your children) make sure you read this.
5. Learn and Practice Meal Planning
Meal planning helps reduce the number of times we go out to eat. Take out food is often high in salt and fat which can really impede our weight loss goals and harm out health.
It is difficult for us with ADHD, don't get me wrong. We often struggle to make decisions on what to make and we already know that ADHD and planning don't easily go together.
Start with a list of meals you enjoy. Meals you've made or meals you like to get at restaurants.
List as many as you can think of. If you are not the person who enjoys cooking, cross anything off the list that will take more than 30-60 minutes to make or involve difficult processes.
Try to identify enough dinner ideas for 10 days. That keeps you from eating the same thing over and over.
Now for breakfast and lunch ideas. If you need or want a lot of variety in what you eat, follow the same steps you took in identifying dinner ideas above.
If you are like me, and don't mind repetition with these meals, this is a little easier. For lunch, I usually stick to easy stuff like sandwiches, soups, or salads. That makes it easy to make and simple to plan.
Make Meal Planning Easier
Breakfast can be easy–oatmeal, eggs, cereal–whatever you prefer. Just make sure you have enough of whatever breakfast/lunch foods you will need until your next shopping day.
If you still struggle to choose what to make from the dinner ideas, you can turn it into a game.
Write them out on index cards and flip them over, face down. Pick the number you'll need until your next shopping day. Whichever random choices you end with are your dinners for the week.
You can "pick a card, any card" each day to determine what you are eating that night.
Or do what I do, and use my ADHD Meal Planning Made Easy Printable. It gives you structure to help you actually plan meals and get them on the table instead of hitting up the McDonalds down the street.
Learn More About The ADHD Meal Planning Made Easy Guide HERE.
6. Pursue Healthy Forms of Stimulation
Many times, we eat out of boredom and the natural fix to that is to get yourself engaged in things you are interested in and excited about.
Get involved in that creative pursuit you've been missing. Learn a new skill or try a new hobby. Look for things that you'd feel excited about doing and run with them.
Doing that gives your brain that dopamine boost it's looking for without the unnecessary food intake.
It starts with a question. If you could do anything without anything standing in your way, what would it be? Now start doing that or working toward doing that.
The biggest challenge I've had in my eating habits is the tendency to eat too quickly.
7. Stop Eating too quickly.
We're more likely to miss our body's cue that we've had enough when we eat too fast. By the time it catches up to us, we're usually miserable because we've eaten too much.
Chew thoroughly and rest your fork between bites. I found this practice irritating before I was medicated because I felt too impatient. But now it's easier to do, it just takes practice to be consistent. Some can practice slowing down their eating by counting how many times they chew each bite. It may be annoying but it can help.
8. Drink plenty of water.
Many times that we think we're hungry, we're actually thirsty. Many with ADHD forget to get their H20 (I'm definitely guilty there).
Grab a water bottle that you LOVE. Or one that's fun to drink out of. It makes drinking water more likely when you have ADHD.
If you've eaten but find yourself still hungry, grab a glass of water and wait a little bit to see if it was really thirst in disguise.
9. Practice Mindful Eating.
It sounds fancy and complicated but it's pretty simple.
Pay attention to every detail of your food as you eat. Pay attention to the smell, the texture, the subtle tastes you experience.
I like to see if I can isolate the taste of individual spices. If I'm not the one who made it, I like to try to figure out what ingredients the chef used.
Mindful eating is hard, but a class like this can help.
When you eat slowly and mindfully it's much easier to recognize your body's cue that it's satisfied. I tried mindfully eating a fast food french fry once. It's funny the things you notice when you slow down your eating.
Related: How to Practice Mindfulness When You Have ADHD
I love fries. I mean, I LOVE fries. But when I slowed it down and mindfully ate one, it was DISGUSTING. Weird right? Mindful eating helps us enjoy our food more, notice when we are full, and can be a powerful weight loss strategy when you have ADHD.
10. Get good sleep.
Not prioritizing healthy sleeping habits leads to overeating. It also makes functioning with ADHD infinitely harder. So make sure you get your sleep. Most of us with ADHD struggle with this and may need help. That's always a good thing to discuss with your doctor and also, this guide to improving your sleep with awesome behavior strategies can help, too.
11. Treat Other Physical or Emotional Problems
If you have physical pain or unexplained aches, or your emotions are making life challenges, make sure you treat those.
Not only is it important for your quality of life, it also helps reduce our vulnerability to acting on impulses which is one of the ways ADHD interferes with weight loss.
If you think you might have additional anxiety, depression, something wrong physically, or any other related issue, make sure you are talking with your doctor about those things as well.
12. Practice your self care.
Taking care of yourself and not overextending yourself all the time helps reduce stress which makes us more vulnerable to compulsive eating. Learn to engage your emotions in healthy ways that don't include food.
Related: How to Survive those Days When You're Not Okay
Related: the 5 best self care gifts I've ever given myself
Get Help for Eating Disorders
If you've realized that your relationship with food fits one of the disorders we talked about earlier or food feels like it's outside of your control, start working with a therapist that specializes in eating disorders.
It's really common for people to think that they "aren't sick enough" to get help but that Is. Not. True.
Eating disorders are serious business and they need clinician attention as soon as possible. Early intervention can save lives.
If you need help finding a therapist, I generally recommend people start with Psychology Today. You can search in your area, with your insurance, and by the eating disorder specialty. Get the help you need and deserve.
Connect with Us
The connection to overeating and disordered relationships with food may be strong for us but there are ways that we can overcome. What areas do you struggle with the most?