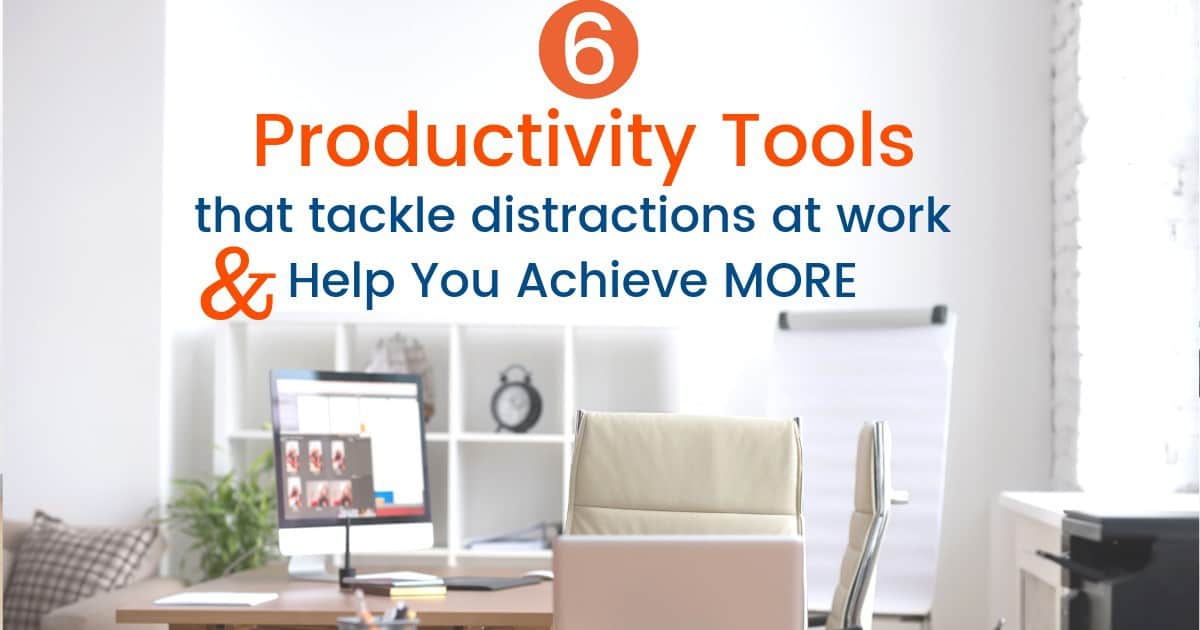 Disclosure: This post may contain affiliate links. If you order through a link, I recieve a small commission at no extra cost to you. Thank you for supporting Little Miss Lionheart!
Everyone gets distracted at work from time to time; if you have ADHD like me, those distractions add up fast, right?! Wouldn't it be fabulous if there were productivity tools that could help?
Lucky you, it's 2019 and technology has some good stuff to help aid your memory and time management, reduce distractions at work, and stay on track to achieve your goals. That's why you're here, right?
I've taken it further, though. I've done the research for you and found the top expert recommended technologies to help you increase your productivity. This article gives you the best prices from the highest rated Amazon sellers. Why? Because, if you read my problem solving piece, you know that research is my thing. And I like you, so….
Let's get to it! Here are the best productivity tools to help you tackle distractions at work and get more done–even if you have ADHD.
1. The Best Smartwatches to Increase Productivity
Smartwatches can be fantastic tools for staying on track and tackling those distractions at work. They can also be a source of distraction, depending on how you set it up. Start by carefully selecting the reminders and notifications that you want to allow through and your smartwatch will give you a gentle vibration (rather than the loud reminder your phone sends you).
To get the best use of this productivity tool:
Set Reminders for projects, meetings, appointments–even location based reminders
Use Speech to text to take notes on things you don't want to forget
Pair with to do list apps and IFTTT for customized notifications that will boost your productivity
Set it to only allow the most important notifications through while you're working
Here are my top 3 recommendations based on the research. Remember to make sure the one you choose works with your phone–you know, if you don't have an iPhone, don't get the Apple watch 😉
The Apple Watch comes as the highest recommended smartwatch out there and it's no wonder. It comes with the most features and has a great speaker to take those phone calls when you need to.
The watch doubles as a fitness tracker, and monitors your heart rate. It will even tell you if your heart goes into an irregular rhythm. Need GPS for those long runs? Apple has that covered, too. With more features than any other smartwatch out there, it really can't be beat if you're an iPhone user. Unfortunately, this one isn't for Android users.
This little beauty will cost you around $400.
I've always been a Fitbit fan. I've owned several models and this one is my favorite. It's the second smartwatch that Fitbit released and the one most prefer. It has all of the capabilities of a fitness tracker (duh, it's a Fitbit ?), plus the productivity possibilities of a great smartwatch.
You can set reminders and timers to help you get your work done with productivity apps in the Fitbit gallery. Plus, Fitbit is constantly looking at adding new apps and features so it's usefulness will only get better!
The Versa works with Androids and iPhones alike and is a more affordable option under $200.
This budget friendly smart watch looks very similar to the Apple watch, but without the robust features. It gets the job done, however! It sends customized alerts and notifications, counts your steps, and tracks your heart rate.
While the features may be more limited than the other options, the $75 price tag is tempting.
2. The Best Smartpens to Help You Keep Track of the Important Stuff
Smartpens are a fantastic resource to keep track of your great ideas, your last minute to do list items, or to take notes in a meeting. The smartpen/paper combo automatically uploads anything you write down into a document that you can access on your phone or computer. It keeps your from losing your to do list, forgetting where you wrote that important note, or misplacing important instructions. This productivity tool can definitely make life at work quite a bit easier!
The Livescribe is the top recommended smartpen out there. It doesn't just upload what you write, it can also record audio, too! That can be really helpful during important meetings, trainings, or lectures, giving you a way to refer back to instructions you need. Then does very well at recognizing your handwriting and can save it "as is" or upload it as text. It's a huge time saver and memory aid all in one!
While Livescribe does has a newer model called the Livescribe 3, the Echo is still preferred by most people. You can check out both and decide for yourself. The Livescribe requires Rocketbook Everlast
The Rocketbook is a really cool alternative that's much cheaper than the Livescribe. The main advantage of the Rocketbook (other than being significantly less money) is that the notebook is re-usable. You can literally wipe it clean when you are done! With other smartpens, you'll have to buy new expensive ($15-$20) notebooks when you fill one up. That's a huge plus for the Rocketbook!
The down side is that your notes can't be converted to text and you have to use your phone and rocketbook app to take a picture of the page you want to send. Granted, the technology allows it to be easily sorted and sent to your email, Evernote, Google Drive, or whatever cloud based service you use and the technology has high readability. It's just an extra step that can be a bit annoying.
But when it's under $40, you might not mind that extra step.
3. Tackle Distractions with these Affordable Noise Cancelling Headphones
When work is noisy, it's so easy to get distracted. I love music and can't think or carry on a conversation when a good song is on or people around me are talking. That makes it hard to get any kind of work done.
A noisy environment can really plummet your productivity. What's a girl to do?
Noise cancelling head phones, of course! Research indicates that using these head phones increases productivity at work. Makes sense right? When work gets noisy, it gets more distracting. Editing out the noise improves your ability to focus on your work.
Bose is the titan of the industry and the #1 recommended for noise cancelling headphones. Wireless, bluetooth, and capable of blocking out 99% of the noises trying to distract you at work or anywhere else for that matter. You can adjust the level of noise cancellation, listen to music, take a call, and can even use them with your Amazon Echo for information, weather, and entertainment without having to look at your phone.
Best of all, they really do cancel out the noises of the office, leaving you to concentrate in peace and get your productivity on.
Price wise, these will cost you around $350.
The Cowin E7 is well loved for doing a pretty good job at reducing noise, having a long lasting play time, and the ability to listen to music in addition to noise reduction, no wires needed.
They don't have the quality of sound reduction like the Bose, but for a fraction of the cost, they do a pretty darn good job of drastically reducing the environmental noise.
Coming in at $60, the price really can't be beat.
4. Increase Your Productivity (and more!) with a Standing Desk
Standing desks are a fabulous way to boost your health and increase your productivity. Research suggests that having a standing desk may lead to an almost 50% increase in your productivity, in fact. Pretty crazy right? They have also been found to improve your health and increase your focus. I'll sign up for that!
Users report that the standing desk increases their energy and companies have found a $3-7 return on investment for every $1 they spend on sit/stand furniture. That's crazy, right? Feeling more energetic and boosting profit is a win-win. That's the goal for any productivity tool, right?
Whether you want to spend a little to convert the furniture you already have into a sit/stand feature or buy a whole new desk, I've got the best of options.
Whether you already have a desk you love (but would like it to have the ability to convert into a standing desk) or just don't want to shell out the money on a brand new desk, this is a fantastic option.
You'll get it already fully assembled, so it takes more time to clean off your desk than to set up and it's easy to adjust from sit to stand. You simply squeeze and lift.
At $185, it's the affordable way to get that standing desk and all the benefits.
If you're up to replacing your old desk for a standing desk, this is the one. Instead of a bulky contraption that sits on top of a desk, you get a beautiful desk (you choose your color) with the sit/stand feature already built in. There's no heavy lifting; you adjust the height at the press of a button!
There's plenty of room underneath, too, so if you decided to get a little wild, you could easily add a treadmill feature underneath to make this beauty a walking desk. You know, only if you have a wild hair ?.
Cost is just under $600 and the value beats the price.
5. These Focus Friendly Chairs Help
Increase Your Concentration
Just like standing can improve your productivity, changing up your seating can as well. Not only can it improve your focus and concentration, it can strengthen your core muscles and improve your posture, too. That's the kind of multitasking that I can get behind. Here are my favorites.
This is my favorite chair–period. I first encountered it while working in a children's therapy center. It was one that the staff had access to in the work room and I was obsessed with it. Sitting on it allowed me the freedom to move around while concentrating and getting more done. Plus, it felt like I was playing while working with the way I could move it.
You can choose your color–there's quite a few choices, which is nice!
But the best part is the way it moves. It's perfect for working out any restlessness you've got while trying to be productive and stay focused.
It's priced just under $200 and it's well worth it.
This is a different take on my favorite chair with a similar benefit for about half the cost. It's designed to help you focus better and decrease back pain from sitting.
Priced at $100, this is a nice introduction into the world of flexible seating.
A yoga ball can be a great productivity tool for creative seating but sometimes you really want or need the back support to rest against. This balance ball from Gaiam is exactly that and provides the same benefits of other creative seating at a better price: $70.
If money isn't an issue, I'd still go with the Turntable Bouy because, all these years later, I'm still obsessed with it. But if you want a cheaper option, the Gaiam and ErgoErgo are both great options.
6. Fidget Tools to Stay Focused
Adult fidget toys are an exciting new trend in productivity tools. Kids with ADHD got the ball rolling in the realm of fidgets, but we are now learning that many adults (with ADHD and without) find that having something in hand to fidget with increases their productivity.
The tactile stimulation of having something in your hands to mess with can increase your concentration, help you stay focused, and even decrease some anxiety and restlessness.
If you are new to fidgets, you might not know what you like yet, so having some options comes in handy! I'm personally a fan of the fidget cube and the squeeze bean but enjoy the others too. These are nice to have on hand during the really boring meetings or phone calls.
At $25 you get a fair amount to choose from and figure out what works for you.
While I definitely enjoy fidgets, the spinner ring is my favorite productivity tool in the category. I've always struggled with biting my finger nails as a way of fidgeting. It gets particularly bad when I'm having to focus really hard on something but a boss once took me aside and told me it made me look incompetent. That was awkward and drove me to find "socially acceptable ways to fidget" to avoid that embarrassment. Yep, wasn't fun. ?
A spinner ring was a great option for me. It's beautiful, I can mess with it easily without being distracting to others (or being perceived negatively) and it works well for helping me stay focused. Better yet, it helped me shift from biting my nails so I didn't have to have that conversation again.
This particular beauty is priced right at $50 and it's well worth it.
Final Thoughts on Productivity Tools
Because most of us can't suddenly drop thousands of dollars on all of these great tools, it can be helpful to identify the tools you need the most. As you observe your working environment, where do the challenges mostly lie for you?
Is it too noisy? You might start with the noise cancelling headphones.
Are you finding that you're forgetting or losing important things? Start with the smartwatch or smart pen.
Or is the biggest challenge just trying to focus on the big projects when they are mentally exhausting or the boring meeting that always takes longer than it needs to? Try the creative seating options, the standing desks, or fidgets.
Struggle to prioritize what you need to work on? You should check out this article.
With the right tools, you can tackle distractions at work and be more productive.
Connect with Me!
What's your biggest challenge in being productive?
What has been your favorite tool you've used to stay focused and on task?
I'd love to hear from you in the comments!