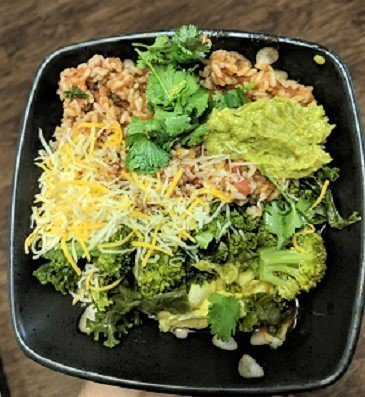 I used to love cooking–like cook all day, everything from scratch, slap yo' mama kinda cooking. I get it honestly; My mom and sister are both amazing cooks. Then two things changed that a bit. I started a business that took up most or all of my time and I got diagnosed with Celiac. Now, I have no time and all of the things I used to love cooking (stuffed shells, overstuffed burritos…) I can no longer have. So I've become a lazy cook. 
What do I mean by a lazy cook? I want great tasting meals that I can cook in minutes but dirty the least amount of dishes possible (because cleaning the kitchen is the worst). Add in that I'd like for it to be reasonably healthy, because that's good, right? Lazy One Dish Mexican Rice is a staple for me because it meets all of my criteria.
I never measure when I cook this dish because each time I like it to vary just a little. Weird, I know. 
I start with a water saute of the veggies I want, which change depending on what I have on hand and what I'm in the mood for. Here, I chose broccoli and kale and I cook them until they are the consistency I prefer, mostly cooked with the tiniest crunch still left in them. Mmmmm…Fair warning though: They STINK. AJ complains every time I saute these two veggies because the smell wafts through every inch of the house and it lingers.
Once that's done, I move them into my bowl and move on to cook the eggs. Sometimes I vary whether I scramble the eggs or make them "over-medium." Remember, though, if you leave them runny you are going to want to add less salsa in the next step. Otherwise, there's too much liquid in your rice and I personally find that annoying.
After my eggs are cooked the way I want them, I move on to the rice. I start with a bit of salsa in the pan, then mix in the rice. You can forgo this and mix them in a bowl a warm it up in the microwave, if you prefer. I usually use my pan because I don't want to dirty an extra bowl. You can also make your own brown rice, if you prefer but if you want the lazy way, these pre-measured, pre-made brown rice cups are great. 
The key here is to get enough salsa for it to mix into the rice but not have a ton of extra liquid. You can always add more later if you find that you need it but since guacamole is coming to your bowl soon, you may find you don't need much salsa.
We're almost there. Once your rice is heated up, pour it into the bowl with the rest of the food. Then you can add your cheese, guacamole, and cilantro on top. Here, I've used about a quarter cup of mexican blend cheese, around two tablespoons of guacamole, and as much cilantro as I could salvage from my hastily wilting bunch. You can never have too much cilantro…And here's the final product: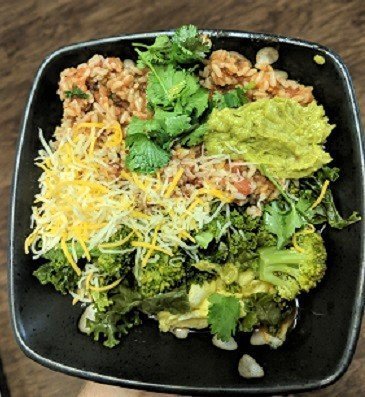 It's pretty before you mix it up. I had to make sure you saw the prettier picture before I show you how mixing it up makes it look like cat food. The important thing is that it tastes good, and it does!
But, yeah…it looks like cat food.
All in all, this took me around 10 minutes to make. I dirtied up a bowl, a fork, and my frying pan. It was gone in less time than it took to make. It might look weird but it's pretty darn tasty and Celiac friendly, just like I like it.