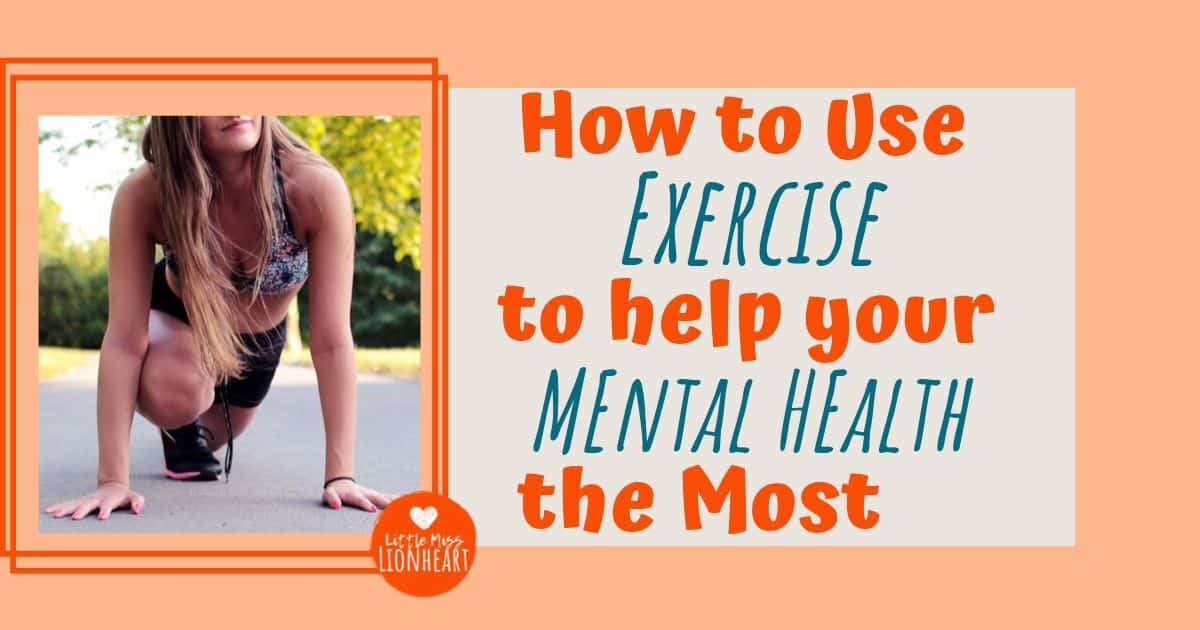 You may have heard how exercise can be a huge benefit for your mental health. In case you didn't know that, it's true. But which exercise helps mental health the most?
In my work with women who have survived the worst of the worst, exercise is the #1 coping skill most of my ladies report as the most helpful. But that's usually after we've talked about the best ways to use exercise for their symptoms.
Fitness can help PTSD symptoms like it does for the surivors I work with. But it can also help with anxiety, depression, ADHD, and other mental health challenges, too. I even use it to help me get motivated to do things when ADHD is making it hard to get going on something.
Before I talk about it with people I work with, the most common thing people say in response to "exercise helps" is a flat, unenthusiastic "Okay…"
Many don't believe that exercise really helps your mental health but more commonly, most people don't know how to use exercise to help their mental health most and the common advice is too broad, vague, and overwhelming when you're experiencing symptoms.
The Common Advice for Exercise and Mental Health
Google "which exercise helps mental health the most" and you'll probably get a mixed bag on articles talking about the potential benefits and a few giving broad answers for "aerobic!" or "a combination of aerobic and weight lifting!" It's not terribly specific and it's generally discussing the benefit of regular, ongoing exercise on the vague "anxiety" or "depression."
And it's true; if you exercise regularly 3+ times per week for 30-60 minutes, it will likely have a positive impact on your overall baseline anxiety. Think of that baseline as your "chronic symptoms."
Chronic symptoms are those that are around so often, they start to feel like your baseline mood. It's the depression you've got around most of the time, or the baseline anxiety that seems to follow you around even when nothing major is going on.
Related: Couch Potato's Guide to Finding Workout Motivation
This is great feedback to know, but what about your acute symptoms? Conventional wisdom doesn't seem to touch how to use exercise in the moment of your toughest symptoms.
Acute symptoms happen when your symptoms suddenly spike. You suddenly face a trigger. A phone call sends your anxiety through the roof. Someone said something hurtful and your depression has caused you to spiral .
Even though it's not commonly addressed, I've found that there are ways that you can help those acute symptoms in the moment.
The Best Exercises to Help Your Mental Health Most
Here are the best exercises to help your mental health in the moment when it gets overwhelming. Try different options and see which ones work best for you.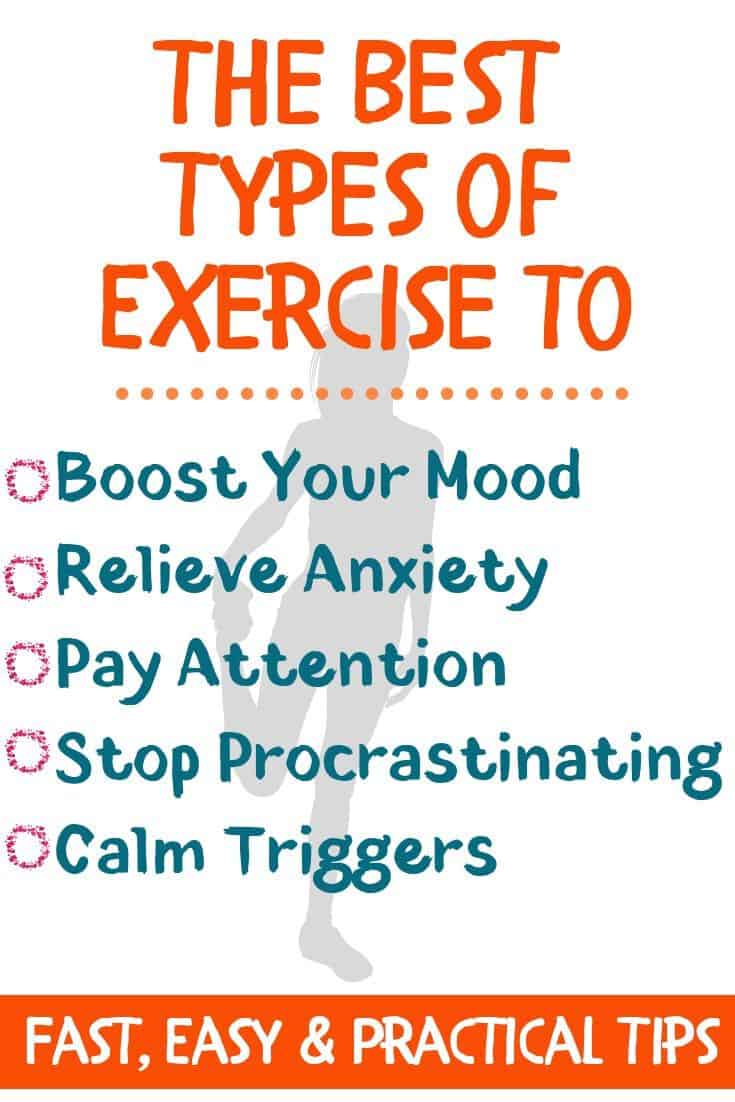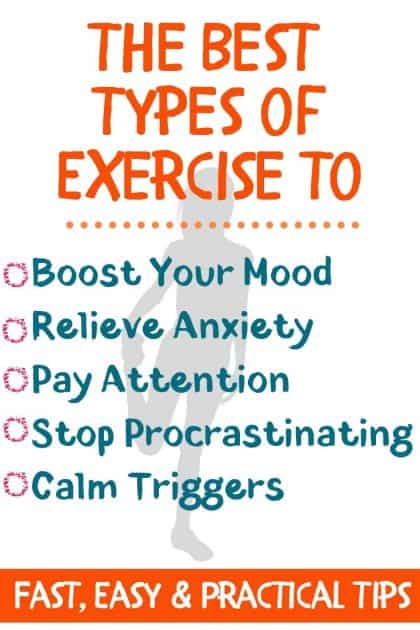 #1. Yoga for Calming Your Mind
Many people already know that a regular yoga practice can be helpful on depression and anxiety when practiced regularly. But even in the moment, it can be useful for calming your mind.
Yoga combines mindfulness, deep breathing, and physical activity, all things that have a positive impact on overthinking, anxiety, or when you mind starts bullying you. When you notice your symptoms peak, it's a good time to find a comfy spot and go through a gentle routine paying attention to the breath and returning your thoughts to the breath when they wander.
Related: 9 of the Best Ways to Calm Your Anxiety
This can be pretty hard to do when your mind is in overdrive but in sticking with it, it's often helpful. If you can't get your thoughts directed to the breath because they've spiraled out of control, you might try a more challenging exercise like some of the options below.
#2. HIIT, Weightlifting or Other Intense Routines for Triggers
If yoga or a long walk doesn't do it for you, pick up the intensity. Try weight lifting, HIIT, running, or another high energy exercise. I often tell people that it's helpful to find the exercise that is hard enough that after a few minutes all you can think about is how hard the exercise is.
When more gentle exercises aren't strong enough to pull your attention away from a trigger, upping the intensity helps give your powerful thoughts a formbidable foe, redirecting them from their spiral onto how hard your current exercise is. The intensity acts as an anchor for your mind.
You can do a full routine if you want. Sometimes I just do it until I notice my thoughts and mood have shifted.
I'm NOT telling you to hurt yourself exercising too hard. Don't do that. Still stay with your limits and don't push your body to the point of injury. And before you pick up exercise, especially an intense one, it's a good idea to talk to your doctor first.
#3. How to Exercise to Help Your Focus and Energy
I've picked this up as a little focus hack. If you are struggling to concentrate, your mind running in a thousand directions or your energy is gone, exercise can be your answer. And what's great about this is it doesn't even have to be a full workout session to improve your focus.
In fact, you can spend 10 minutes doing jumping jacks and push ups in the bathroom at work and come back to your desk with renewed focus. A few minutes of your heart pumping can be whatever activity you are in the mood for. Often, I find that I don't even have to do 10 minutes before my focus already feels improved.
Pick any activity that gets your heart pumping. Run up and down the stairs or jump up and down in place. I particularly like trying to do handstands against a wall which takes surprisingly more energy than you'd think.
It really works, too. Try it when you hit the afternoon slump or the next time you're staring at your keyboard and you mind is on another planet.
#4. Exercise Helps to Get You Motivated
Being a woman with ADHD, procrastination and lack of motivation are my seemingly constant companions. And it appears that it's not just me–many people with ADHD are familiar with that wall you hit when you can't bring yourself to get started or keep going. The struggle is real.
Related: 7 Ways ADHD is Actually Worse When You're an Adult
But just as a few minutes of heart pumping exercise can help improve your energy and focus, it can help your motivation, too. I theorize that this is because one of the reasons we procrastinate is we're lacking the mental energy to concentrate. Regardless, whether you have ADHD or not, this can be a helpful solution to your procrastination.
Related: The Key to Getting Motivated When You have ADHD
Choose something that sounds fun or interesting–it doesn't have to be a run around the block if you despise running. It can be a few minutes on your kid's trampoline or a foot race with the dog.
Again, I usually choose handstands or a crazy made up dance to high energy music for this and it's become one of the best strategies I've used for getting myself motivated. Sometimes It only takes me the length of one song before I feel more motivated. Other times I need a little more time before I'm ready to do whatever I've been putting off.
Play around with this strategy and see how long you actually need to get your heart pumping before you're ready to get started on something.
#5. Walk for Mental Clarity
When you've got a lot on your mind, feeling overwhelmed or stressed, it can feel like you are swirling. The thoughts can start to feel tangled together like a ball of knotted yarn.
When that happens, I've found that taking a walk is one of the most helpful things I do. Something about the process seems to help untangle your thoughts and help you be more receptive to solutions.
It turns out that walking helps us create new connections in the brain. It helps stave off withering of brain tissue, increases the part of the brain responsible for memory and stimulates the growth of new neurons. All of that is thought to be why walking promotes mental clarity and wellness.
My husband and I are both really big about walking for clarity. We've both noticed the difference in our thinking before and after a walk. It's become our go-to strategy for untangling the stressful thoughts.
Related: What to do when Everything Goes Wrong
When you've got too much on your mind, grab your sneakers and go for a walk. Bring a friend to talk it through while you walk or grab your headphones and put in your thinking music.
#6. Exercise for Emotion Regulation on the Really Bad Days
Even in the moment of your toughest moods and mental spirals, exercise helps your mental health. When it's at it's worst, getting yourself to do anything is a huge chunk of the battle. I often tell people that depression is self sustaining; it convinces you to do the things that will keep it strong (like isolating) and not do the things that can help reduce it's strength (like exercise).
So using exercise for the bad days is an act of courage and will. It will try to convince you to stay in the bed, miserable. When everything feels overwhelming, we often need small steps to get started.
Related: Having a Bad Day? It's Okay Not to be Okay
Instead of "I'm going to do an hour of yoga at the gym" which may feel too overwhelming, maybe start with, "I'm going to stretch for 2 minutes" or "I'm going to do 2 cartwheels." This can feel a little more manageable and get you started.
Take a gentle walk with good music, dance to a song you love, or do a mindful yoga routine. If you can get yourself to do a little more, do it! Try kick boxing or improving your round off.
Where ever you're at on your difficult days, move any way you can get yourself to move. For me personally, I find that walking or dancing with good music helps my mental health the most on days like this. The music and the movement make a good combination.
Which exercises help YOUR mental health symptoms most?
I'd love to hear how you use exercise to help your mental health! What do you do and how does it help you? Leave a comment and let's give each other some good ideas!