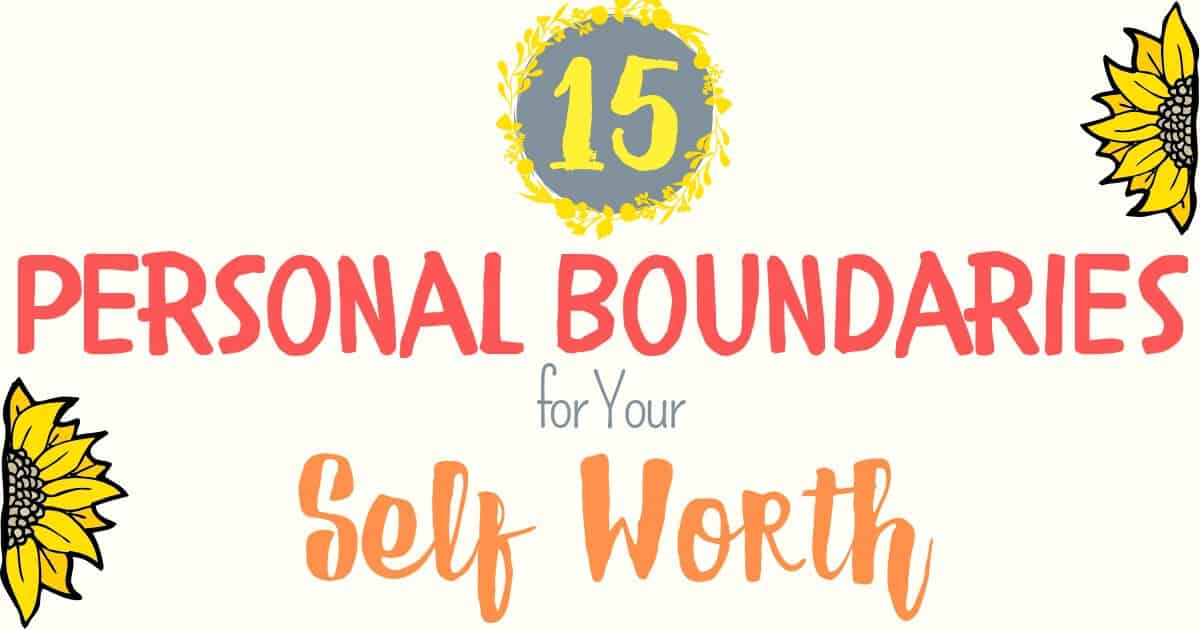 A few months ago I decided to sit down and come up with a list of self imposed life rules to live by for my own sense of empowerment. Personal Boundaries, if you will. In my effort for self growth, my journal became the stone on which these were written to give myself the permission to live a less timid life.
If you're like me and struggle with perfectionism and the martyr tendency, these rules are for you, too.
Life Rules to Live By for Personal Empowerment
#1: Mistakes Make You Human
If you, too struggle with shame or the idea that you have to be perfect to be worthy, these rules are your rules, too.
Making a mistake does not make you stupid; It makes you human.
The only definition a mistake can offer is that it makes you fallible; a normal person with their ups and downs.
Just like everyone else.
#2: Other People's Opinions Aren't Fact
Other people's opinions, respect, or acceptance is not the 'be all end all.' Just something they offer or don't.
They don't measure your worth. It's something you can want or not want, value or not value.
The only worth is the value that YOU place on it.
#3: You are worthy.
You are just as good, just as valuable, just as worthy as any other human.
#4: You Don't Need Approval
Someone's disapproval does not automatically mean you did something wrong.
It's okay to disagree, fight for what you believe in, etc…even if you "get in trouble" or receive criticism.
#5: It's Okay If Your Personal Boundaries Inconvenience People
You allowed to have boundaries with others, to voice your needs, and to disagree with others.
It's okay to communicate your feelings toward others, even if those feelings are not the easy ones to communicate.
Your Personal Boundaries matter and sometimes they will inconvenience other people.
Their preferences and convenience isn't more valuable than your worth.
#6: YOU are NOT a Failure
Being corrected or reprimanded or criticized doesn't say anything about you. Trying and failing does not make you a failure.
YOU are more than your accomplishments and more than your mistakes.
#7: Stand Up For Yourself
Sometimes people are mean. They have their own sh*t that sometimes leaks out in painful ways all over people around them.
Just because someone is being mean, doesn't mean you deserve their abuse. If it feels like you do deserve it, that feeling is a LIAR.
Stand up for yourself. You are worth being treated well.
#8: You Belong
You are allowed to have a place in this world and to use your voice. Stand up to anyone who tries to make you feel as if you don't belong or are unworthy.
You belong in this world. You belong in relationship with those you love and who love you. When it feels otherwise, it's just a feeling. Not a fact.
Hold on to this rule, even when it feels wrong.
#9: People Don't Always Have To Like You
Your existence is about more than pleasing people. You won't be everyone's cup of tea and it doesn't mean that you aren't likeable, loveable, or worthy.
Think about your personal heroes–as amazing as you believe them to be, there are people who didn't like them.
It happens to all of us and ultimately it says nothing about you.
#10: You are MORE Than Someone's Caretaker
Women tend to get the responsibility of taking care of everyone around them. Even being a caretaker to people who need to be responsible for themselves.
It's okay to have personal boundaries with others that include not living life to make it easier on everyone else.
And when you are a caretaker to someone who needs it, know that you are more than the role.
You are valuable and worthwhile regardless of who you take care of and how well you accomplish that.
#11: It's Okay to Fail and it WILL Happen
Failing is a necessary part of life and success. Embrace failure. Learn from it, but kick shame to the curb. Refer to rule #6.
#12: Being a woman is something to celebrate.
Being a Woman is something to be proud of. It does not make you stupid or weak, inferior or pathetic.
Society may devalue our femininity, with adages that make us sound second class: "Don't be a girl." "Sissy." "He cried like a girl."
They may talk down to us, but they are wrong. After all, life itself ceases without women.
#13: A life that obsesses over being accepted by others is a life wasted.
No matter what you do, you can't control other people's thoughts, attitudes or opinions. If you spend all your energy trying to capture acceptance, you are wasting time trying to be someone you aren't.
Life is too short to spend your days as a chameleon hoping for an approving nod to come your way.
This life rule to live by can be summed up in one line: I will dare to be me and let acceptance fall where it may. Join me.
#14: It's About Progress NOT Perfection
Trying and expecting to be perfect is nothing more than an anxiety trap. It's not possible and you will drive yourself insane attempting to make it a reality.
Progress, not perfection. Remember life rule #1.
#15: You are not responsible for other people's reactions
You're life's purpose is not to make other people happy or keep the peace at all cost. You have a responsibility to treat other people as human beings, but you are not responsible for them.
Sometimes having personal boundaries upsets other people. Sometimes standing up for yourself pisses people off.
Their reactions to you taking care of you in a healthy way, isn't your "stuff." It's theirs.
Personal Boundaries Aren't Easy…
These are the rules that I am giving myself permission to live by. It isn't easy to choose to live with this perspective when we are pressured by society to live the life of the self sacrificing servant. They want women to be "silly" "stupid" or "weak" girls.
I am more than that and so are you.
Rules to live by help you know your worth and put boundaries in place. Affirmations can help you have the courage to practice your boundaries. My friends Kim and Kalee put this affirmation list together for exactly that! You don't want to miss it!
What are your rules to live by? Add them in the comments!
Let's support each other in living true to our real value 😉